Do you have a tiny bathroom? Moving around gets a bit hard, right? Do you wish you could have a bigger bathroom? Well, who doesn't? This is somewhat of a common problem for many people, and you are not alone. Believe it or not, you can surely get rid of that suffocating feeling when you're in the bathroom.
A small kitchen and bath are good, but if you have a lot of bathroom stuff or a growing family, it won't be as comfortable. It will only make you feel uneasy. The good thing is that there are ideas for bathroom remodeling designs that could maximize small spaces, and makes them appear larger and functional at the same time.
If you need help with your bathroom with a small space, we're here to help. As kitchen and bath remodeling experts, our designers will help you pick the right design suitable to your needs. Learn more about the practical tips for making your bathroom remodel a successful one below:
Best Small Bathroom Ideas You Can't Miss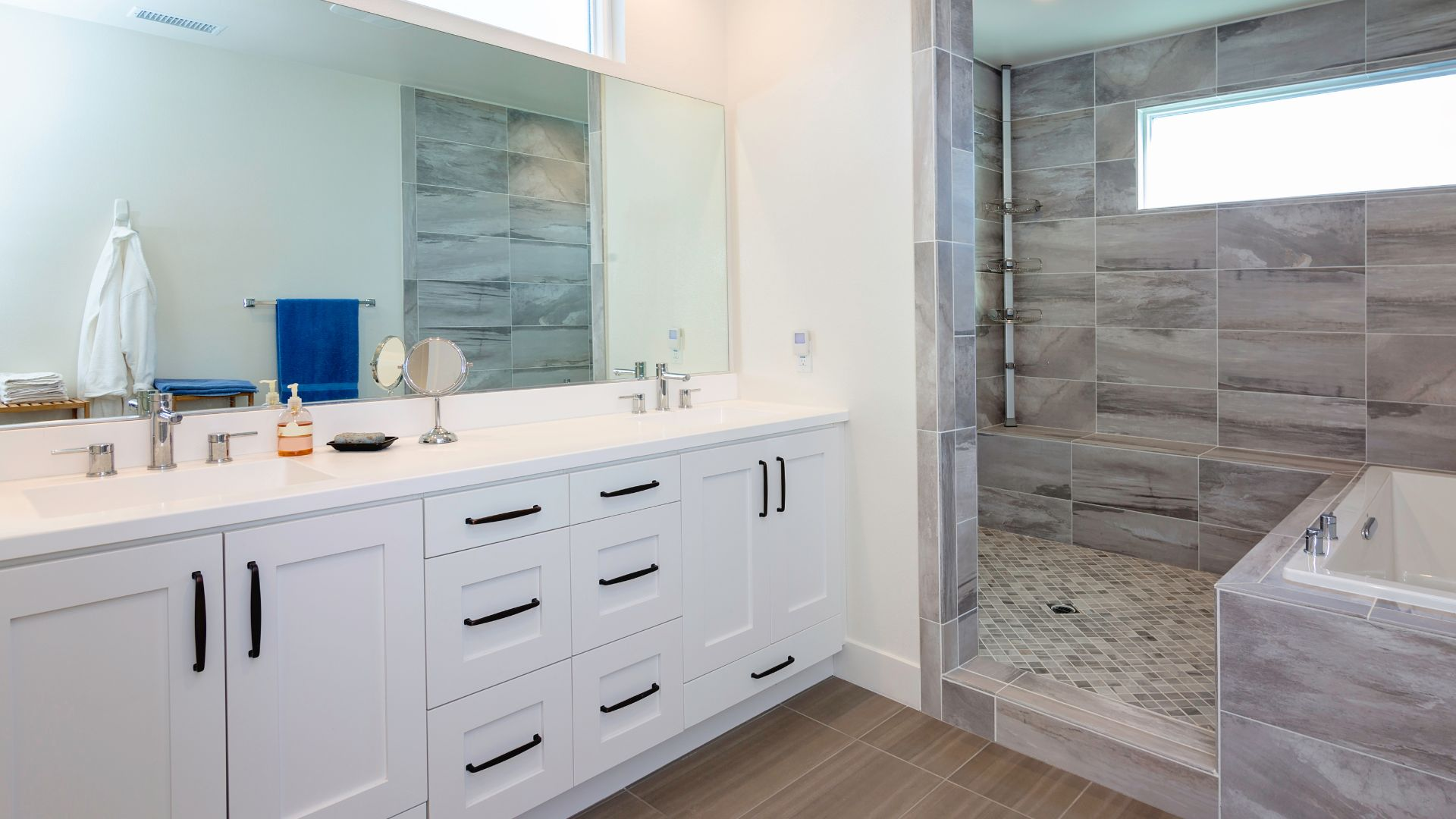 Small bathrooms can pull down the beauty of your home. If you're trying to sell your home, yet you have a small bathroom, you will have a hard time closing a deal.
We want to help you choose and implement the right small bathroom design that will make your home more elegant than before.
Benefits of renovating small bathrooms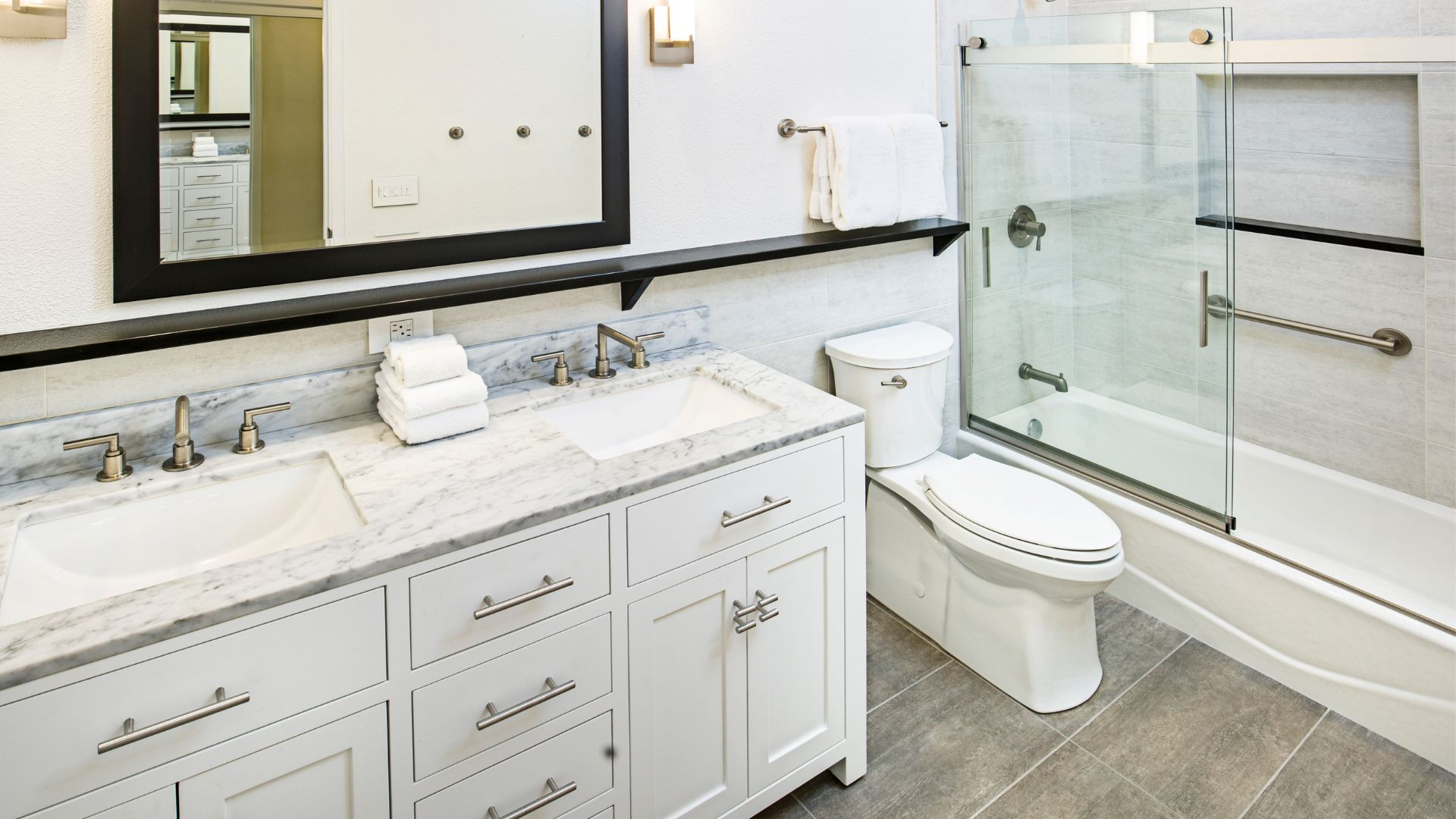 You don't want to live in a place with a small bathroom for the rest of your life, right? Know that there's always something you can do something about it. Here are the advantages of renovating your small bathroom.
Improved Functionality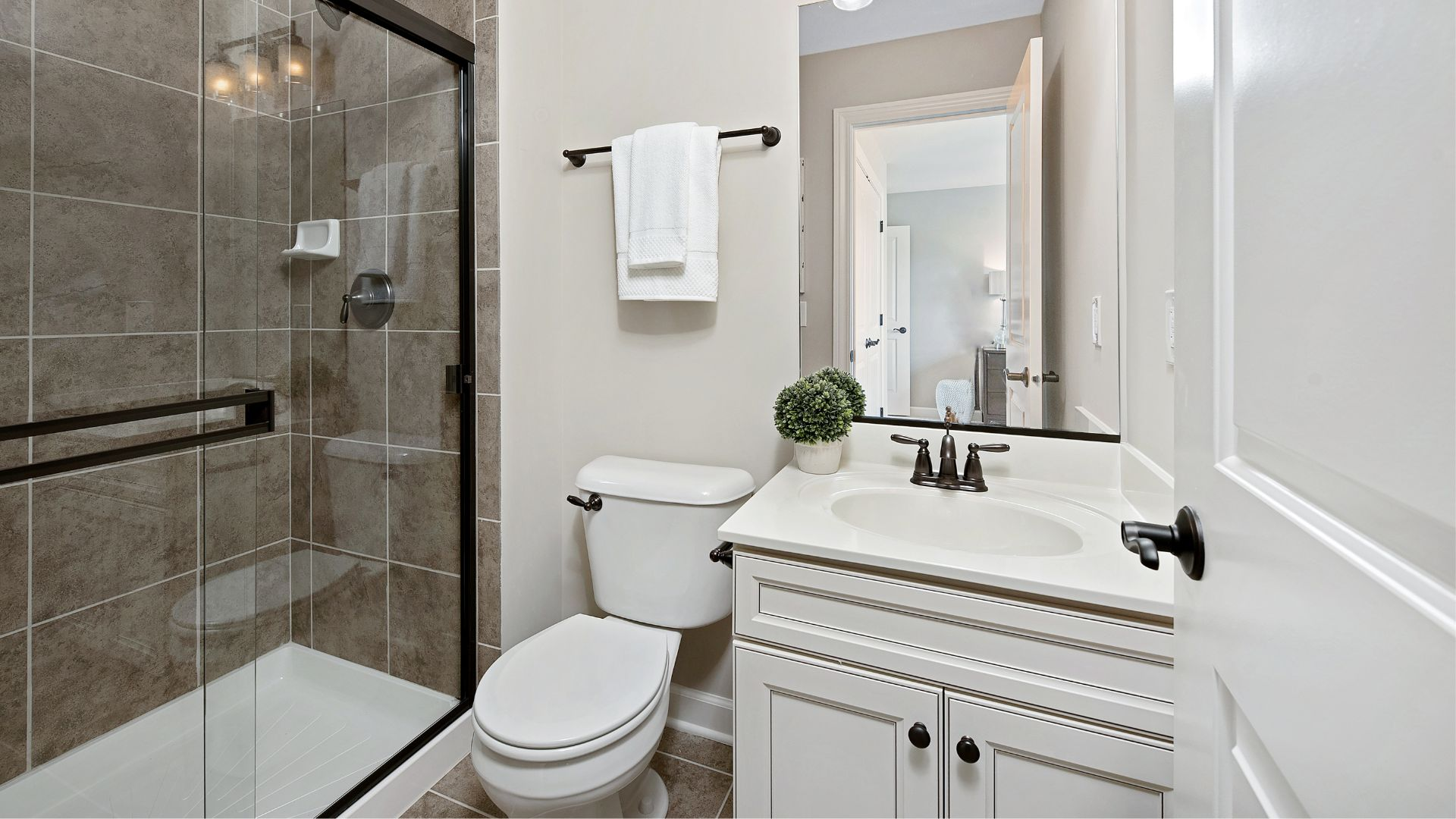 Even if you have a small bathroom, you can add space-saving features and accessories that will help make it more functional. For instance, you have built-in cabinets and open shelves.
Give an airier ambiance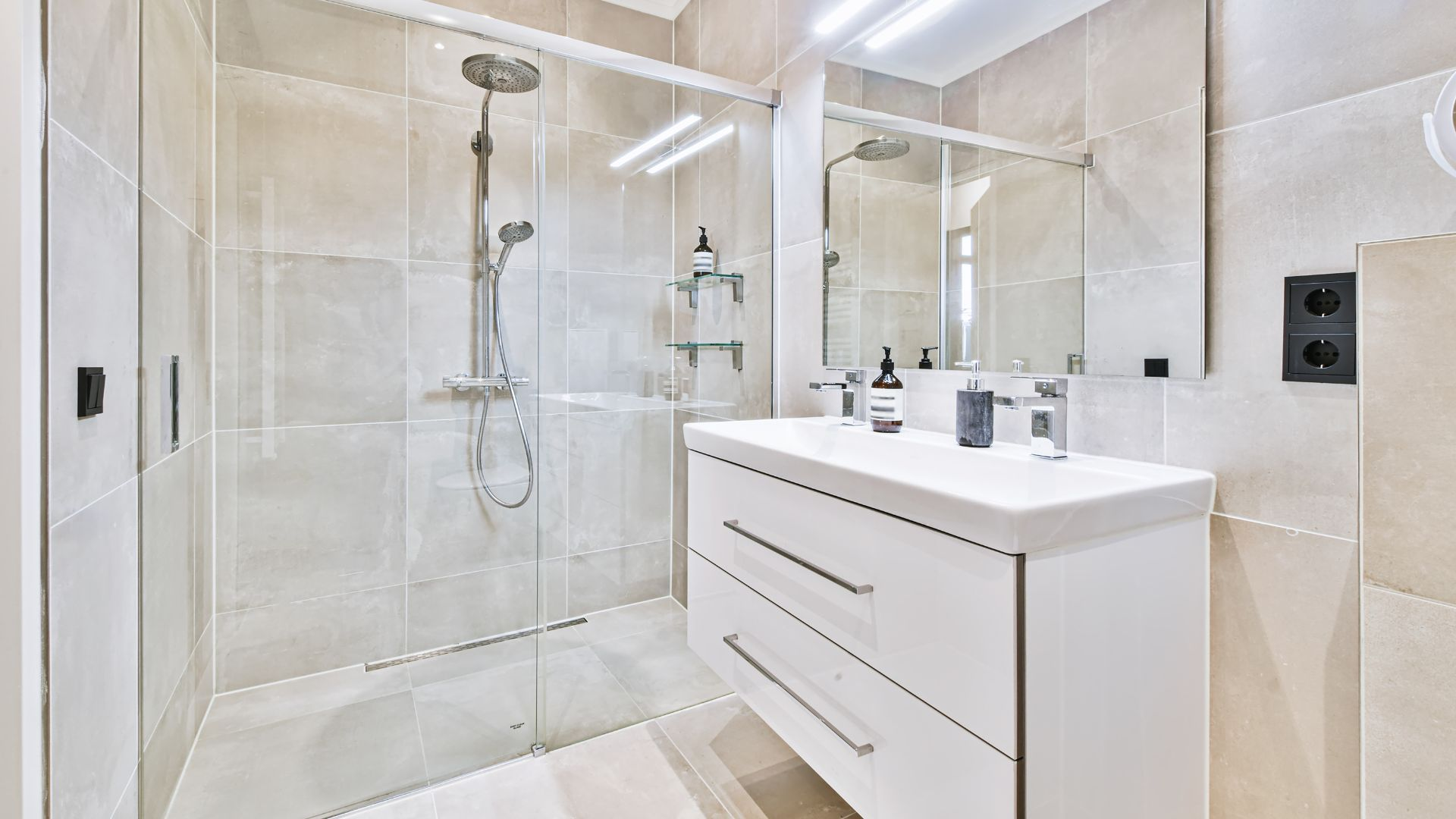 A compact bathroom will give you a cave-like ambiance. If you don't like this, you need to have clean lines and allow more natural light to come in.
Maximize Storage Space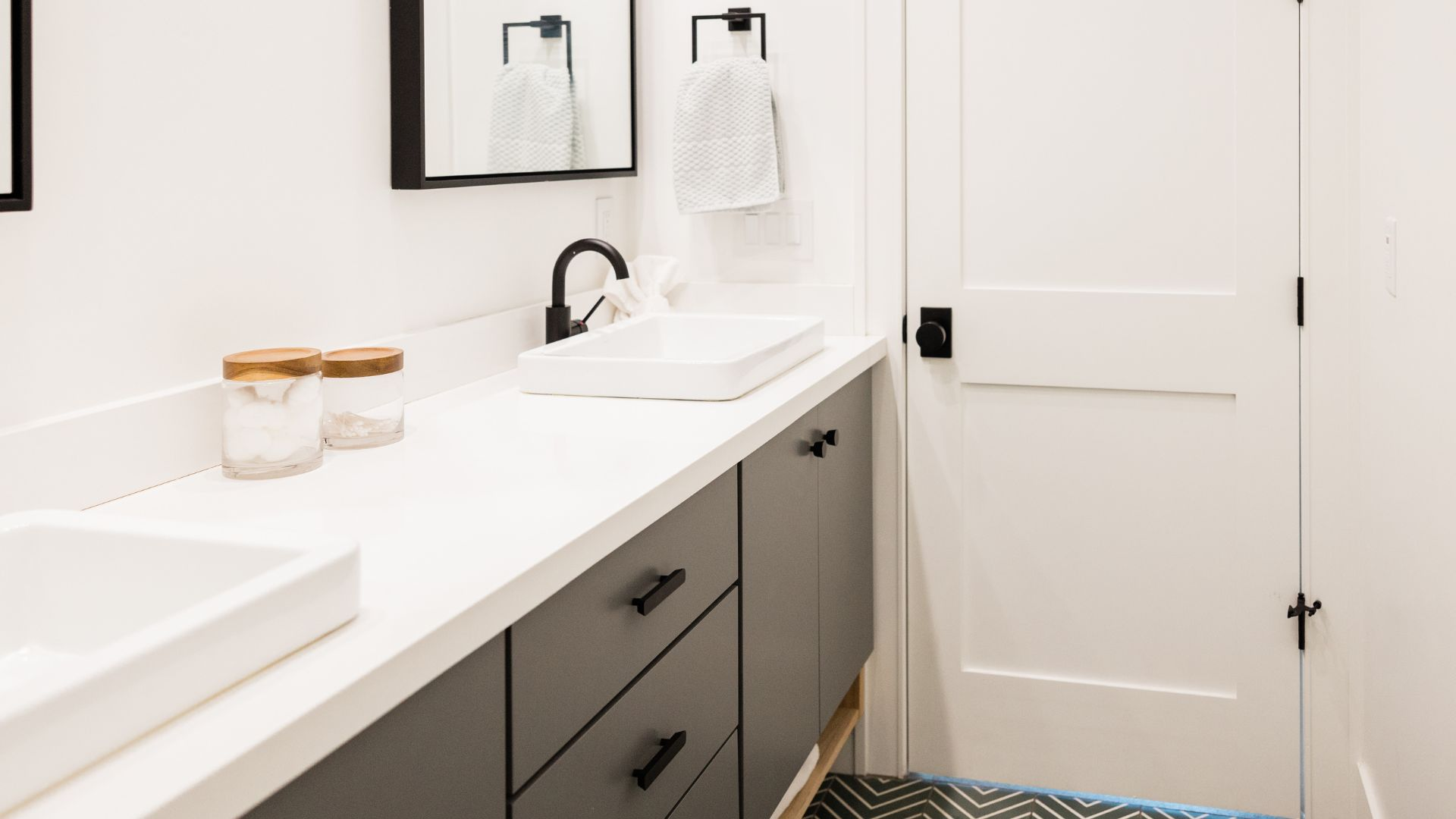 When it comes to small bathrooms, storage is king, so you need to use a floating shelf as your storage solution. A floating shelf will give you more storage while saving square footage.
Add Value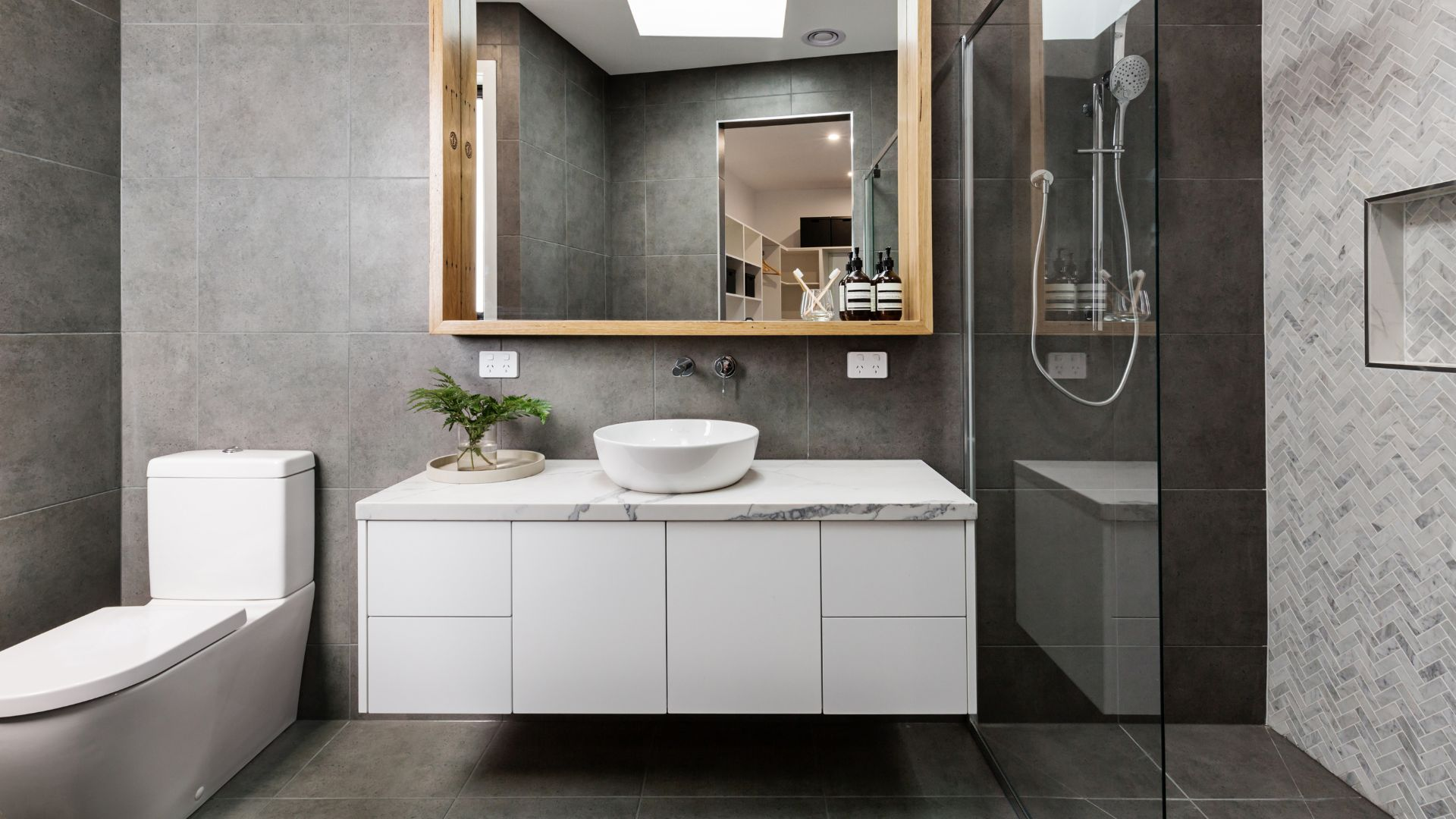 Keep in mind, for every improvement you do, big or small, will increase your property value, especially if all improvements make sense. An effective small bathroom design will not only add value but also lush to your home.
These are some of the best benefits you'll reap from improving your tiny bathroom. Now, let's move forward with our tips for the easy bathroom remodeling.
Brilliance is King
Neutral colors are a perfect choice among bathroom remodeling services. It helps make your tiny space feel larger and airier.
By picking neutral colors, you are giving a modern vibe to your powder room and tiny bathroom. Never go for strong bold colors as they will make the entire bathroom warm and cramped up.
White Subway Tiles
Even the smallest space will have improved beauty with white subway tiles. This can go well with any accessory and color. A cramped space will look better with white subway tiles.
White Shiplap Walls in Vertical Orientation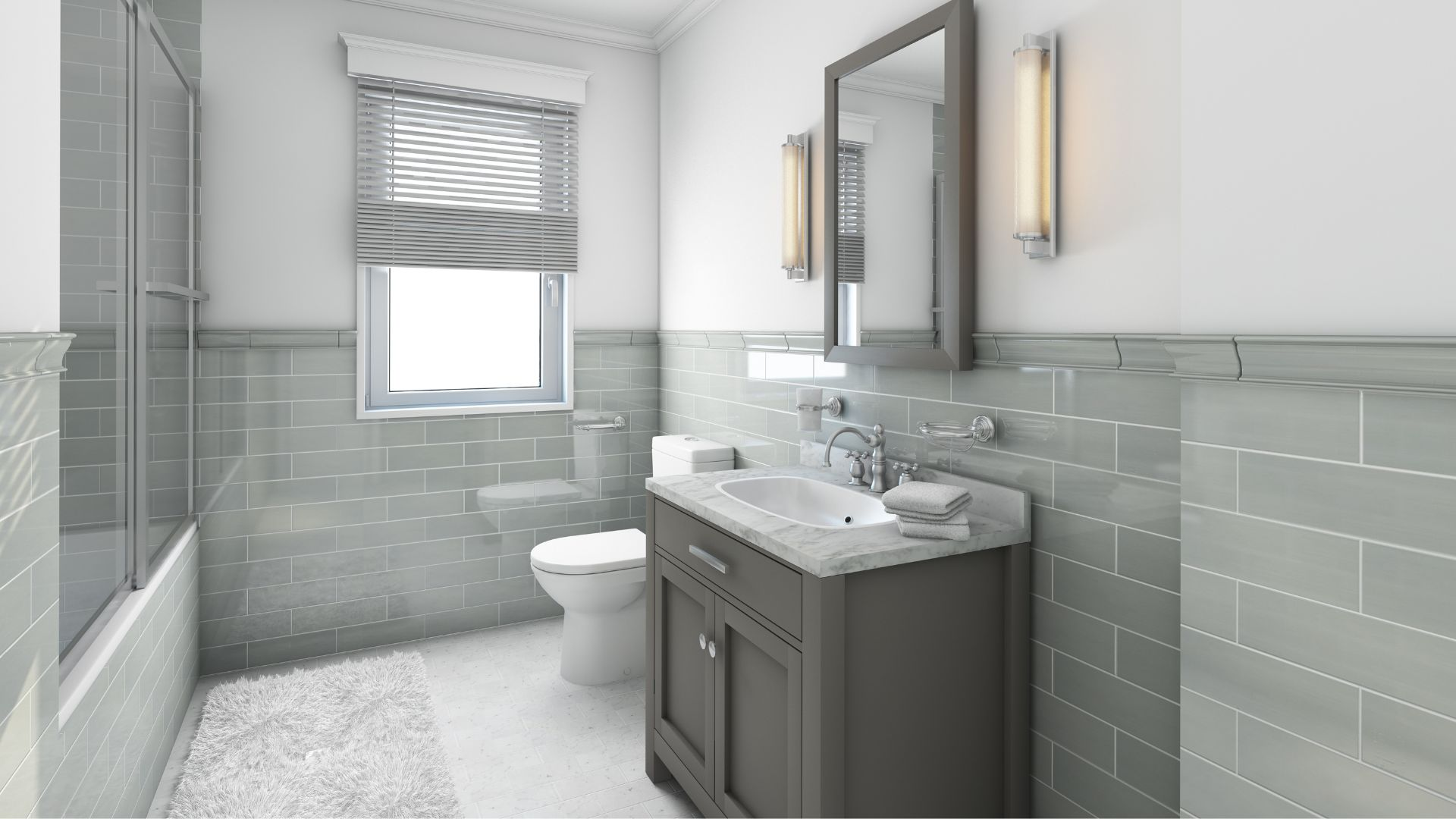 Shiplap walls are good at making your tiny bathroom feel cozier. By choosing white or any neutral tone, you are making your small bathroom look modern and fresh.
This also eliminates dark walls that make your bathroom feel busy. Installing your shiplap walls in a vertical orientation is best for the tiny bathrooms so that they will look taller.
White Freestanding Tub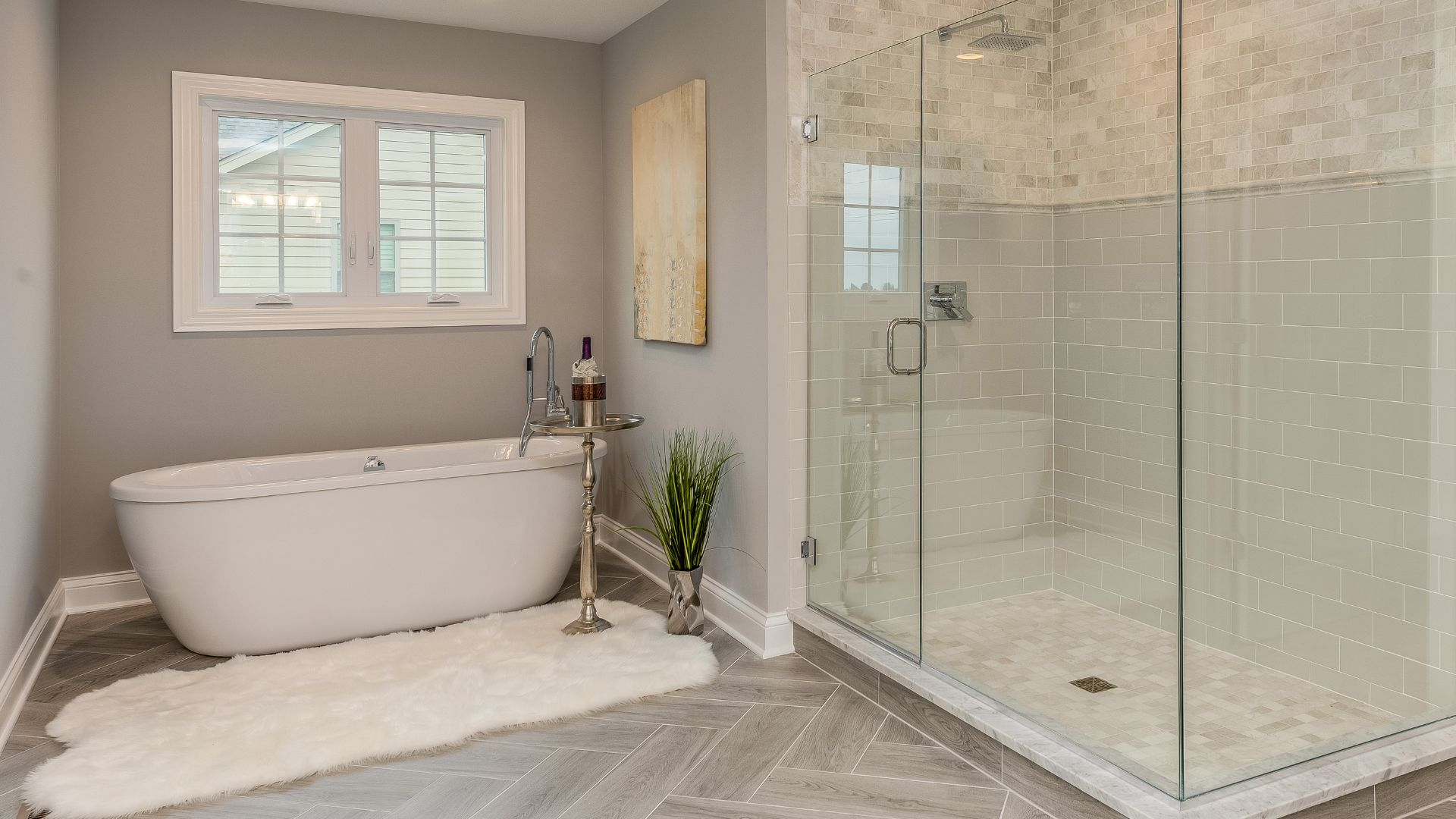 A white freestanding tub or an alcove marries with white shiplap walls. Having windows near your tub with white curtains is also great. It helps brighten up your small bathroom design. Also, wooden flooring would be a perfect addition. It gives a natural warmth to your small bathroom.
This tub can easily blend with any small bathroom design. Pair that with the right bathroom vanity, you'll have clean lines and fresh space.
Mirror Wall for Wall Space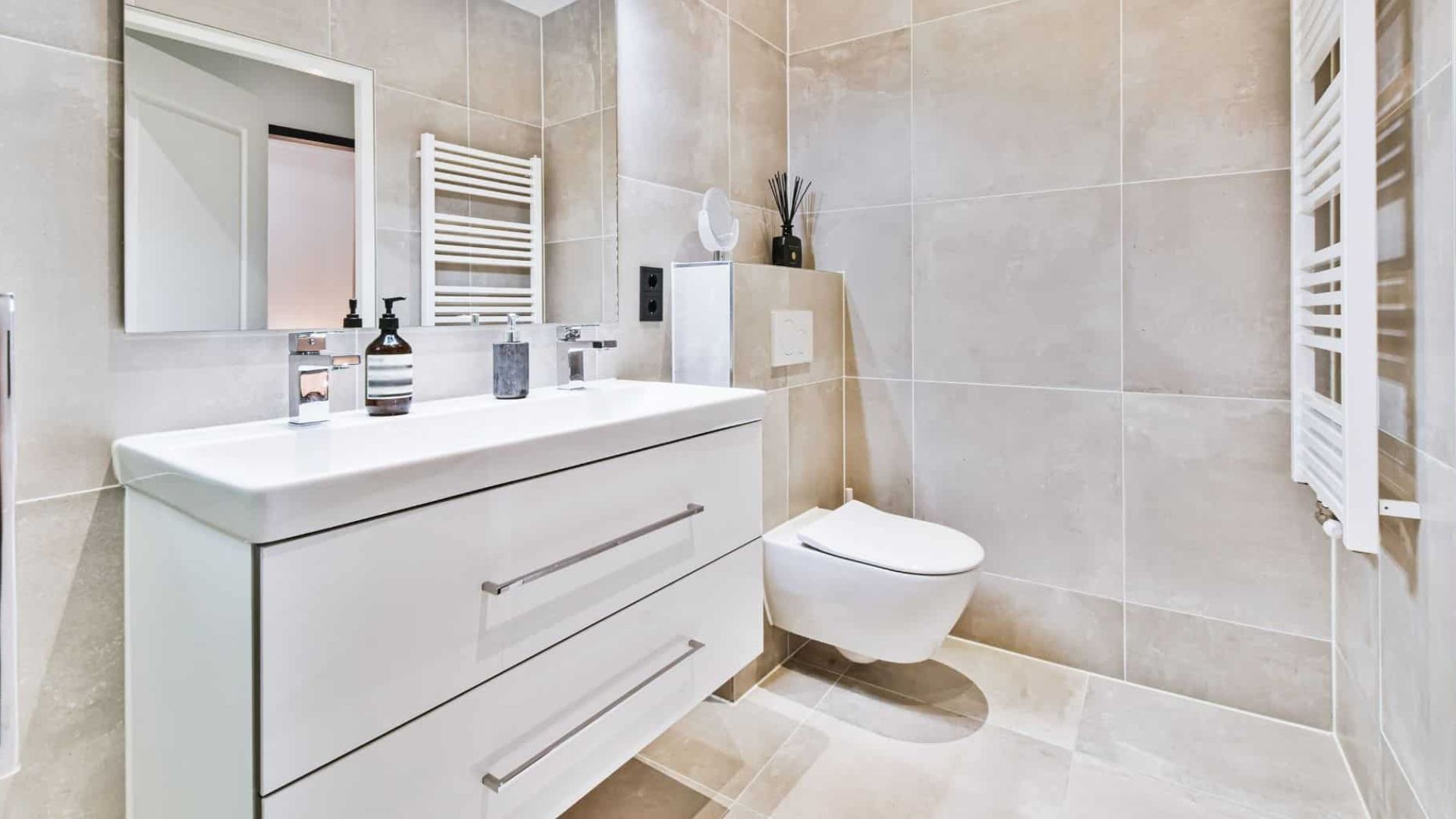 Having a tiny space doesn't hinder you from making your small bathroom look marvelous. In fact, if you can't modify so much on your floor space, then work on your wall space. Installing a wall mirror is one of the best small bathroom ideas you can do today.
If you cannot tear down one wall and extend the space of your small bathroom, what you can do to give an illusion of a wide space is to cover one wall with mirrors.
Instead of having a limited vanity mirror, you can mirror an entire wall. That way, it makes your space larger while having a full-body mirror for your vanity section.
Multiple Vanity Mirrors
Mirrors are one of the best accessories to use in making your small bathroom feel larger. You have plenty of ways to elevate the beauty and storage space of your tiny bathroom. Adding multiple mirrors is one of these tricks, and our interior designer can help you with that.
Multiple Mirrors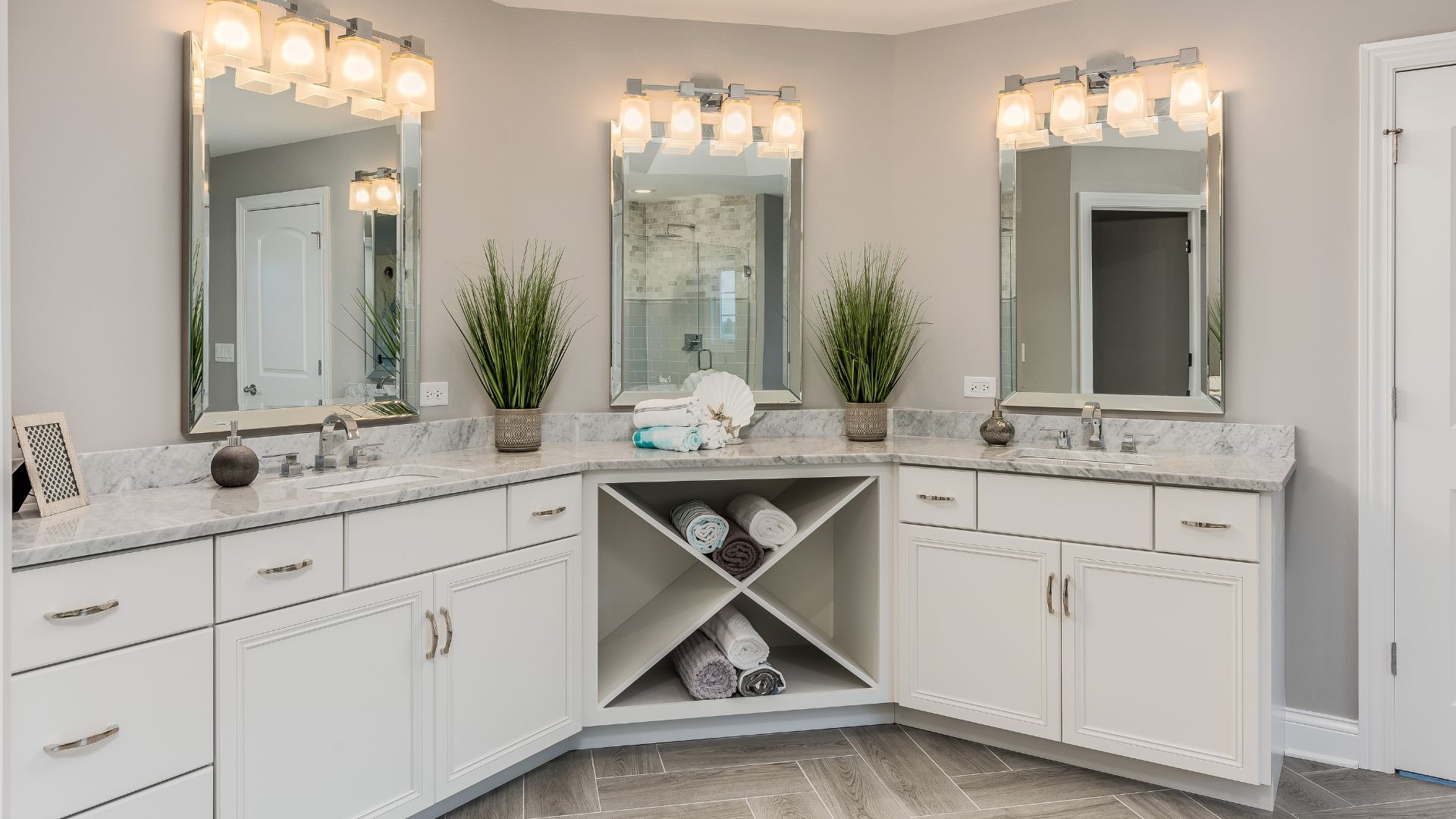 If installing a wall mirror isn't possible, your best alternative is to have two to three vanity mirrors pinned to the wall. This can compensate with your wall mirror. You can have the same shape and size for your vanity mirror. Arrange them properly so that they don't get messy on the wall.
If you have a powder room with a small space, you can add two large and one small mirror to it. This helps reflect the light from your vanity lamp, so it brightens up your entire bathroom. Small spaces that are well-lit will never have a cave-like atmosphere.
L Shaped Vanity Mirror
In your small bathroom remodel, You can divide your vanity wall into three. It could be that the two large mirrors form an L-shape while the smaller mirror goes into the small section left after joining your large mirrors.
Once we installed your vanity mirrors, you have the option to have a backlight to it. You see this in most modern bathrooms, and in the washroom of most hotels.
Having a backlight to your vanity mirror helps make you clearly see your face. It works well with your wall-mount vanity lights.
Glass shower door or doorless shower
However, a small bathroom shouldn't stop you from loving your home. You may not know it, but you have many ways to improve both its style and comfort. One way is having a glass shower door.
Walk-In Shower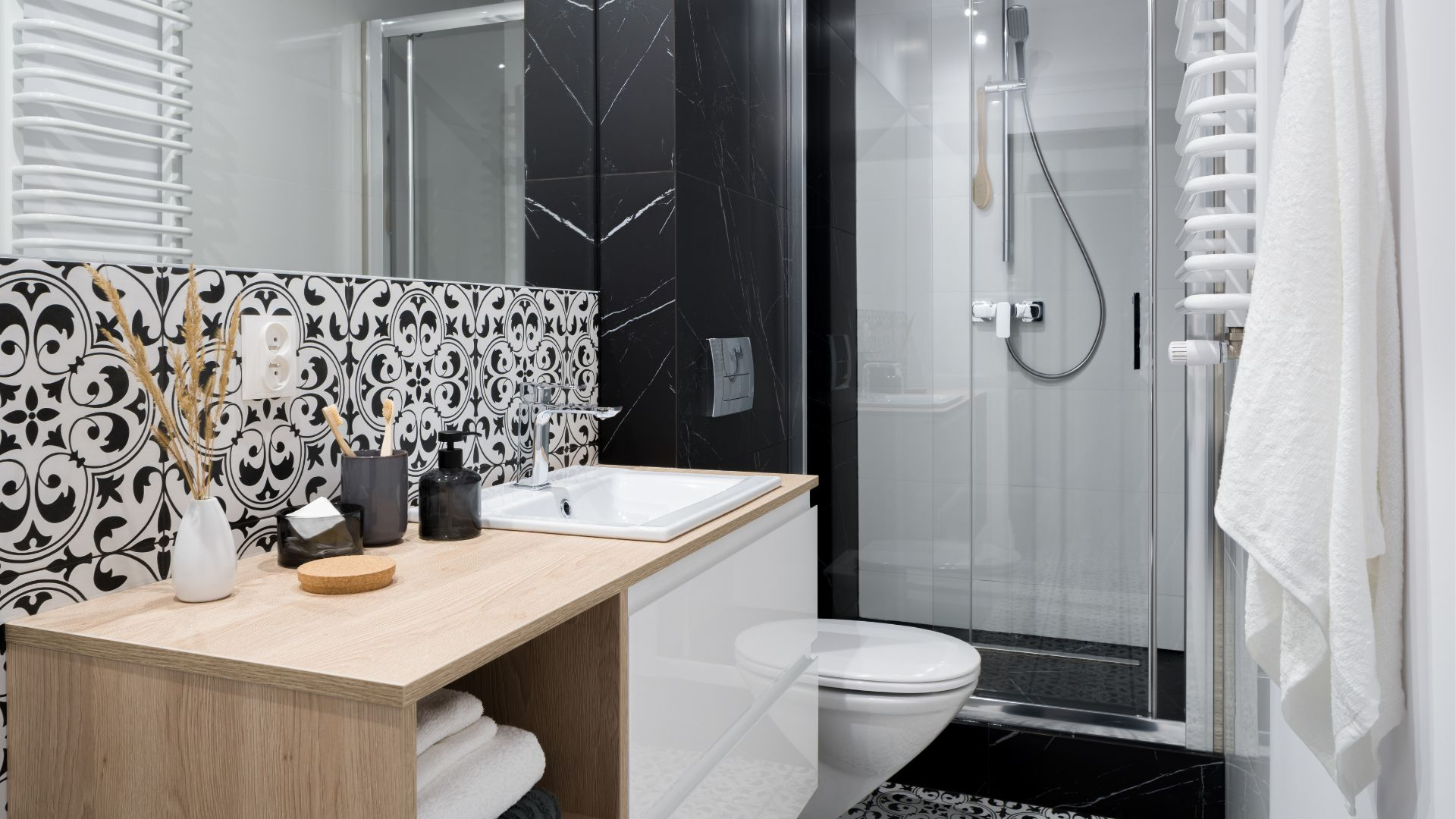 This may come as a surprise, but walk-in showers are ideal for a small bathroom. You can choose whether to have a glass shower door or make it doorless for a seamless outcome.
It's also best to choose the right door, frosted glass if you want more privacy or just the usual typical glass door.
Shower Curtain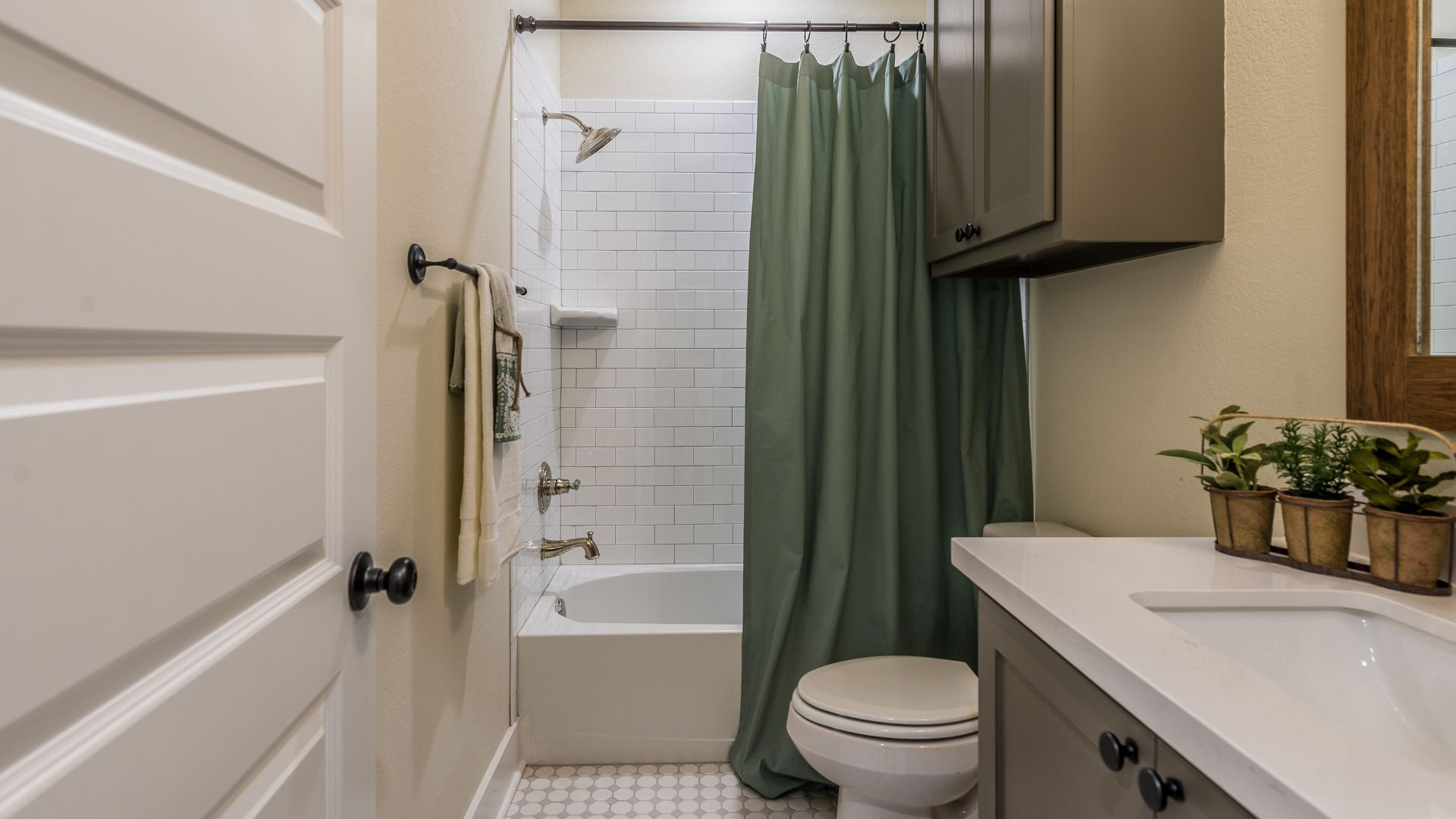 If glass doors are somewhat out of your small bathroom remodeling budget, you can go for shower curtains. Installation and maintenance are pretty easy as well. However, you cannot expect too much from shower curtains when it comes to privacy. So, make sure you choose the one that suits your budget and liking well.
Shower Cabins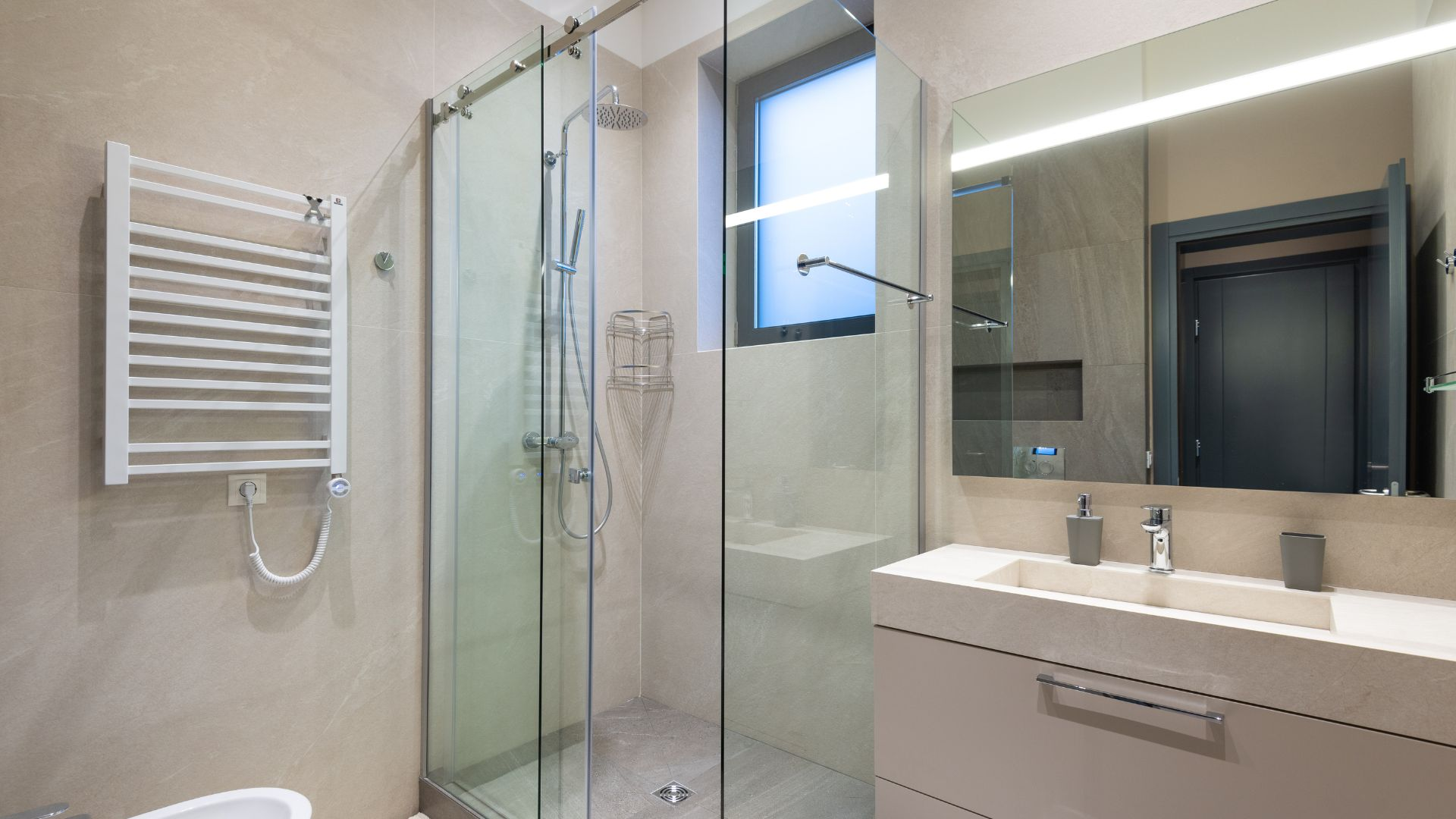 If you want an easy way to install a shower in your small bathroom, a shower cabin is your best choice. It's a pre-made all-in-one compact shower for your tiny bathroom.
In the shower niche, we also call them shower pods, and you can see them in small space apartments and condos.
It's also known as shower cubicles which contain all the needed elements of a shower room, such as trays, doors, shower heads, and other fixtures.
Doorless Walk-In Shower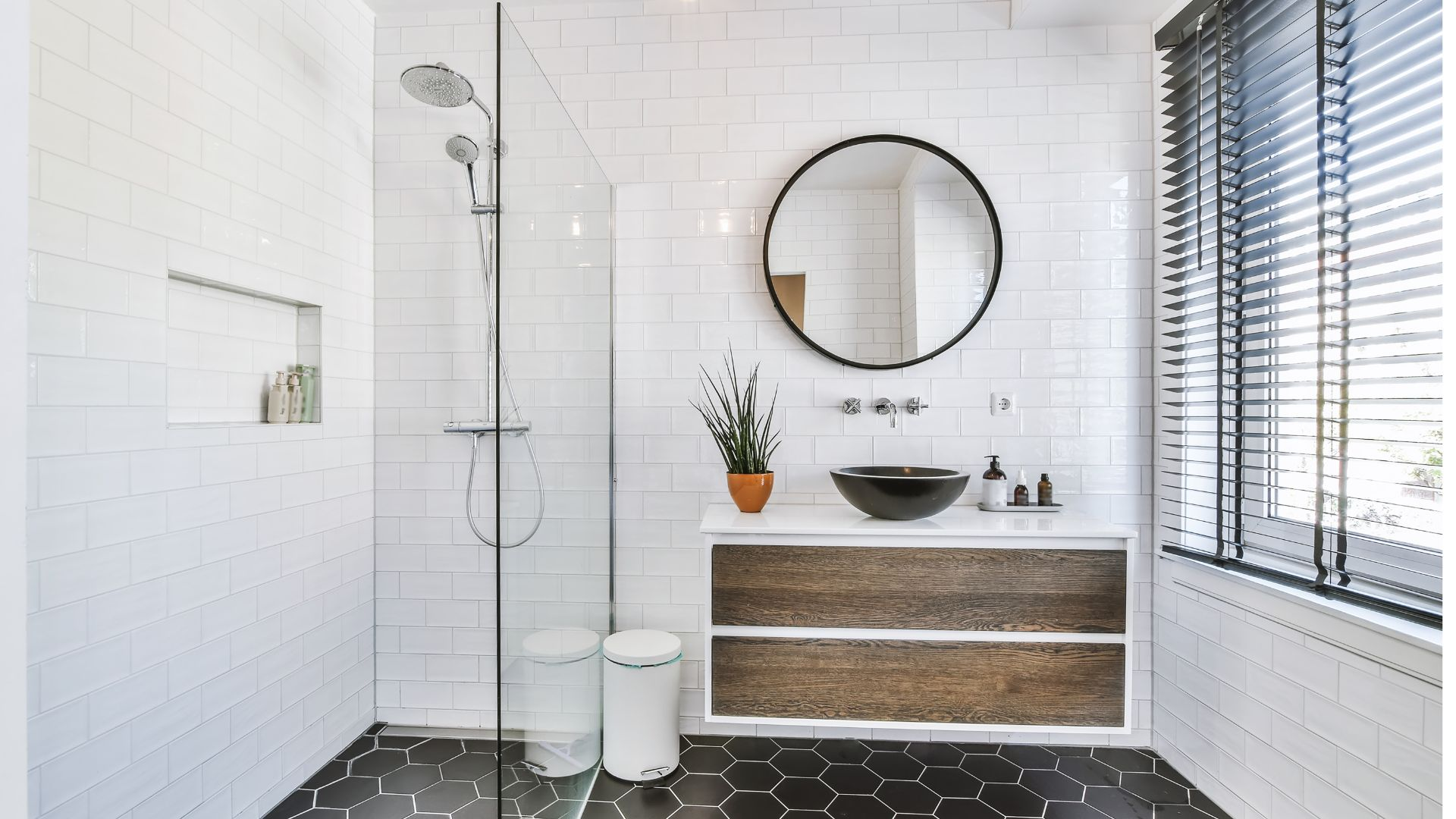 Alternatively, a doorless walk-in shower is good. You can also fuse your tub and shower into one space. That way, you save a lot of square footage.
In terms of safety, you can have grab bars and non-slip shower floors. A grab bar would be ideal as well so that you can hold onto something to avoid slipping.
If you want another option, a sliding door or shower curtain could work. But that depends on your preference, and if your current walk-in shower structure would support it.
This is one of the tricky parts when remodeling a small bathroom. But with our designers, nothing is impossible. We can always find a way to make things work while satisfying your needs.
Decorative Tiles for Wall and Floor Space
Whether you want an old-fashioned bathroom or a modern one, picking the right tiles is a critical factor to consider. Small tiles are a great way to add a statement when remodeling small bathrooms.
Small ceramic or mosaic tiles would be a great choice. Pick one that matches your bathroom vanity and countertops. Below are the best tiles for you to choose from in decorating your small bathroom:
Ceramic Tiles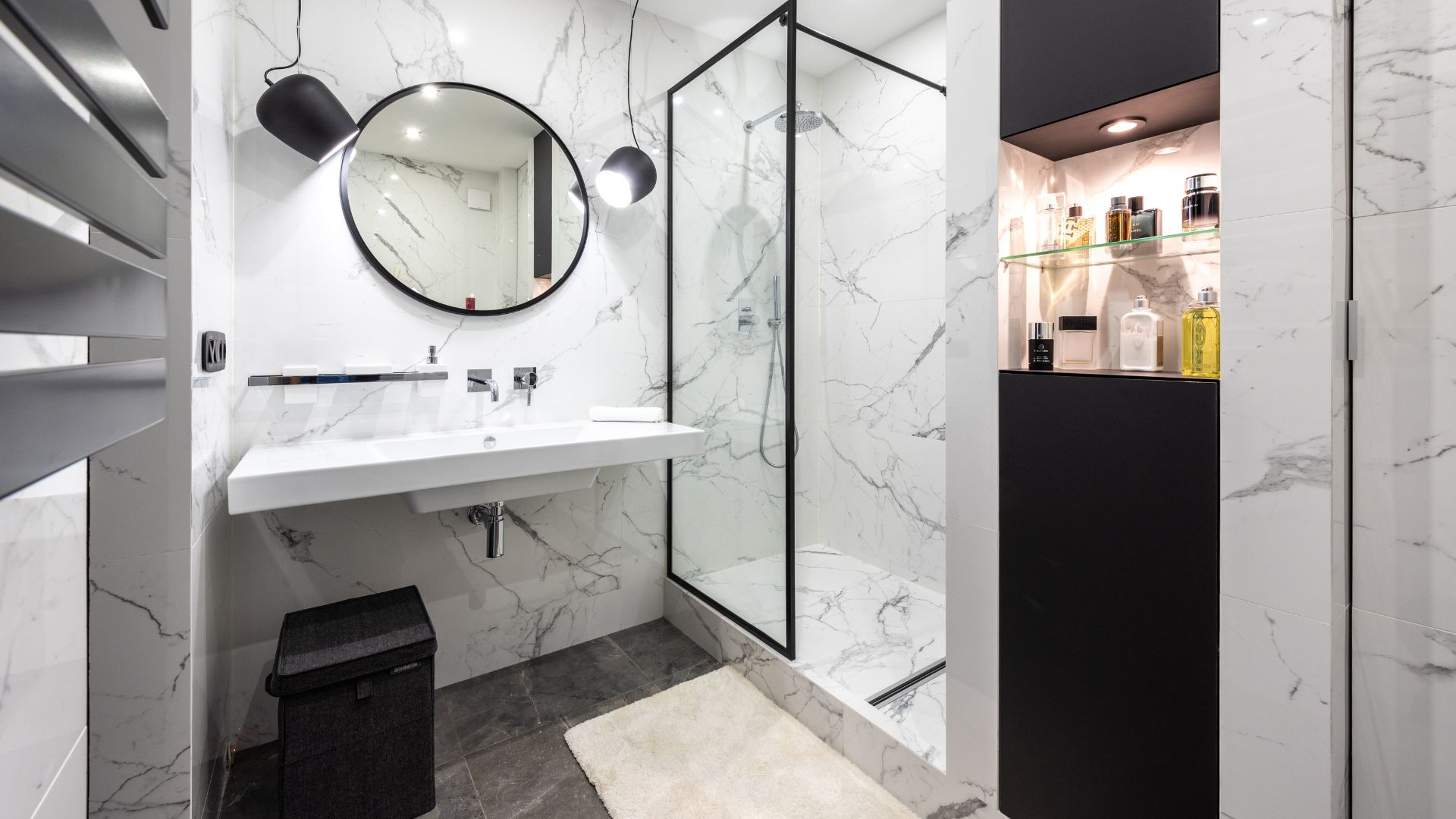 For an affordable price, you can revive the dead space and add a custom small bathroom decor to your floor tile using ceramic tiles. Because of their versatility, they can effortlessly fit any design for a tiny bathroom renovation.
Ceramic tiles can add warmth to your cool small bathroom remodel. We can help you install them to match all other items inside your bathroom.
Porcelain Tiles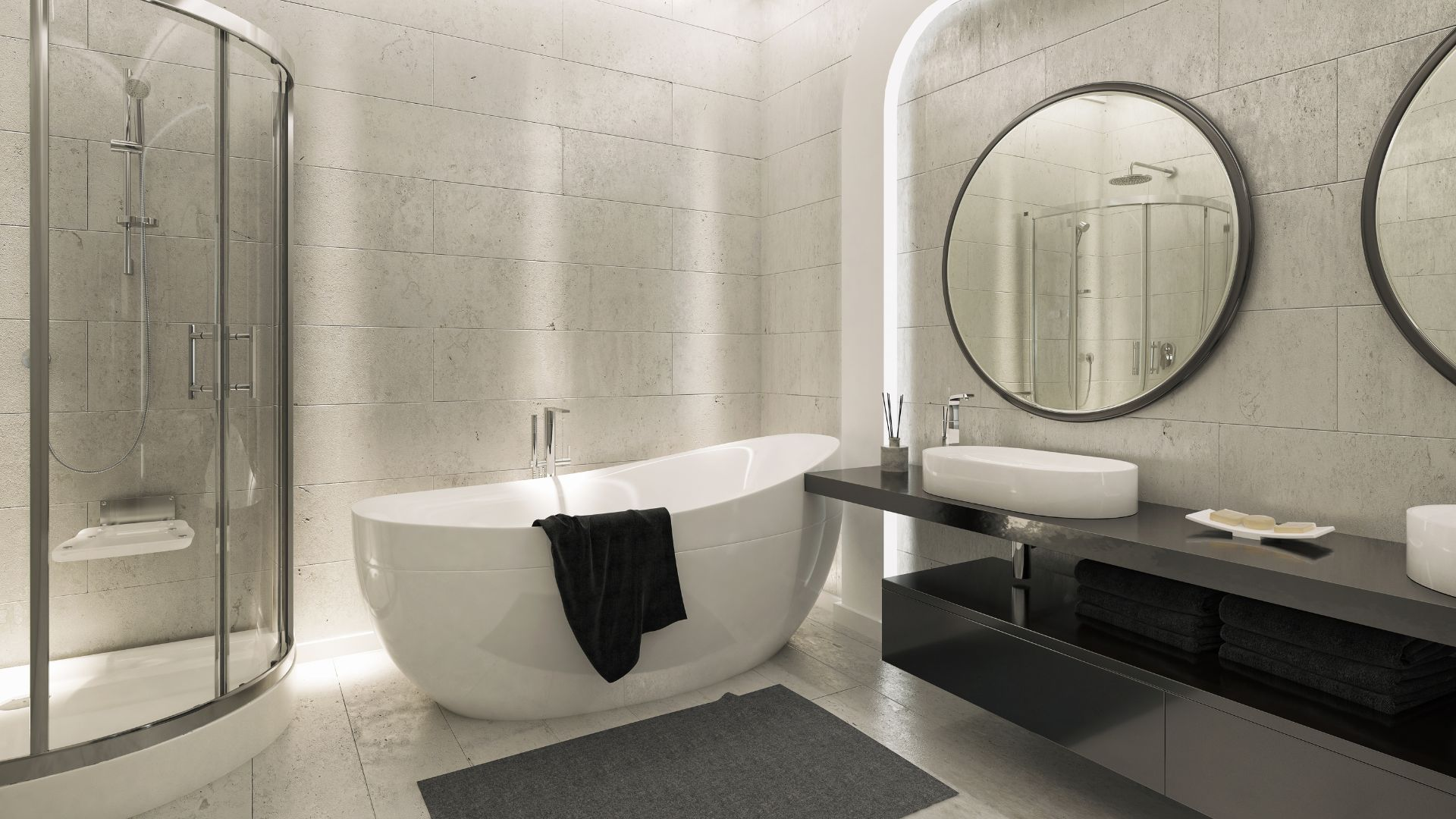 You can create an art collection from different porcelain tiles for your floor space. Compared to ceramic, this is heavier and denser, meaning it has better capabilities of wicking off moisture and stains.
Apart from that, it is also cheaper than other stone tiles. You can use this tile for your powder room without spending beyond your budget.
Glass tiles
We also have a collection of glass tiles for your small bathroom renovation. There are two main reasons why glass tiles are used in small bathroom remodels.
First, its reflective surface helps reflect light making your small space appear bigger.
Second, it gives you more sense of depth due to its translucent property. A winning feature for glass tiles that ceramic tiles cannot have.
Travertine Tiles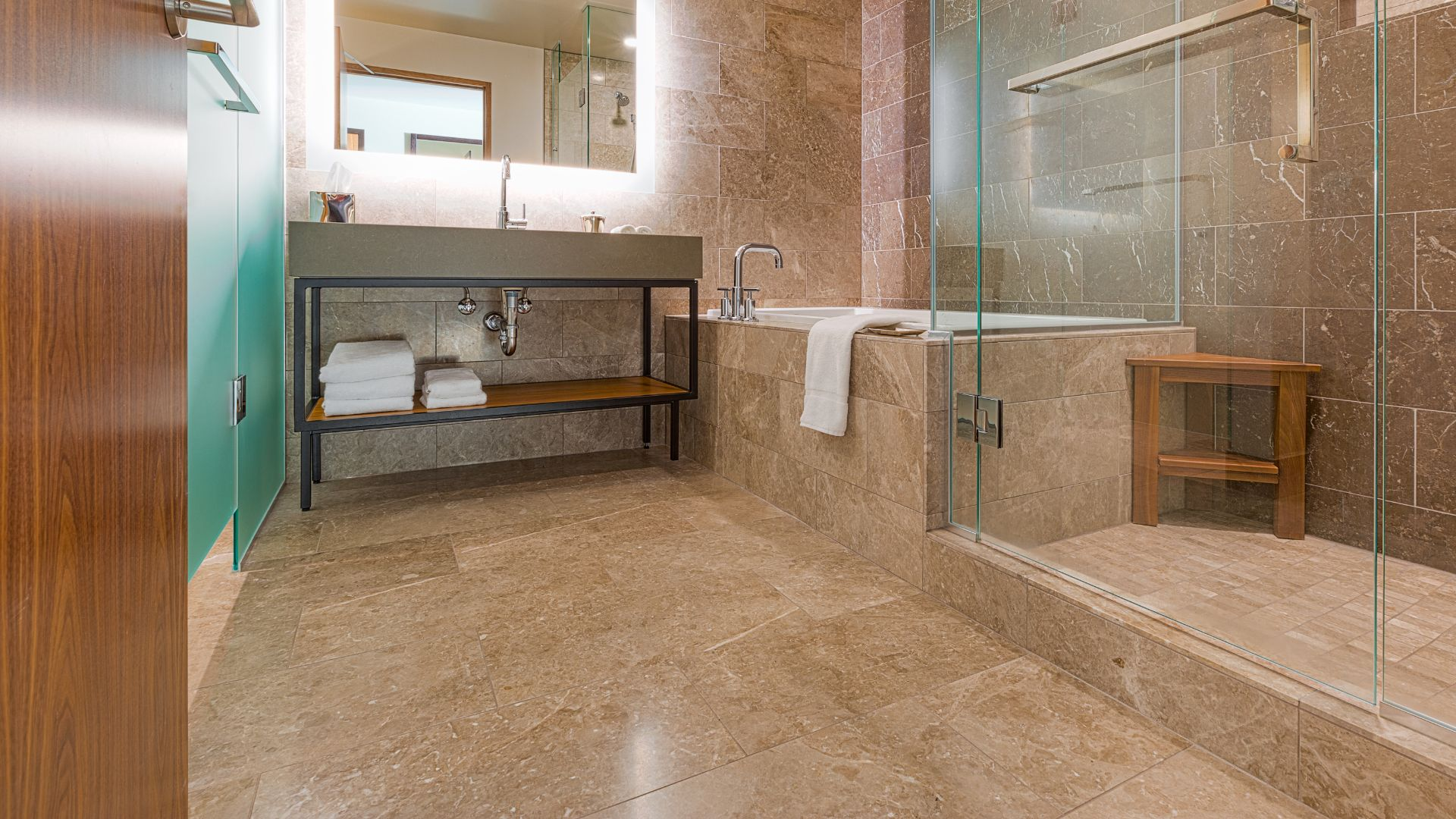 Natural stone tiles are a luxury to most homeowners. But if you want an affordable natural stone for your small bathroom, travertine is your best choice. For an affordable price, you get to experience the same luxury as marble countertops and tiles.
In our collection, you can find various colors and patterns of travertine tiles. Is it a good idea to use them on wet surfaces like your small bathroom or shower? The answer is yes. You can use honed or textured travertine for your floor tile and walls. But to make it more water resistant, you need to coat them with a sealant.
But if you can afford marble, then go for it. Our staff will help you pick the right marble tile for your tiny bathroom remodel.
Slate tiles
Another natural stone that's good for wet areas like small bathrooms. Regardless of your bathroom layout, slate can seamlessly fit the bill.
A metamorphic rock that comes in various hues, starting from gray to black with undertones of red, green, blue, purple, and gold. We can help you pick the right color to match other accessories present in our small bathroom makeover.
Slate can be used in many ways for your favorite small bathroom ideas. You can use it on your floating vanity and gallery wall. It's highly durable and resistant to water making it an ideal material for your bathroom accessories and floor tile.
Marble and Stone Tiles
Natural stone is a dream for most homeowners, especially for adding them to their small bathroom makeover. Marble and granite are two of the most popular stones you can use for your bathroom renovation. Both have exquisite beauty and strength that can withstand the test of time.
Besides improving storage space, adding elegance to every corner of your powder room and small bathroom must be part of your plan.
Natural stones like marble and granite are sought after by customers because of their eloquent beauty and style. No two slabs have the same patterns, making natural stone an unbeatable choice for renovating small bathroom layouts.
Here are some of the places you can use marble tiles and natural stone in your small bathroom remodel:
Pedestal sink

Double vanity with top

Gallery wall

Corner sink

Built-in storage

Undermount sink

Floating shelves
You have endless possibilities for using natural stone for improving the storage solutions and beauty of your compact bathroom.
Benefits of Marble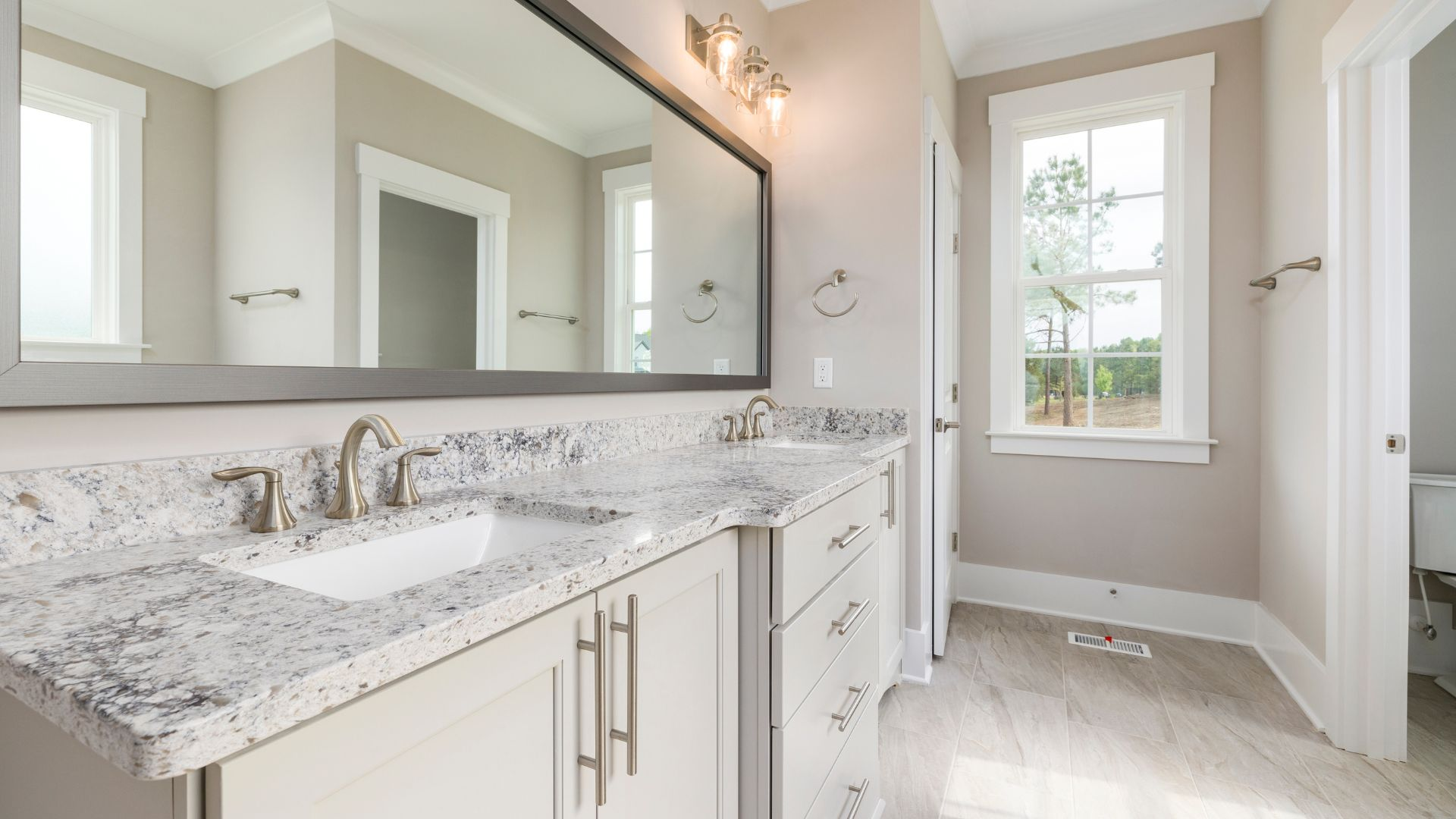 Marble is one of the most lucrative materials in home remodeling. That's because of the rarity of this stone with its design. If you examine a marble slab and cut that into two pieces, you would see that the two slabs created don't have the same patterns.
Marble's beauty is timeless and unparalleled compared to other stones. Despite having a soft nature, still, many customers want this because of the lushness it gives to your home.
In our showroom, you will find a collection of marble that can suffice your taste for a modern bathroom.
Benefits of Granite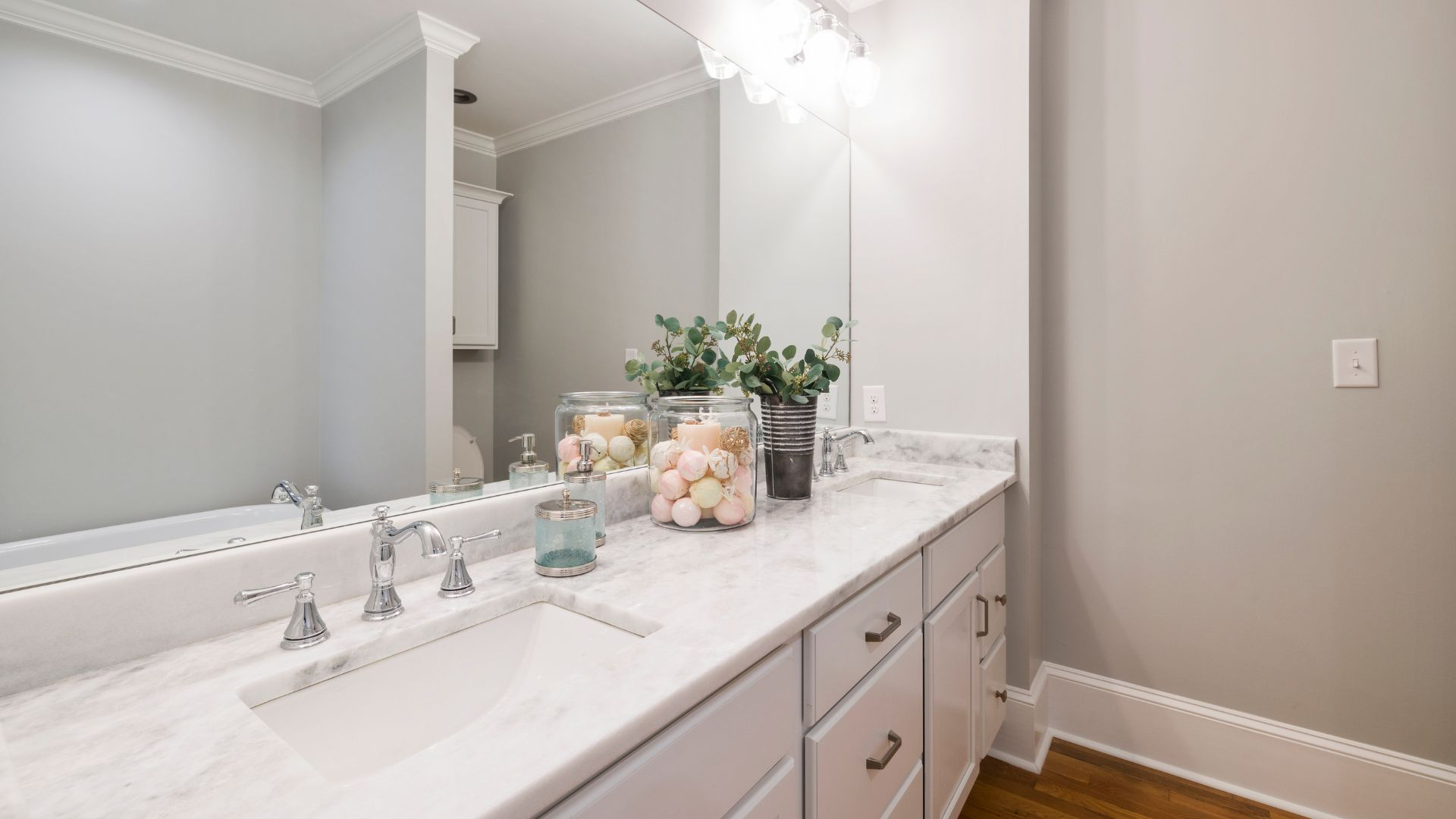 Granite is an impressive stone due to its durability and exquisite design. The random patterns and subtle color combinations of granite is perfect for modern homes. Let's see below for the benefits of granite for your bathroom remodel.
Impressive strength to withstand dents and scratches

Proven to add value and beauty to your home

Easy to clean and maintain

Different colors and patterns are available

It can be customized to fit your current bathroom layout and size
How about engineered stones?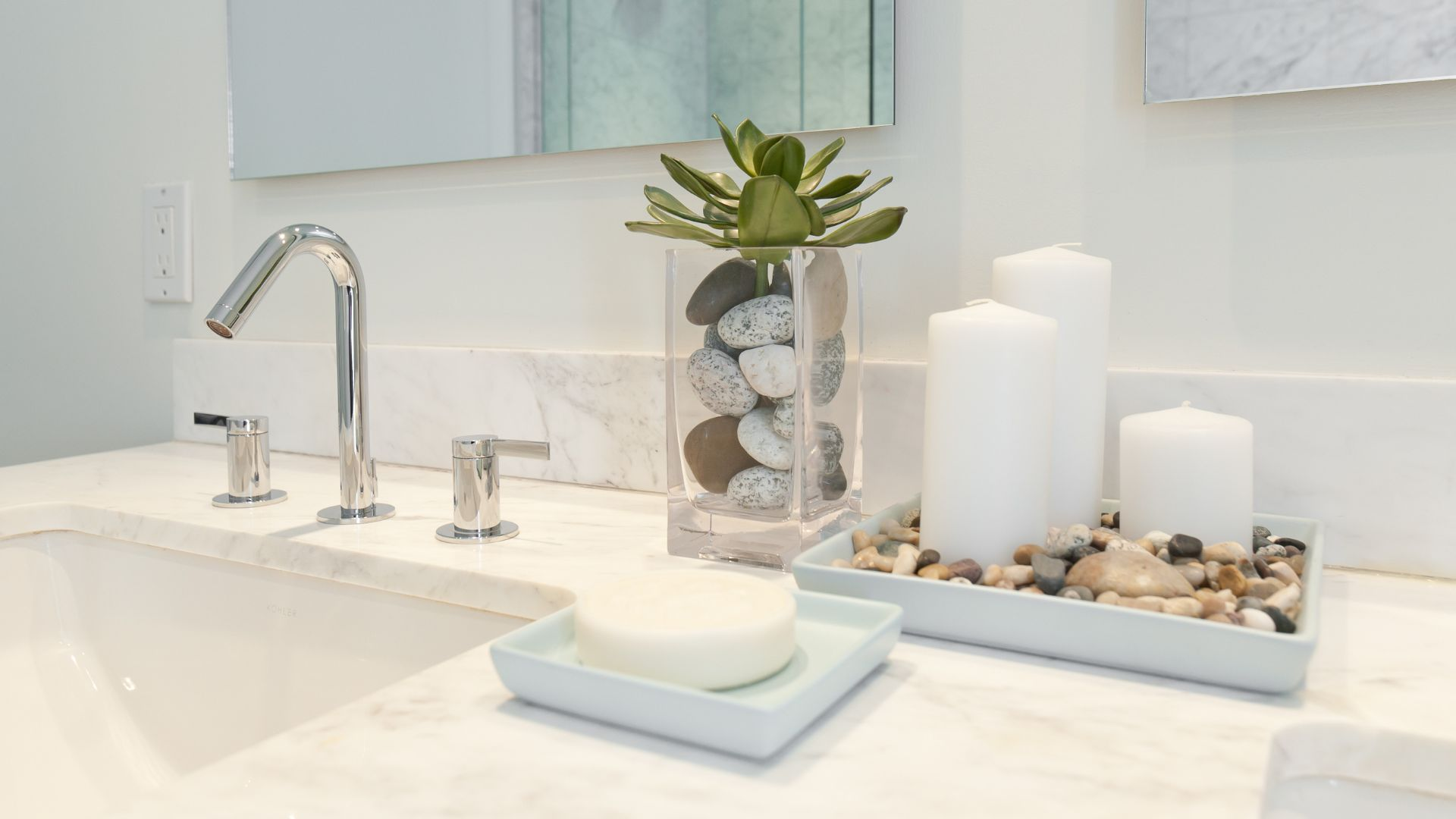 Quartz and cultured marble are two of the best examples of engineered stone used for bathroom countertops and tiles. Here are some of the benefits of cultured stones for your bathroom makeover:
Better resistance against stains and moisture

Improved hardness

Higher tolerance from heat and acidic liquids

More supplies of different colors and styles of stone slabs

Greater supply than natural stone

Cheaper than natural stone
Make the Small Bathroom Appear Taller
Not all are lucky to have a large master bathroom, some people are stuck with a small bathroom or a powder room for their morning and evening rituals. Because you're limited to expanding horizontally with small spaces, what you can do is orient your small bathroom design vertically so that it'll appear taller.
Here are smart tips for you to utilize your vertical space efficiently:
Pedestal sink

Slender and tall cabinets reaching the ceiling

Adding a few floating shelves in vertical space

Crown molding to make your medicine cabinet look taller

Allow more natural light to come in

Pick the same color for your wall and ceiling

Install tiles from your wall to your ceiling

Make the transition from your walls and ceilings seamless

Add floating storage on the extra space on your wall

The designs on the cabinet door are in a vertical orientation.

As for the walls, you can have a shiplap wall in a vertical orientation.

A ceiling-high wall-mount medicine cabinet would also be good for small bathrooms.
Because you have a limited area for your powder room, utilizing your vertical space is important. Orient your designs and accessories in a vertical manner to give an impression that your bathroom is tall.
Incorporating optical illusion is inevitable in all bathroom redos. Our designer will help you do this without disrupting other elements of your bathroom design.
These small bathroom ideas can be done to your home. Whether you have a powder room or a small bathroom, proper planning is the best way to prepare for this endeavor.
Sliding Bathroom Door 
Every homeowner wants to have a soothing space for their small bathroom. What are some ways for saving space inside your narrow space bathroom? Having pocket doors is one of the bathroom ideas you can apply to your bathroom design ideas. This is in addition to your plans of having a glass shower door.
Compared to folding swing doors, a sliding door can help you free more space to give way for other improvements, like your gallery wall and bathroom cabinets. We see this fit for your small bathroom ideas while adding sleekness to your home.
On top of your door, we can also install a wooden floating shelf for storing your towels and toilet paper. This is an amazing idea you can adapt to your bathroom remodeling plans.
Whether it's a powder room or a small bathroom, a minimalist approach must always be observed. A pocket door is one effective way of adding a functional clean feature to your small bathroom remodel.
Other Small Bathroom Ideas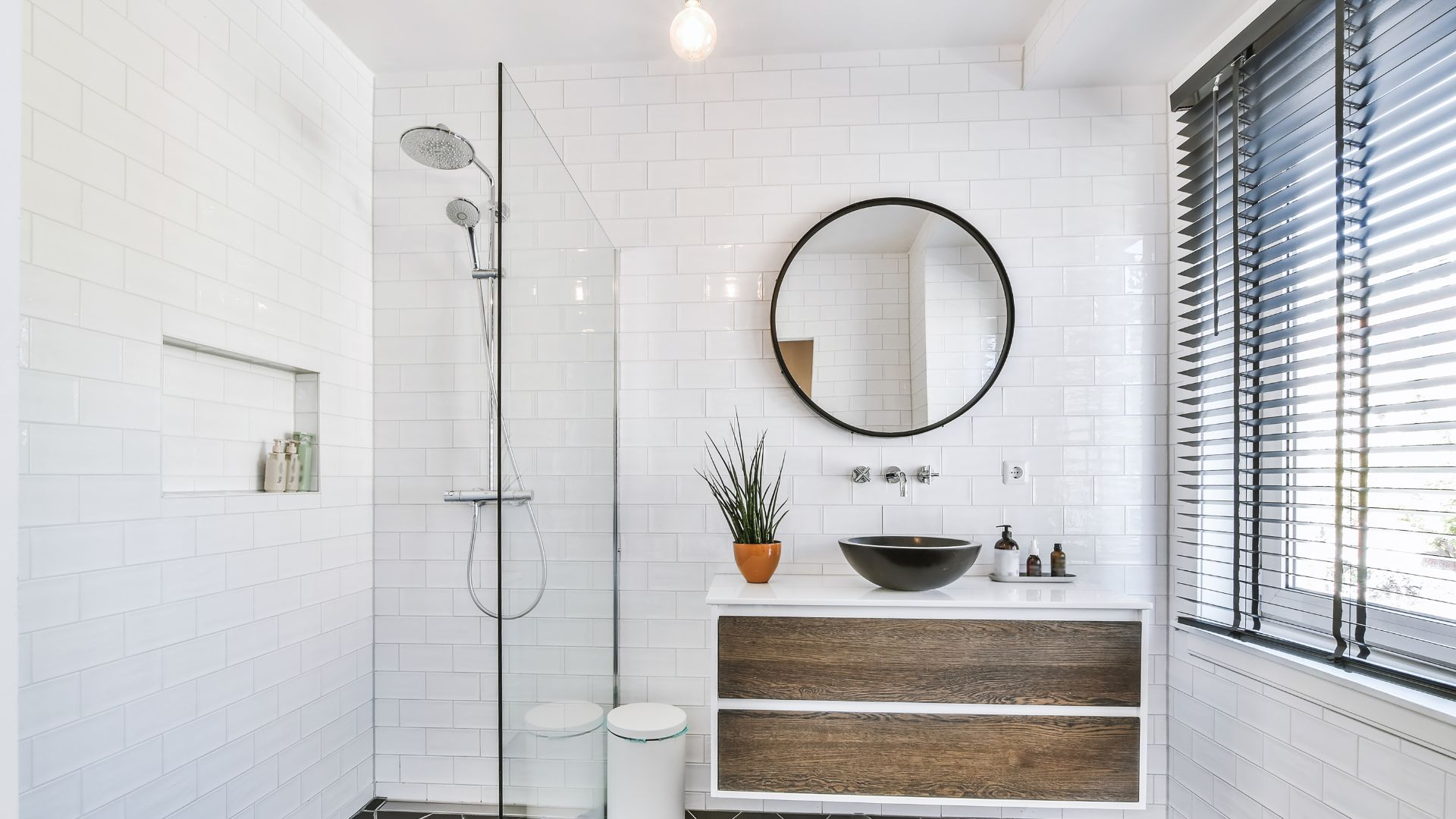 There are endless small bathroom ideas we can think of that you can apply to your small bathroom. The three main objectives of remodeling your bathroom are to save space, add storage space, and bring a fresh coat to your small room.
Proper planning is the key to hitting all these objectives. We understand how challenging it is to renovate a bathroom, yet with our knowledge and skills, we can help you get your dream bathroom makeover.
We are here to help you recreate your powder rooms and small bathroom design so that it supports your current lifestyle.
Let the sun come in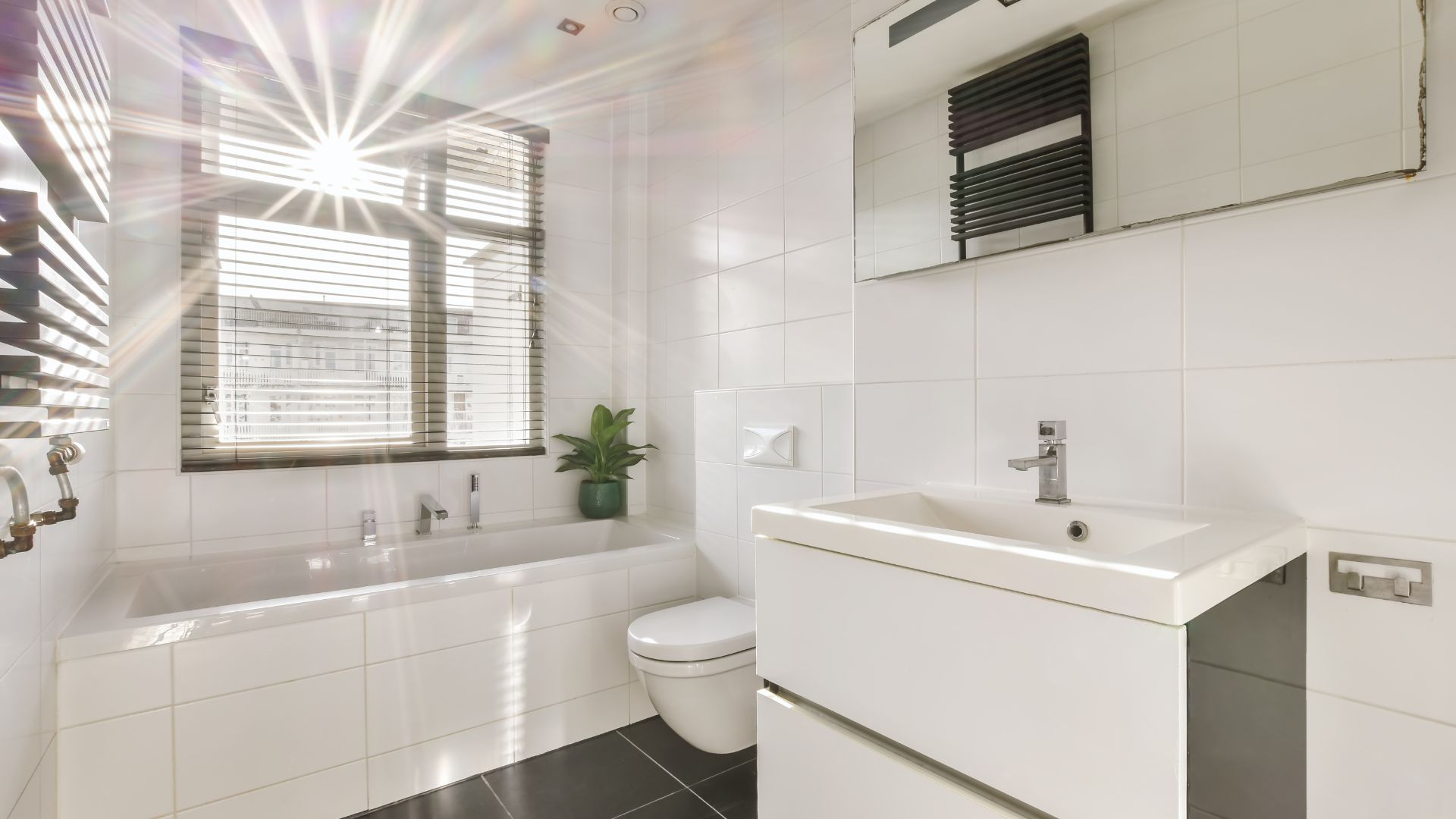 Natural light is your best source of brightening your small bathroom and small powder room. It must be incorporated into your small bathroom design how you can make use of natural light in making your space airier and cozier.
In your small bathroom design, we can help you think about how to efficiently let the light come to your bathroom. By doing this, you are saving cost on your utility.
As natural light comes to your bathroom, the reflective surfaces of your tiles, flooring, round mirror, and cabinets help trap this light inside, making your bathroom vibrant and alive.
Floating Toilet Seat
Besides built-in storage for your bathrooms, a floating toilet seat is one of the trending design ideas for renovating bathrooms.
With this idea, you can save space. You can also make the water tank be built into the wall. This creates a seamless floating toilet seat in your bathroom remodel.
With the extra space underneath, you can save your extra toilet paper and towels there. You can place it inside wicker baskets and safely tuck it underneath the vacant space.
Built-in Vanity
Instead of having a freestanding vanity, a built-in vanity is your best choice for maximizing storage. In our showroom, you can find a variety of brands and styles of vanities. We can help you pick and install the right one for your powder room.
We can customize this built-in cabinet to have your preferred number of open shelves and open storage solutions for a seamless manner of organizing your bathroom.
Engineered Wood Floor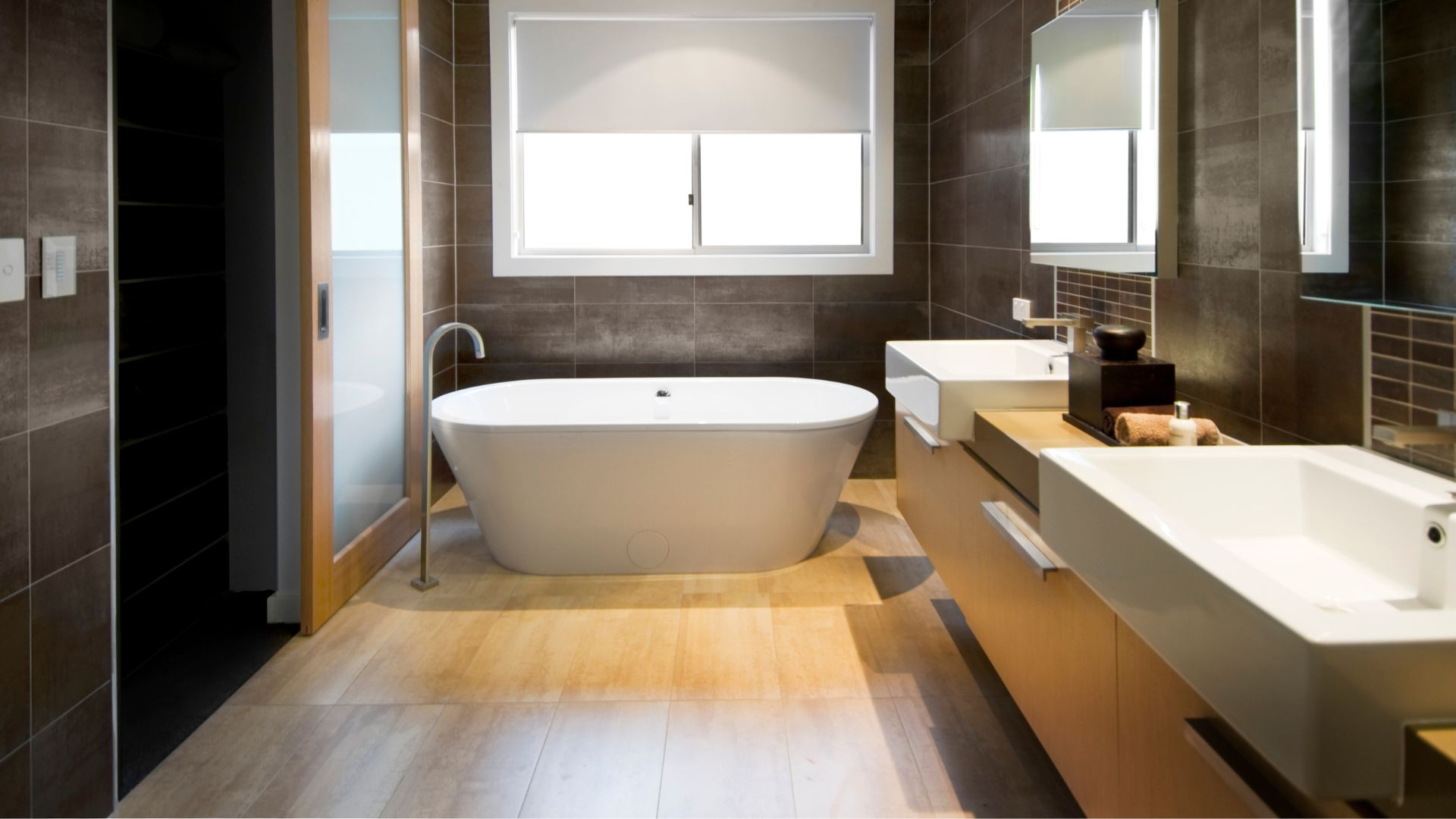 Using wood for your bathroom floor is a good idea, yet it shouldn't be hardwood, okay? It should be engineered wood you need to use as your bathroom floor.
In terms of appearance, the top layer looks like real wood since wood veneer is used there. Because of that, there's impressive durability for engineered wood.
This material is a good option for your bathroom flooring since they have high resistance to stains and moisture. The warm color of wood balances the cool modern vibe of gray walls or any neutral tone for your walls.
Undermount Sink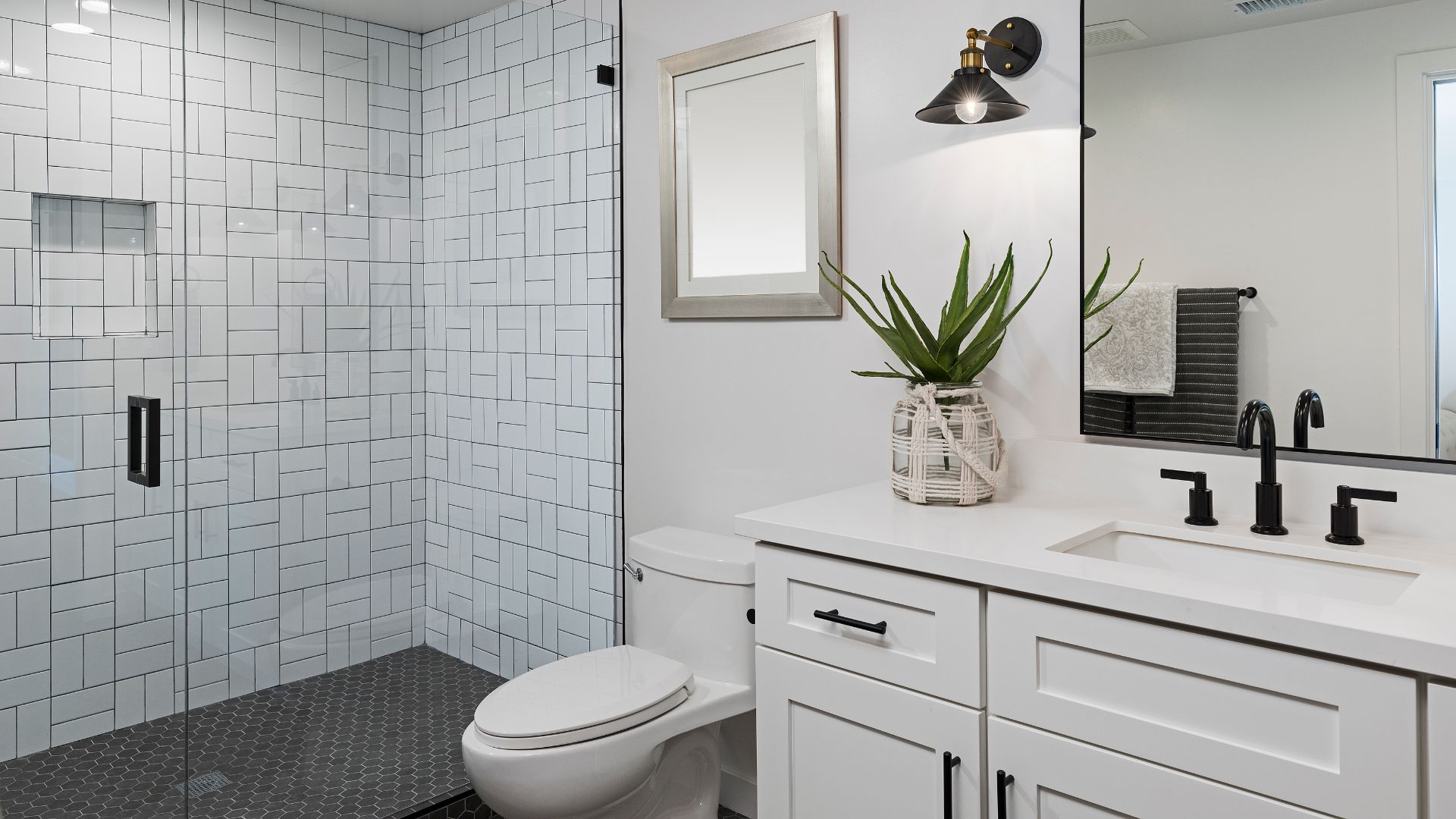 Besides a pedestal sink, an under-mount sink is your second-best option. The main benefit of this sink, it has no lip or crevice that traps dirt when you're using your sink. You have less cleaning to make with this sink style.
We have different sizes and brands of undermount sinks for your bathroom. With the help of our team, we can customize the sink cut out of your bathroom countertop. Plus, our sinks are of high quality to last a lifetime.
Things To Look for Before Renovating a Small Bathroom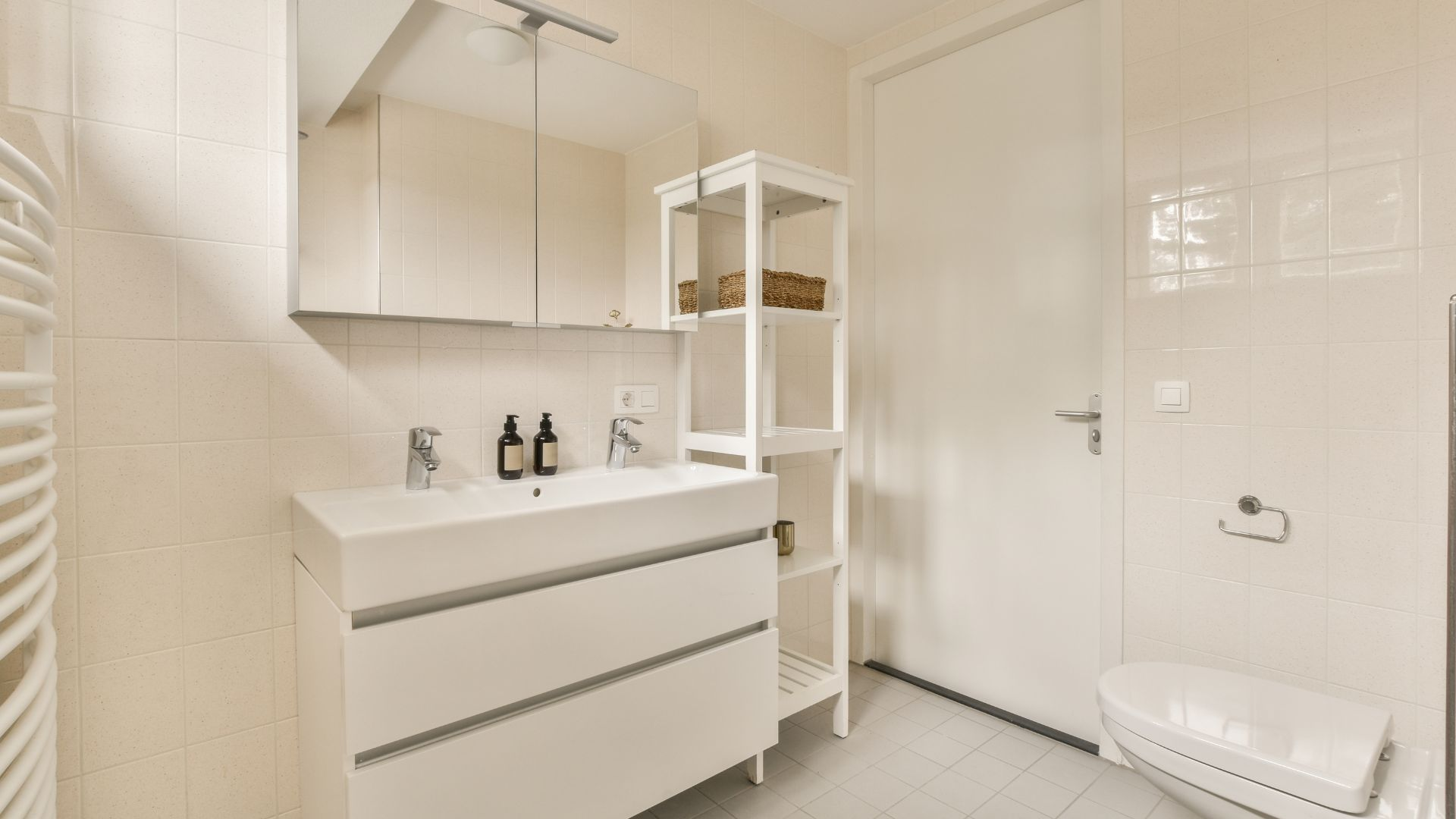 Before renovating your bathroom, always bear in mind the following things:
Moisture Control
Moisture control is a must, especially for small bathrooms since it can easily saturate the space. It makes you uncomfortable and molds can grow anywhere. That said, you can install an active ventilation system that'll remove all that moisture from your bathroom.
A bathroom is prone to excess moisture. You have two ways to reduce that, one is to incorporate in your bathroom layout a passive exhaust system to let extra moisture out.
The second option is for you to have an active exhaust system to let excess moisture out.
Weekly Cleaning for Tiny Bathroom
Schedule a weekly cleaning of your bathroom. This helps preserve the pristine conditions of your fixtures.
We encourage you to do daily light cleaning in your powder room and shower. That's to avoid molds and mildew that can ruin the structure and health of your home.
Balance Between Functionality and Beauty
All the improvements on your bathroom must be functional other than adding beauty to the space. Whether you are doing these improvements for listing or keeping your home, if your bathroom has many features, it increases your house value.
Compared to kitchen remodeling, beauty is more prioritized in bathroom remodeling. However, we can never discount that every feature you add to your small bathroom, needs to enhance usability.
You have many aspects when we talk about bathroom functionality. That includes storage, lighting, safety, cleaning requirements, and space-saving attribute. If you hit all these criteria, be proud of yourself since you've made the most out of your small bathroom remodel.
Avoid Expensive Mistakes
Hire a professional remodeling company if you're not confident to do it on your own. Or, if you don't have the skills and time for it.
Budget
Think how much you want to spend on renovating your bathroom. Once you have a ballpark range, allocate around ten to fifteen percent allowance to your budget. This is to cover any unexpected increase in the prices of materials and labor today.
Oftentimes, asking for a free quote is best for home remodeling. Whether you're planning to finish or do a complete bathroom redo, a free estimate would help you prepare the right budget for this project.
Area
Of course, the square footage of your bathroom will impact the cost and design of your small bathroom remodel. The rule of thumb, the bigger the space, the higher will be your renovation cost. That said, it's safe to ask for a free quote by square feet for your plan of renovating your bathroom.
You can contact us to get a free quote and consultation today. We help many homeowners get their dream home through smart home improvements.
Let's Wrap Up
We hope you have a wonderful time reading through our small bathroom design ideas. We understand how complex it is to remodel your bathroom, but with the help of a professional, it'll be easier.
Fewer chances of redos and expensive mistakes when you work with professionals. Plus, you're confident that your dream bathroom design can be done.
All design ideas are good, but you have to determine if they are workable for your current bathroom. If you're unsure about it, you can contact us for professional help.
We're excited to help you live with your dream bathroom! Book a free consultation today!
Visit us on our Facebook page, and get to know more about us!