When you see flowers start to blossom, it's the time of the year to liven up your home and give it a fresh start.
There is no better area of the home to liven up than the kitchen- the heart of every home. A full kitchen renovation would be great for adding lush while improving storage space in your kitchen. 
There are several ways to bring new life to your kitchen. You can surely go for kitchen and bath remodeling. However, if you don't have enough budget for it, then you can just update some parts of your home, one of which is the kitchen cabinet.
Changing the color of your kitchen cabinets will give them a fresh new coat and will make the room more inviting and vibrant. It is always important to choose the right colors that will fit small kitchen remodeling ideas.
So, let's explore different kitchen cabinet color ideas that will give it a stunning look. 
Hues of Green
Whether you have a slab style or shaker cabinet, green is a timeless color suitable for most kitchen cabinet ideas.
Light pastel greens are great for modern kitchens, while shades of olive, pine, and seaweed are perfect in classic kitchen style. You can apply this to your upper cabinets with glass doors.
Dark Green Modern Kitchen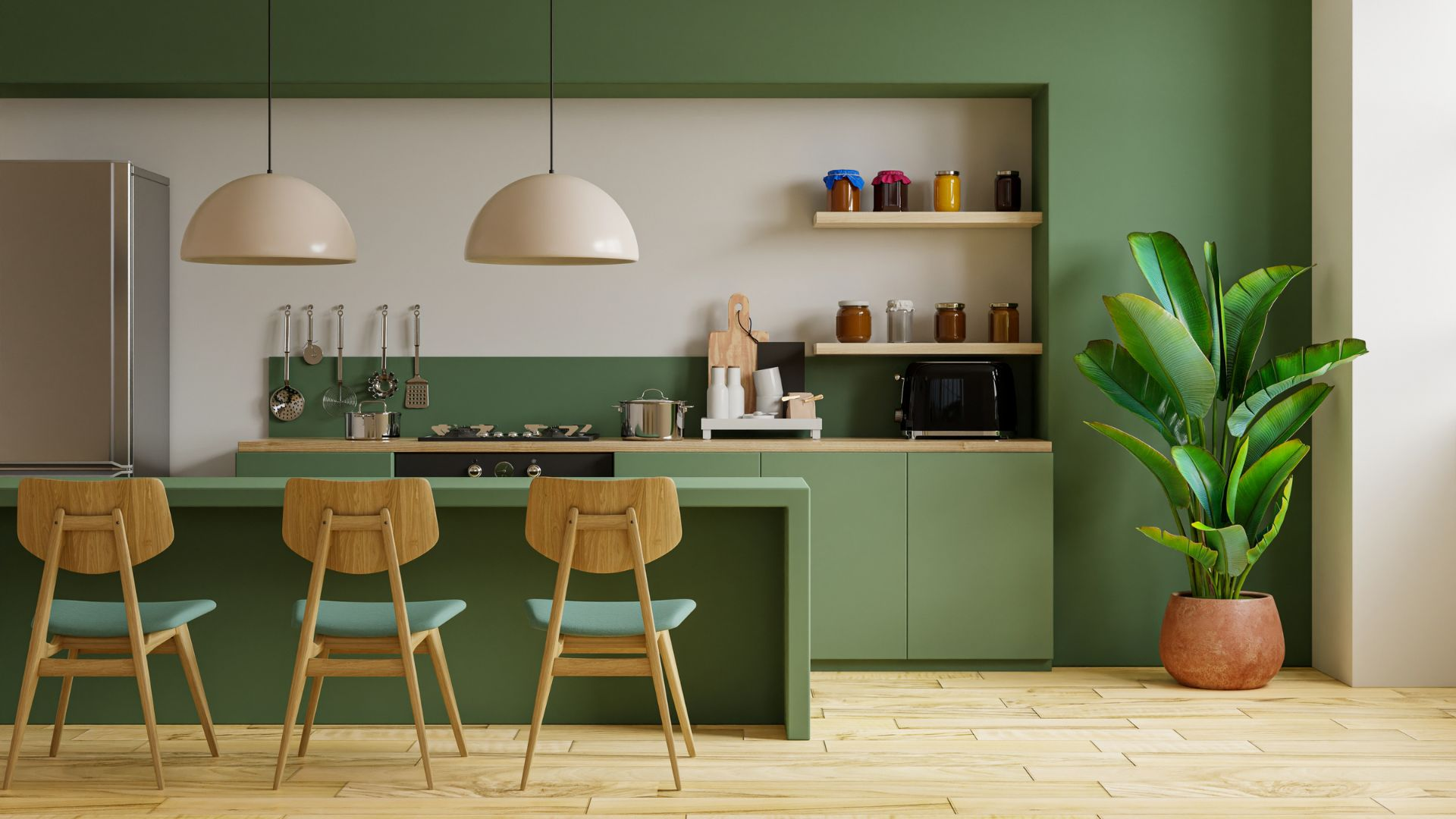 Paint the kitchen cabinet with dark green and this work well in contemporary kitchens, likewise in traditional and farmhouse ones. A fresh coat on your existing cabinets would be great for adding a new style while keeping costs low.
Green cabinets are an excellent substitute for white and gray cabinets. Green cabinets are versatile to blend with other accessories and furniture.
Attractive Blue Kitchen Cabinet Ideas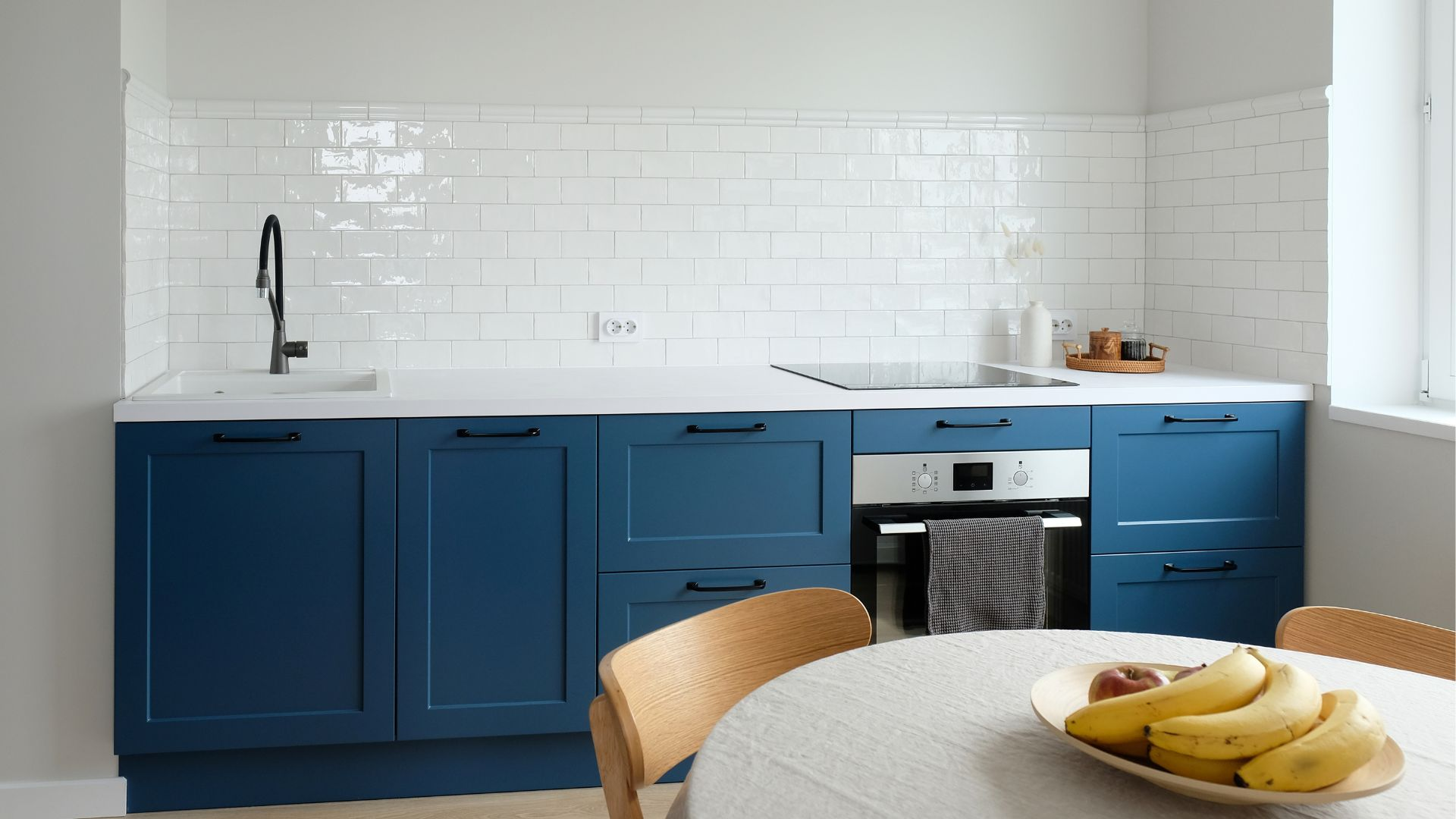 Blue color has always hit the mark when it comes to kitchen cabinets. The many shades of blue with a mix of blue and green will undoubtedly give your space a brighter and more cheerful look.
Azure, turquoise, sky blue, navy blue- other hues of blue can fit seamlessly with other bright colors, backsplashes, and countertops. Wall cabinets painted with any of these palettes would seamlessly pop out from your white wall.
Royal Blue Upper Cabinets
Deep royal blues paired with vibrant white kitchen cabinets will add some lush to the space. This is flexible to apply on any cabinet doors. Whether you have glass doors for your upper cabinets, or dark cabinets as your base, this can perfectly improve the aesthetics of your kitchen. You can check some kitchen remodeling before and after photos showing off attractive blues. 
Touch of Grays
Warm grays will give a room a sophisticated touch. This marries well with stainless steel range hood and other appliances in the kitchen that gives an industrial edge to your traditional kitchen.
If you need more kitchen cabinet ideas, you might want to try is pairing a classic gray with a lighter color as an accent will create a cooler yet appealing space.
 A floor to ceiling cabinets with this color can make your kitchen look taller. Slab-style cabinet doors are a fitting choice if you aim to have a modern vibe.
A dark-gray works perfectly well with any kitchen theme. For a modern look, pair this color with lighter tones. Chrome finish cabinet hardware on your cabinet door is good for adding a chic industrial touch to your cabinets.
You can also use this paint color with a lighter shade of gray to achieve a dual tone. They can complement each other while you can focus more on improving the efficiency and easy access of your cabinetry.
Remember that you don't have to paint your cabinets the same color. Combining two different colors from the same family can increase the visual perception of the room. 
Woody Warmth
Let's move on to other cabinet color ideas for the kitchen. Stained wood for your wall cabinets and base cabinets is still in demand today. You can find many kitchen cabinet ideas online to benchmark with this cabinet color.
This is far more natural and has always been part of the trend. Kitchen cabinets in wood have always been everyone's favorite. A focal point with a traditional look at the drawer fronts and open shelving of your cabinets.
A combination of woodsy cabinets and a white color palette makes the kitchen welcoming. You may also use lighter hues of gray as a substitute for bright white. 
Traditional cabinetry with stained wood as a final coat would give a timeless classic beauty to your kitchen. This works for large and small kitchen remodels.
Gentle Yellow
When you want your next project to be vibrant and modern, a yellow cabinet is a great choice. This is one of the best kitchen cabinet ideas for modern homes. It invites a jolly and warm feeling inside your modern house.
As Spring kicks in, paint your upper or base cabinets yellow as it jives with the warm and blooming ambiance of the season. Days are longer in Spring, so this hue would be in season. Daffodil yellow for your kitchen cabinet can be a fun choice for a Spring-inspired cabinet remodel.
The yellow hue brings a different spring-inspired theme around the kitchen. It brings out a charm and blends cohesively with a farmhouse rural vibe or even more on countryside kitchens. 
Classic White
White cabinets are not boring, as a matter of fact, they are classic, and work best for a modern kitchen look. Whatever kitchen layout you may have, white cabinets can effortlessly blend and work with any accessories and hues in your kitchen makeover.
Nothing beats a traditional, classic all-white kitchen. This is one of the kitchen color cabinet ideas that is never antiquated. A white cabinet paint stands out because of its powerful and vibrant energy.
To add some contrasting details to the room, consider using silver or gold hardware. There are just a lot of white kitchen cabinet ideas that you can use for this project. 
Rich Red Cabinet Doors
Do you want an energetic and romantic aura to your brand-new cabinets? Red cabinets can perfectly suffice your needs for that choice.
A coat of paint with this hue can make a powerful statement on your kitchen remodel. This is one of the best-selling kitchen cabinet ideas since the 1900s. This works perfectly for one wall kitchen.
Red is a strong color that invites energy and appetite to your kitchen. Because it's a strong paint color, you have to balance it with the right complementary colors and accessories, otherwise, it's the overall impact is overwhelming. If you go for red cabinet doors, the common accessories to complement it is white countertops and light gray walls.
In terms of style, bright red cabinets go well with white countertops and grays. Stainless steel appliances and black-colored accessories are great additions to this theme.
If you choose dark red, it works best with black granite countertops and glossy surfaces. If you want to get away from a traditional style, this one's for you.
White cabinets with turquoise cabinet interior walls
Classic white is a good choice for modern and classic kitchens. But you can add an accent to that by changing the color of its cabinet interior walls. Turquoise or emerald green can be some of the best options for you. Painting a different color for your cabinet interior walls, drawers, and shelves is a creative way to stand out from others having white cabinets.
Having a cool color for your cabinets is trending since it gives a relaxing cool vibe to your storage space. There are different shades of turquoise for you to choose from, and all of them are a perfect match with your white cabinets.
Chrome or satin nickel finish for your bar pulls or knobs are a good choice to work with your cabinets' paint color. A high gloss cabinet with this hardware can help you get your dream ultra-modern kitchen remodeled.
Glass front doors for your wood cabinets. A style that helps deepen the vision of anyone looking into your cabinets. Showcase the expensive porcelain wares you'll be placing inside your wall-hung white kitchen cabinets. Also, it marries your white kitchen wall and cabinet exteriors.
Deep Blue Cabinets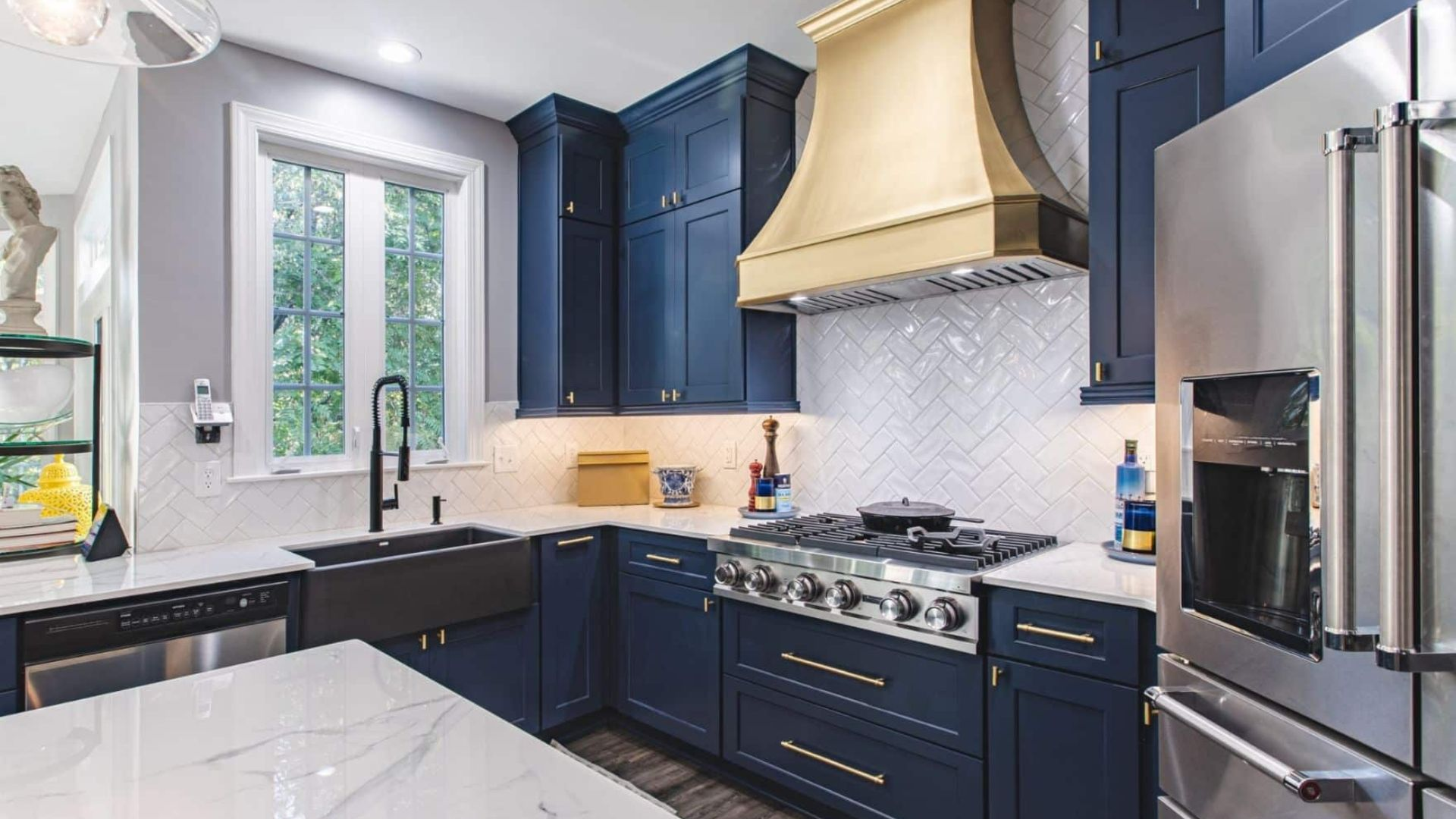 Replacing your old furniture with a new one is an opportunity to enhance the function of your kitchen. Deep blue cabinets are one of your trending options for Springtime cabinets. The drawer and shelves of your cabinet can be of the same shade as the exterior cabinet surface.
A stunning centerpiece in your kitchen, you can install a waterfall island with deep blue base cabinets. Your white marble countertop will effortlessly pop out from the background. And then, go for a brass finish bar pull or knob for accessing your cabinet door.
Mix and match favorite cabinet door colors
Whatever your preference for your kitchen colors, there is always a combination of hues that will effortlessly fit your kitchen design.
Here are some collections of colorful kitchen hues that will inspire you. There are just a whole lot of kitchen cabinet design ideas that will absolutely tickle your interest. 
Natural Wood Color Mixed with White and Black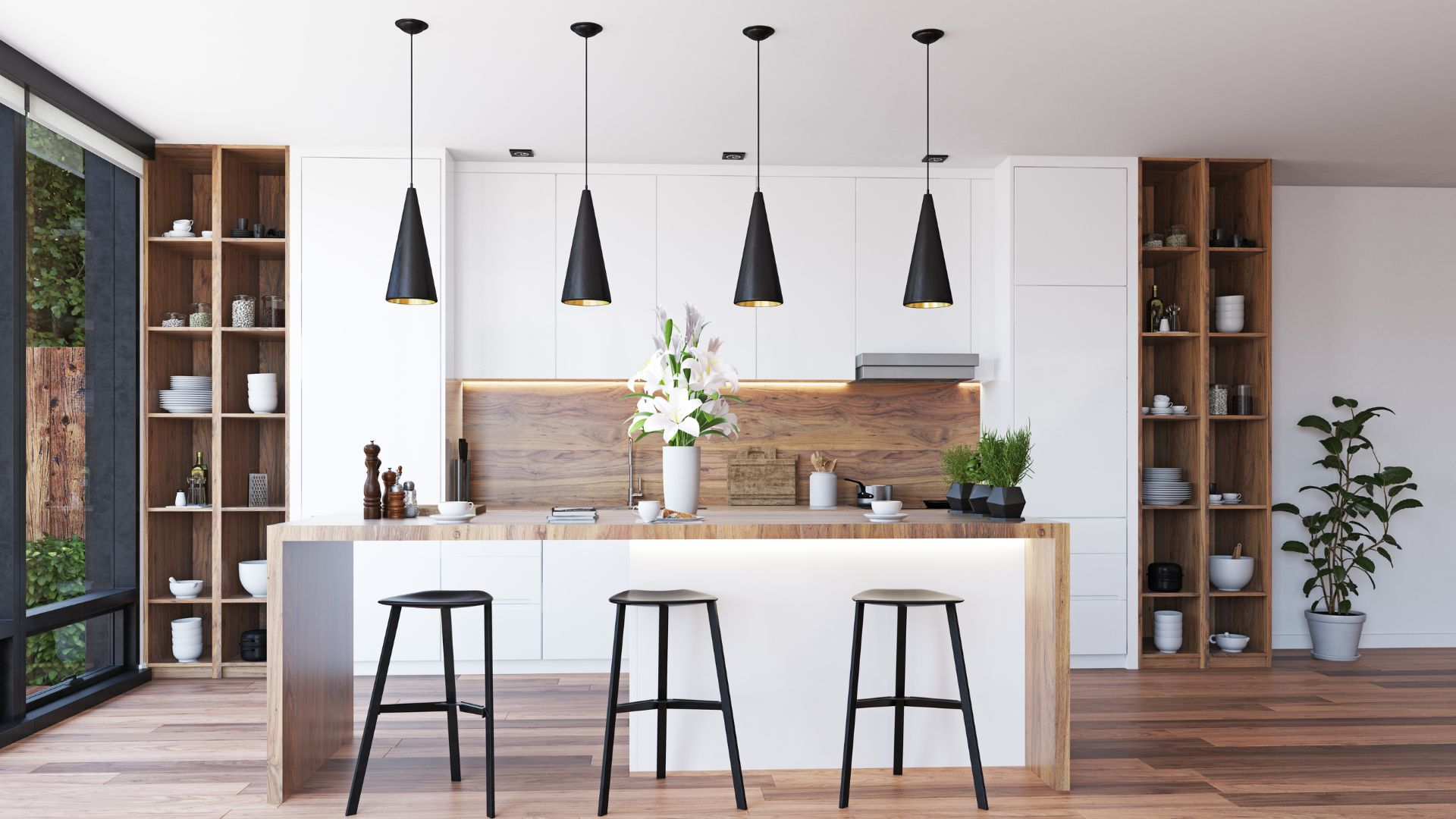 If you are searching for modern kitchen ideas, this combination is an excellent option for you. The black cabinets set off elegance to the place. Together with bold floor tile and a touch of warm wood for an island, this creates a timeless kitchen that fits best for a classic yet modern look. 
You can also opt for white corner cabinets. You will have more vertical storage while drawing attention to the center of your kitchen. Stained wood cabinets also marry with stainless steel appliances and other high gloss materials and accessories.
Furthermore, incorporating white-tiled walls and marble countertops create coordination throughout. Brass cabinet hardware and fixtures help brighten the dark kitchen. Make sure that you also choose the color of crown molding suitable to your taste.
Navy Blue Cabinets Paired with Gold and Gray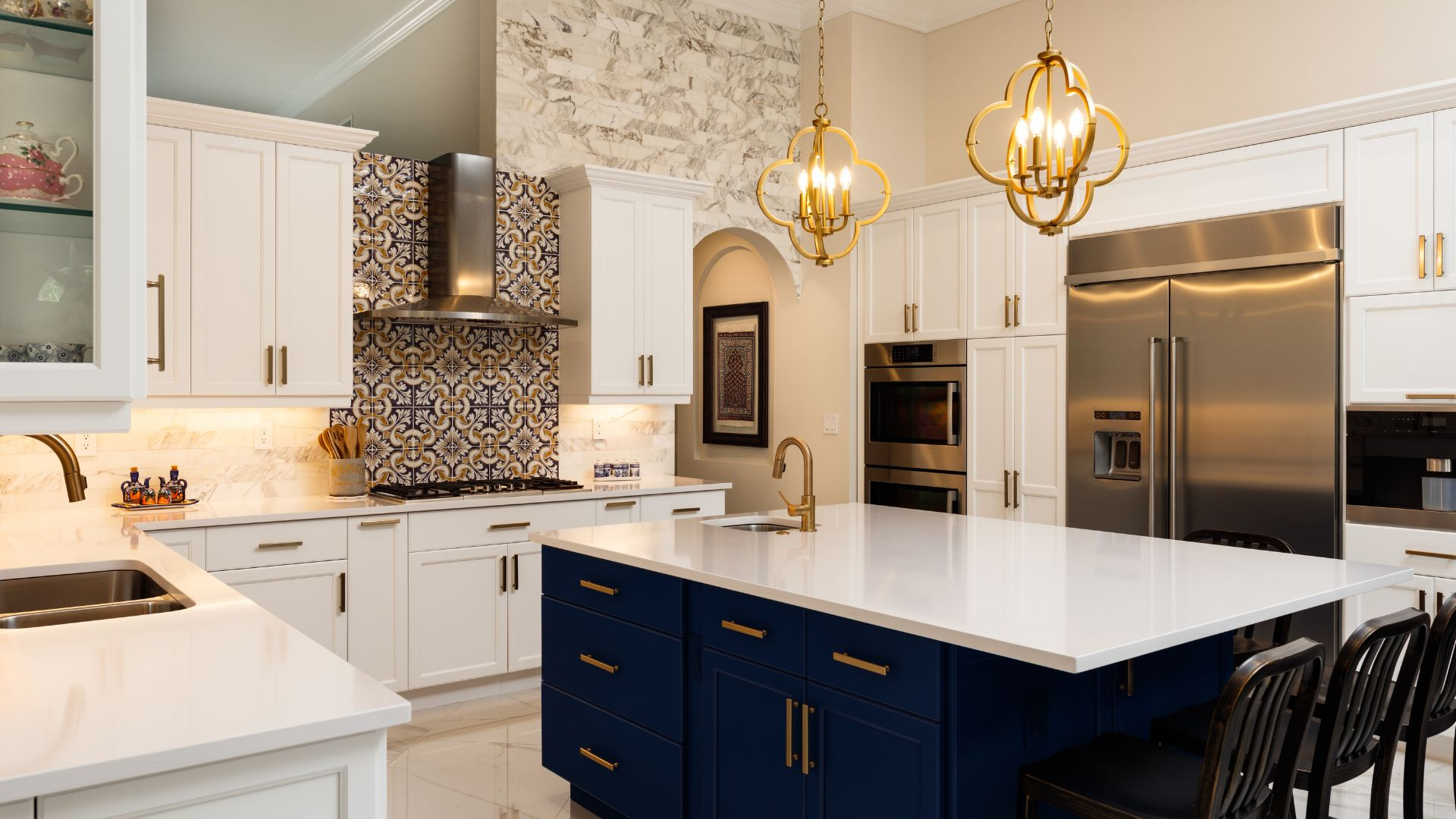 The combination of gold and navy blue will make a bold statement in the kitchen. When blue is used for a countertop or base cabinetry, adding a gold element gives it a sense of luxury while blue offers a calm ambiance to your kitchen. If you're looking for somewhat dark kitchen cabinet ideas, this is the one.
Adding gray tiles as your backsplash would complete the picture. Otherwise, painting your kitchen with light gray would combine the two palettes in harmony. 
Mint Green Cabinets Mixed with Black and White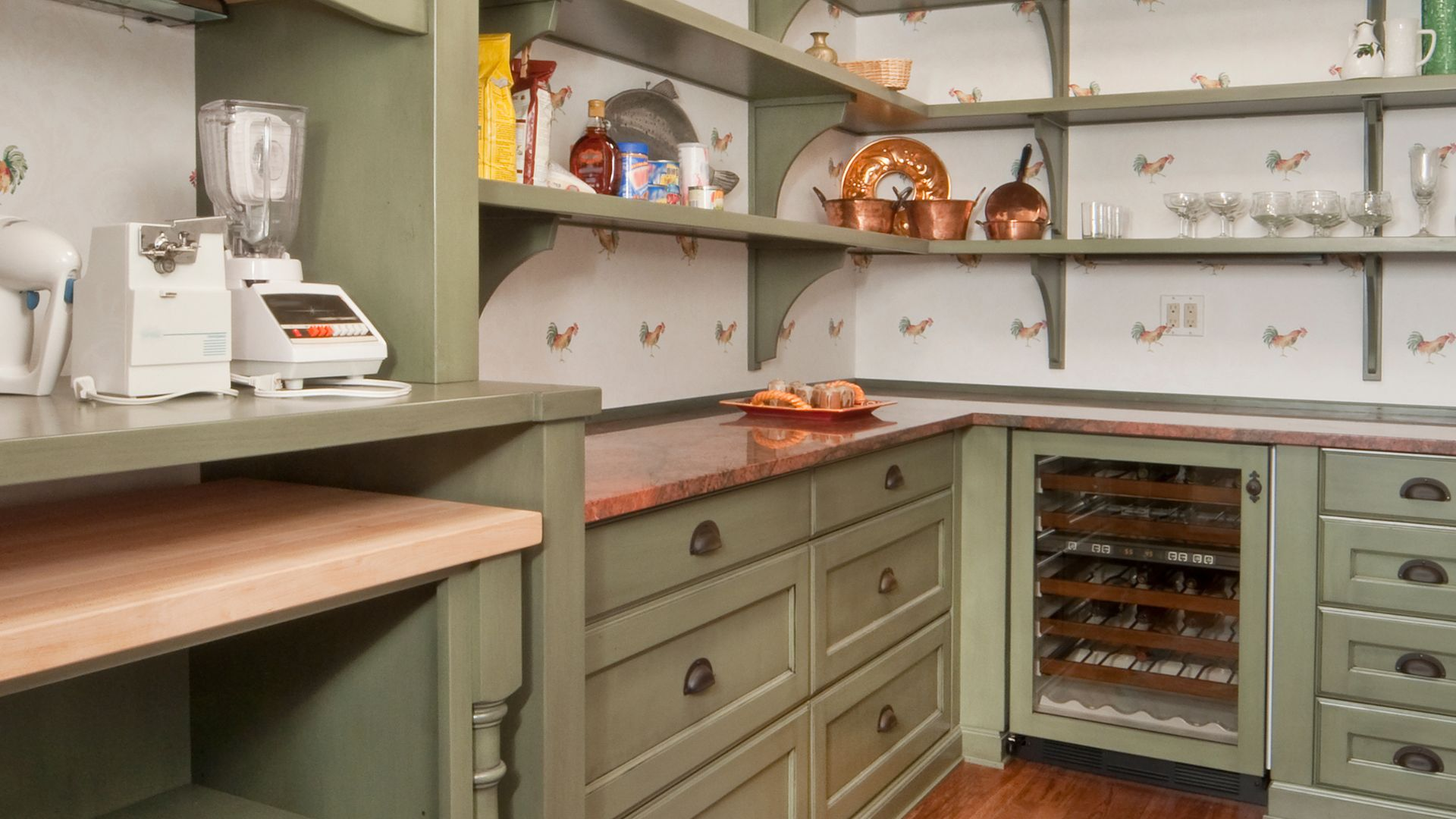 Green cabinet doors and drawers create a cozy atmosphere in your kitchen. To bring out the best of your mint green cabinets, you need to pick the right color to go with them. That said, white and black surfaces are your best choice.
For instance, your cabinets marry well with a white marble kitchen island and black bar stools. If you choose dark green, painting your wall with white or light gray is best. Having a single wall covered in brick also adds coziness and a historical atmosphere to your kitchen.
Incorporating pastel color tones with white creates a bright, airy, and calm kitchen color pattern. To pull off this kitchen design together, a subway tile backsplash with black grout lines will add punch to this light color palette. These kitchen cabinet ideas are actually a hit for the young ones.
Burnt Orange Cabinets Mixed with Powder Blue and Hardwood Floors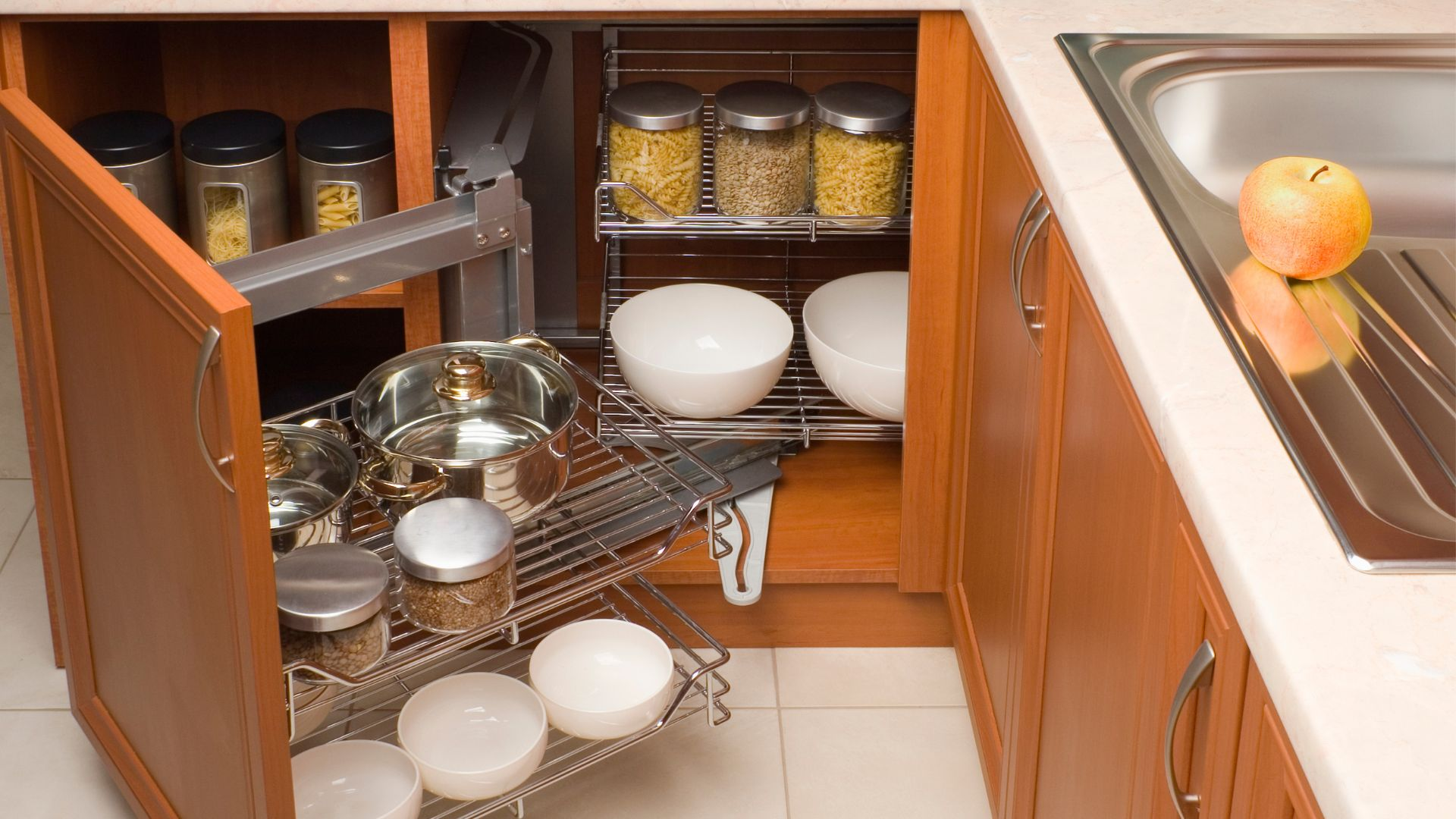 Another eye-catching kitchen color combination is burnt orange and light powder blue. Orange is a warm energetic hue, perfect for Spring. Mixed that with powder blue to balance the energetic aura of orange cabinets.
Finding the right color to complement orange cabinets is challenging. Here are some suggestions:
White marble island

Hardwood floors

Carpets

Glossy white backsplash
Powder Gray Cabinets and Maple Gold Flooring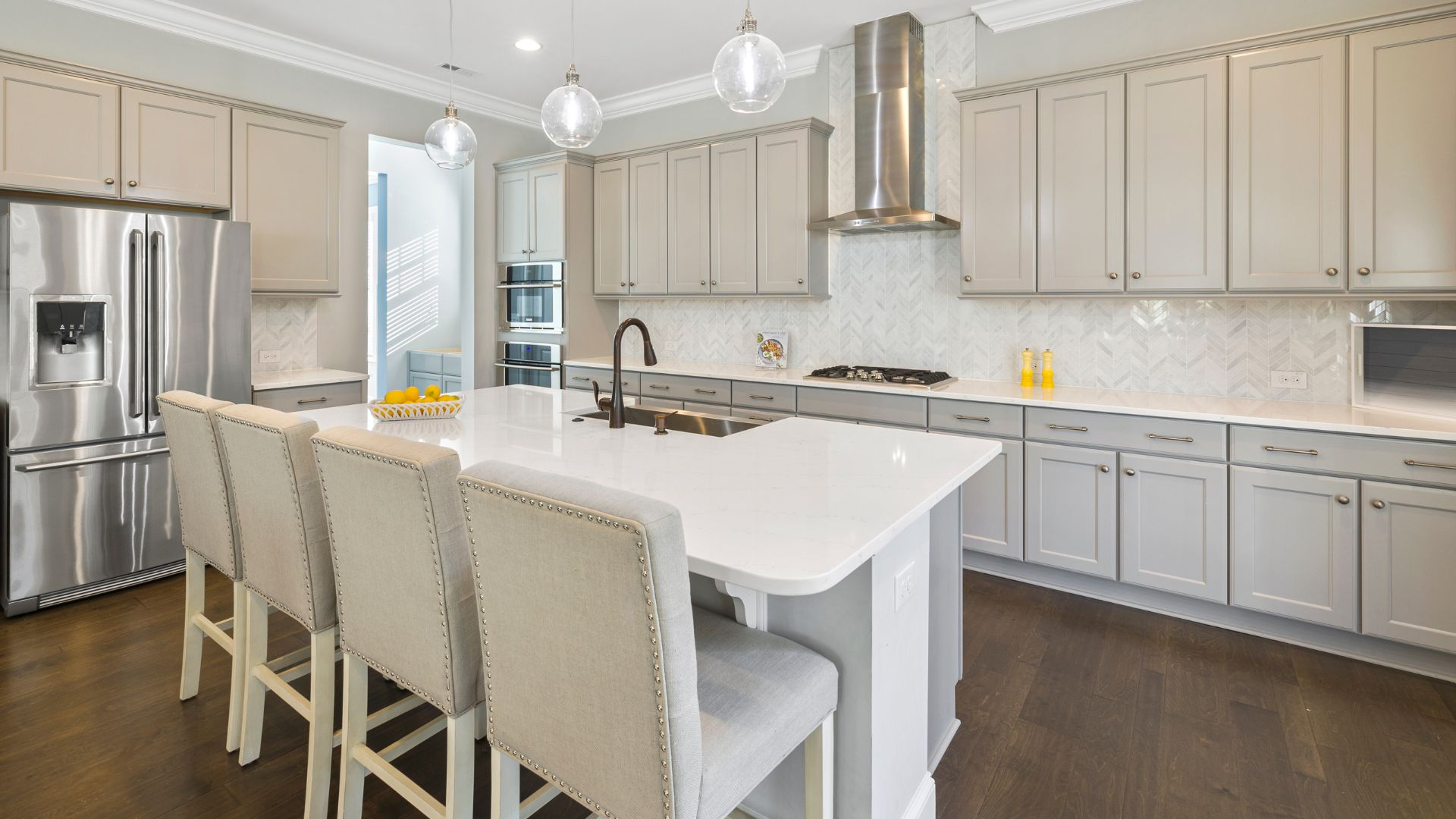 If you choose powder gray for your kitchen cabinets, that marries with maple wood flooring and wood beams. Brass finish cabinet hardware also adds warmth to the cool ambiance of gray kitchen cabinets.
As for your drawers, you can opt for the same color, or a darker shade to make a nice contrast with its gray interior walls. Adding a drawer to your cabinet is a smart way of maximizing storage while keeping things in order.
Glossy White Cabinets and Green Tile Backsplash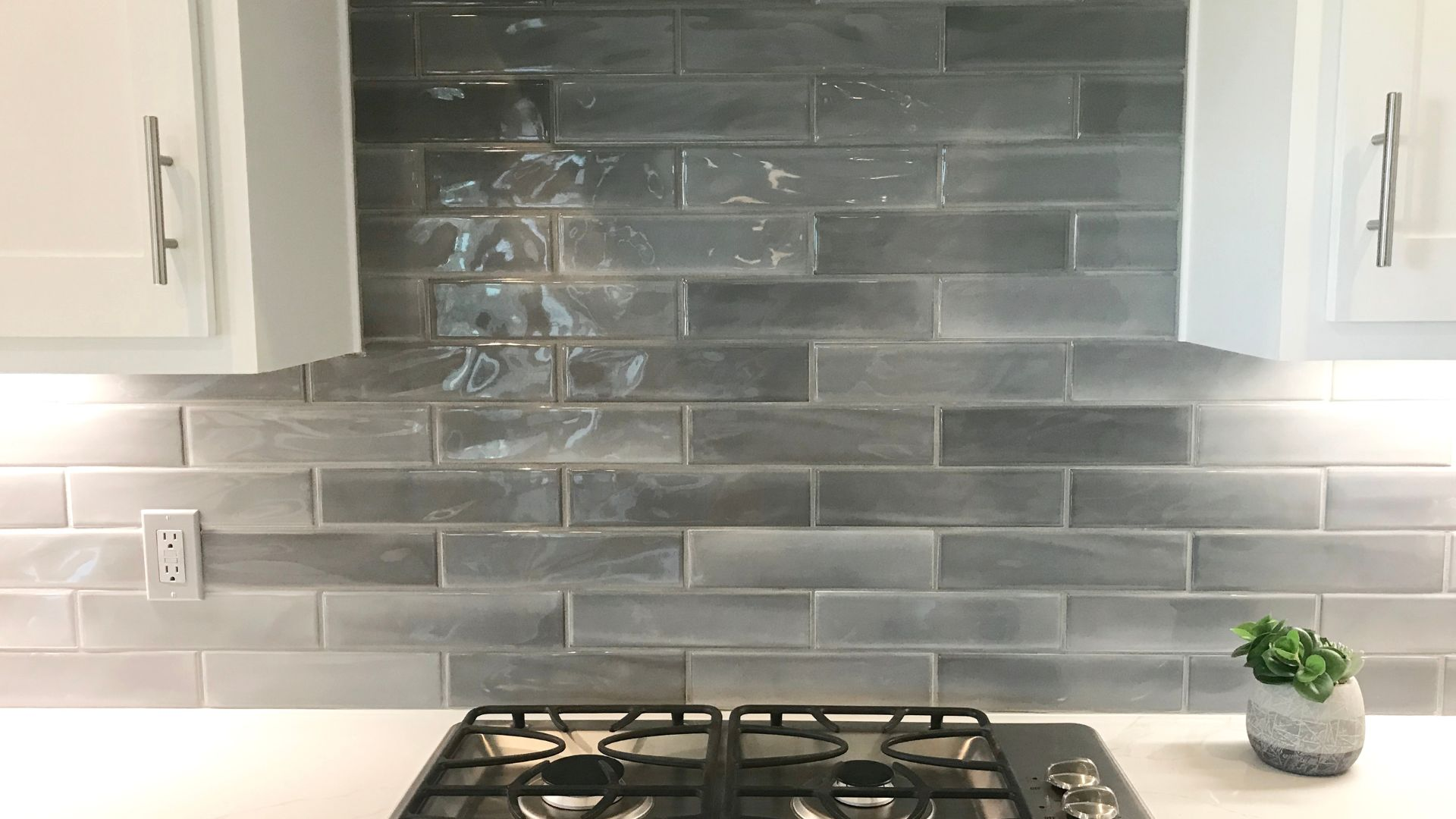 Replacing your old kitchen cabinet? You can create seamless modern looks, you can opt for glossy white cabinets. This a brilliant piece of furniture to add to your kitchen remodel. This pairs well with a White Island made from marble or quartz would be great.
Glass green tiles for your backsplash would work with your glossy white cabinets. You have the option of how many drawers and shelves you want for your new cabinets. A glass front would be a nice thing to consider as well for your cabinet remodel style.
Need Help With Kitchen Cabinets Remodeling Ideas?
If you need help with all your cabinets, whether you need to paint kitchen cabinets or a complete remodel of your kitchen space, together with the doors, or even with your ceiling such as crown molding, we can surely help.
We offer many different designs and cabinetry color ideas suitable for both classic and modern homes. We can help you achieve the right kitchen cabinet color ideas, whether you want them in light or dark color one.
Whatever style you prefer, we got your back!
Visit us on our Facebook page, and get to know more about us!