This comprehensive guide will help you explore a multitude of inspiring basement remodeling ideas and projects to implement. From coming up with the perfect plan and budgeting, all the way down to selecting stylish lighting fixtures and flooring options, we've got it covered so your newly renovated space adds both value and convenience to your home!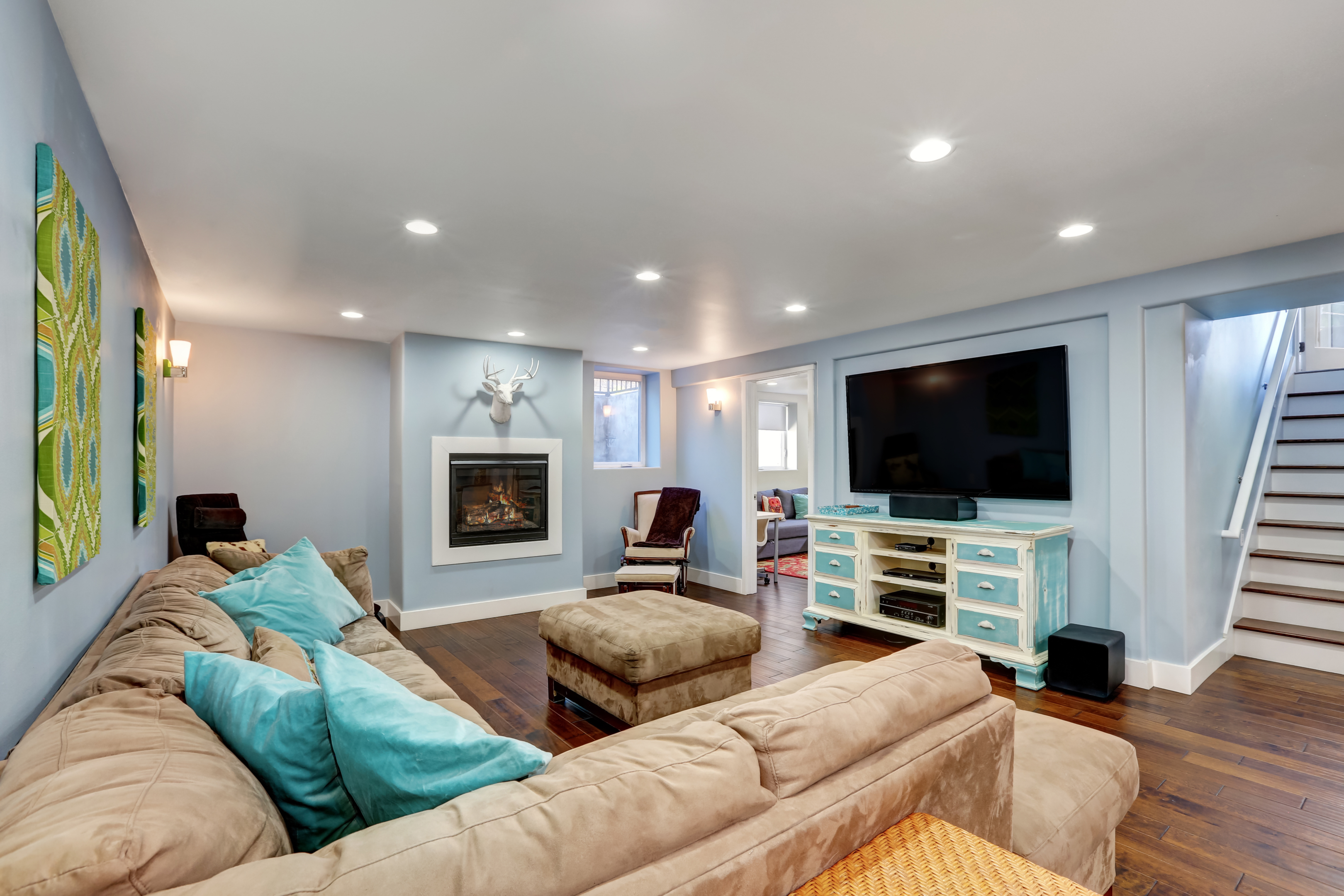 Planning Your Basement Remodel
For a successful basement remodel, it is wise to budget accordingly and consider all aspects before beginning. You should define what goals you want your renovation to achieve to personalize the space. Doing research into building codes specific for basements will help make sure these standards are met during the transformation process as well as give rise to potential extra living areas with the possibility of increased value upon home resale.
Setting a Budget
When you're planning to give your basement a complete makeover, it is vital to create and stick with a budget. The overall expenditure depends on the size of the room and materials needed for renovation, so consider that when formulating an expense plan. Also, be prepared for additional costs such as those from inspections which are usually part of any remodeling project. Don't forget though – investing in quality work could significantly enhance your home's worth, making this financial outlay beneficial over time!
Defining Your Goals
Before beginning the remodeling process, you must establish your intentions for the space. What type of room are you trying to craft – a cozy movie theater, wine cellar, or perhaps even just a dedicated crafting area? Understanding what objective will be served by making adjustments in the basement can help direct design choices and make efficient use of resources.
Don't forget to get clearance from local building authorities as well. This step guarantees compliance with any relevant regulations concerning construction projects such as yours.
Researching Building Codes
Basement remodeling should follow strict building codes and regulations to ensure everyone's safety. Consult your local authority first to make sure all proper paperwork is filled out, including permit applications with associated fees that may affect the budget. Some materials need replacing or structural work such as concrete blocks must be used – Different inspection fee prices can apply here so inquire about flat rate pricing when possible to avoid any extra costs later on.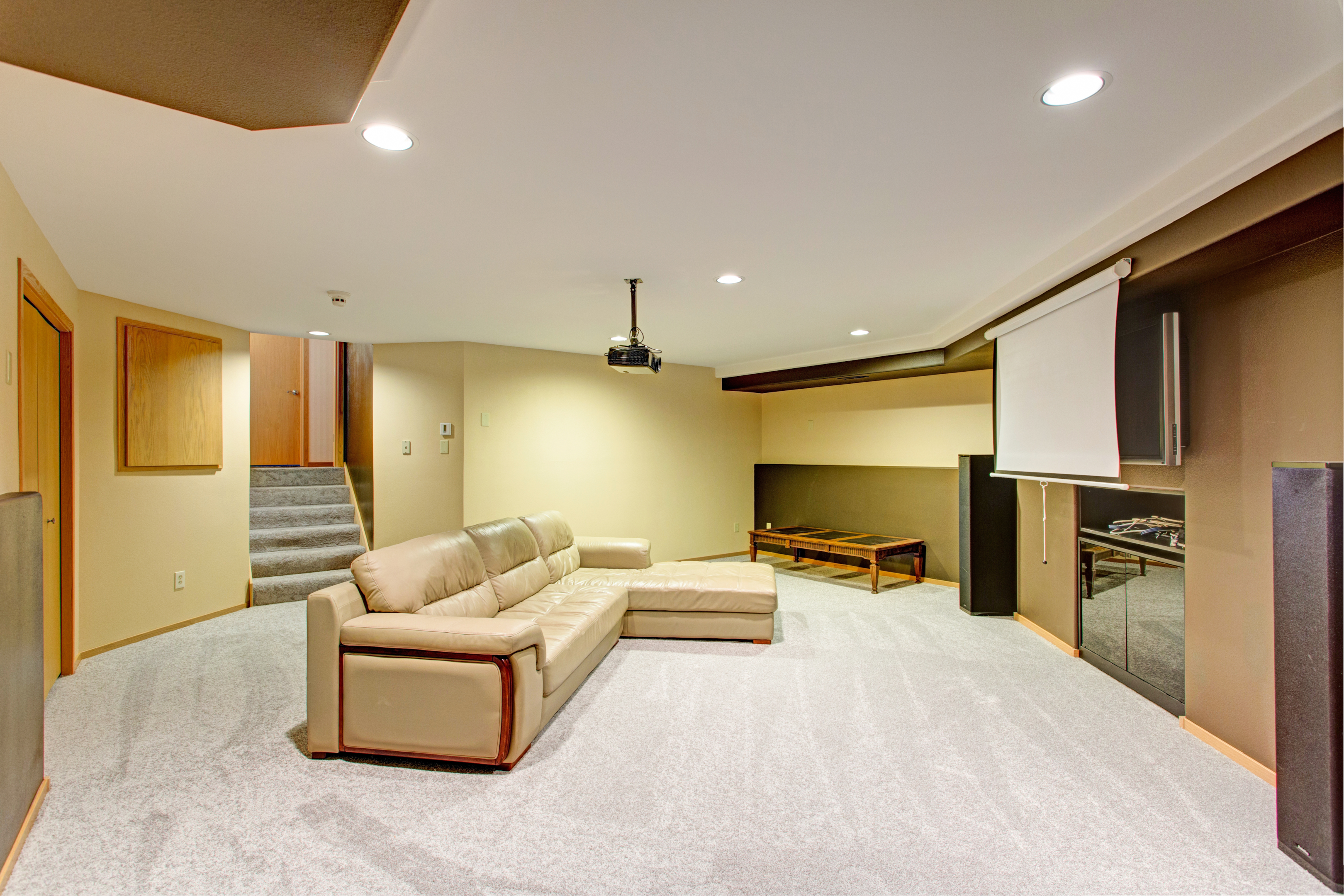 Popular Basement Remodeling Projects
For those looking to transform their basement remodel vision into reality, there are numerous options. Homeowners can draw inspiration from ideas such as home bars, wine cellars, and media rooms that cater to individual preferences and lifestyles. Crafting spaces provides another avenue of customization for your space!
It's important when deciding which projects will best bring together the desired ambiance in your basement you take time considering all aspects involved – even tapping into some creative flair may be required! So choosing wisely what suits best is key.
Ultimately, every homeowner has a unique opportunity to create something special with their dream project, and have fun while making it come alive!
Home Bars
Making a basement remodel more appealing by introducing a home wet bar is the perfect way to enhance your entertaining skills. With so many designs available, from classic looks to modern touches, it's easy to find one that reflects your style and spruces up any gathering spot in the house.
Having dedicated space for hosting friends while displaying drinks and spirits offers an ideal setting for having fun or simply unwinding with loved ones – giving each party something special they won't forget!
Wine Cellars
When it comes to transforming your basement into a luxurious retreat for preserving and exhibiting fine wines, there is no better choice than a wine cellar. Providing ample storage and safeguarding from temperature shifts, humidity levels, as well as exposure to light – whether you decide on the classic style or something more modern – adding a wine cellar will instantly infuse sophistication in any basement remodel.
Media Rooms
Designing your media room is the perfect way to experience unbeatable entertainment right at home. With comfortable furnishings, a big screen display, and optimal sound capabilities, you can design it according to what suits you best, whether that be for personal movie nights or an epic group viewing party. This will surely create one-of-a-kind moments and lasting memories in the comfort of your very own space!
Craft Spaces
If you are a hobbyist or an artist, then having your own dedicated craft space in the basement remodel is ideal. Setting aside this area of your home specifically for creativity and productivity will help keep clutter-free while inspiring you to create more. Design the workspace with built-in storage systems so all tools and materials can be conveniently located when needed without disrupting other areas of the house. This redesign will make use of every corner within your basement providing efficiency as well as inspiration!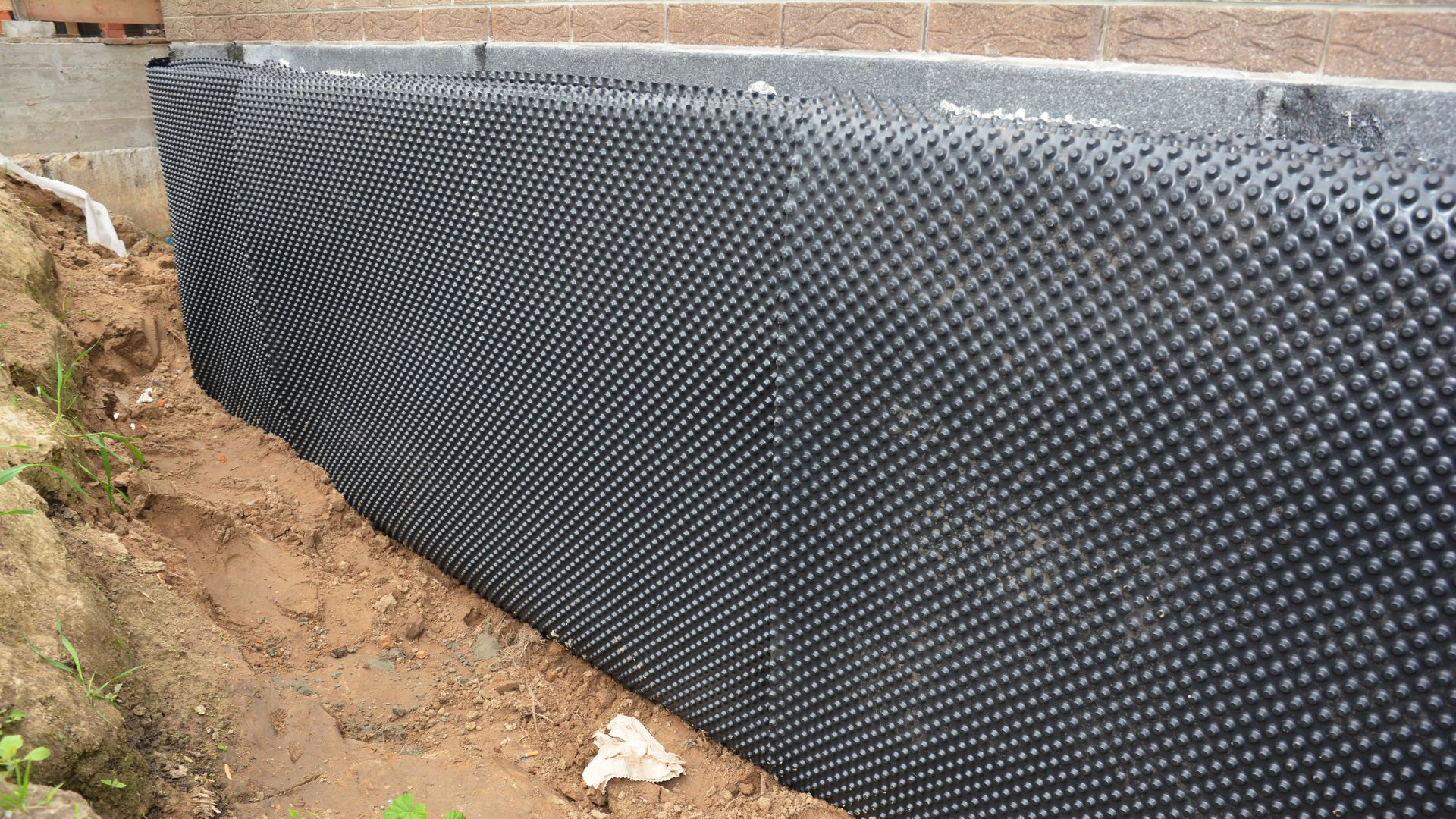 Waterproofing and Moisture Control
A basement remodel must include strong waterproofing and moisture control to be successful. Because basements are more prone than other spaces to retain water, all possible issues related to this must be addressed for a successful renovation. Inspection of potential problems should take place, as well as preventing mold growth with waterproofing solutions. These steps will help secure the investment being made into creating living space within the basement.
Inspecting for Moisture Issues
Before beginning to renovate your basement, inspect the area for any existing moisture issues. Being proactive in this step can prevent a lot of expensive repairs and health problems afterward. Watch out for indications of water damage such as spots on walls, musty smells, or mold growth. If you find these kinds of dampness concerns present then take swift action. It will give a strong groundwork before starting with the remodeling project itself.
Waterproofing Solutions
Proper waterproofing is essential to ensuring your basement remodel remains undamaged by water. This could entail sealing any openings on the walls or floors, setting up drainage systems, and applying suitable protective materials. Depending on how severe your moisture problem might be, it would be wise to consult a professional for advice in picking the right kind of waterproofing technique. This way you can create a comfortable living space while also safeguarding all of your hard work with the basement remodel project.
Preventing Mold Growth
When remodeling a basement, proper humidity management and the installation of mold-resistant materials are essential for avoiding any growth. To maintain appropriate levels of moisture in your space, use dehumidifiers as well as fans or windows to provide ventilation. Sealing cracks and leakages will also help stop outside water from getting inside. To these measures, you should apply anti-mold paint on both walls and floors so that your finished area is clean and comfortable all year round! By following these precautions when undertaking a basement makeover, you can guarantee yourself an inviting place free from fungi threats.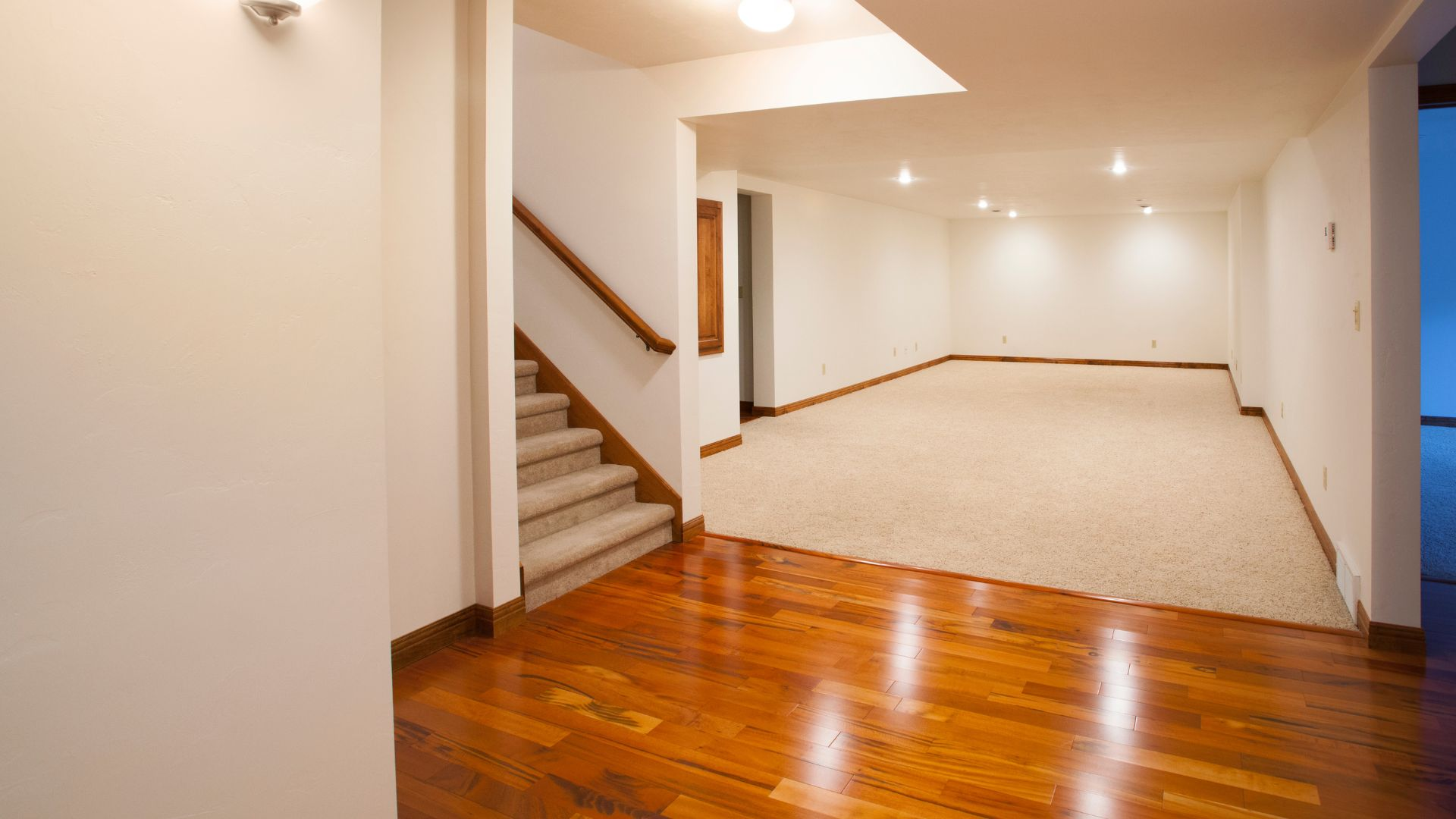 Flooring Options for Basement Remodels
When selecting the right flooring for your basement remodel, it is important to consider both form and function. Luxury vinyl plank offers durability and protection from moisture. Engineered hardwood gives off a natural wood-like appearance with extra stability. Carpet tiles come in handy for comfort underfoot with hassle-free installation requirements. Analyze how much square footage you will need to cover when making this decision as the final result can significantly alter the look of any basement space undergoing renovation. Be mindful of all factors before determining what kind of flooring fits best within your remodeling scheme!
Luxury Vinyl Plank
Luxury vinyl plank has quickly become a preferred choice for basement renovation projects due to its resilience and water-proof capabilities. This multifunctional flooring can simulate the look of real hardwood, stone, or tile floors without having such high costs associated with them.
Installation is an easy task while upkeep requires minimal effort, making it ideal for those interested in finding appealing yet practical solutions when transforming their basements.
Engineered Hardwood
Engineered hardwood is a great choice when it comes to updating basement flooring, as it offers the aesthetic of real wood and has extra moisture resistance. This type of wood material consists of several layers that are glued together for improved stability and strength compared to solid hardwood. With all kinds of styles available in different finishes, you can achieve an elegant look without having any worries about practicality or durability thanks to its engineered construction.
Carpet Tiles
A basement remodel can benefit from the installation of carpet tiles, a practical and comfortable flooring option. With numerous different colors and designs to choose from, these individual sections of soft material are ideal for creating the perfect atmosphere within your new space while also being easily replaceable if necessary.
When selecting carpet tile patterns, you will be able to craft an aesthetic that works perfectly with both your existing decor as well as any planned features in this part of the house's renovation project.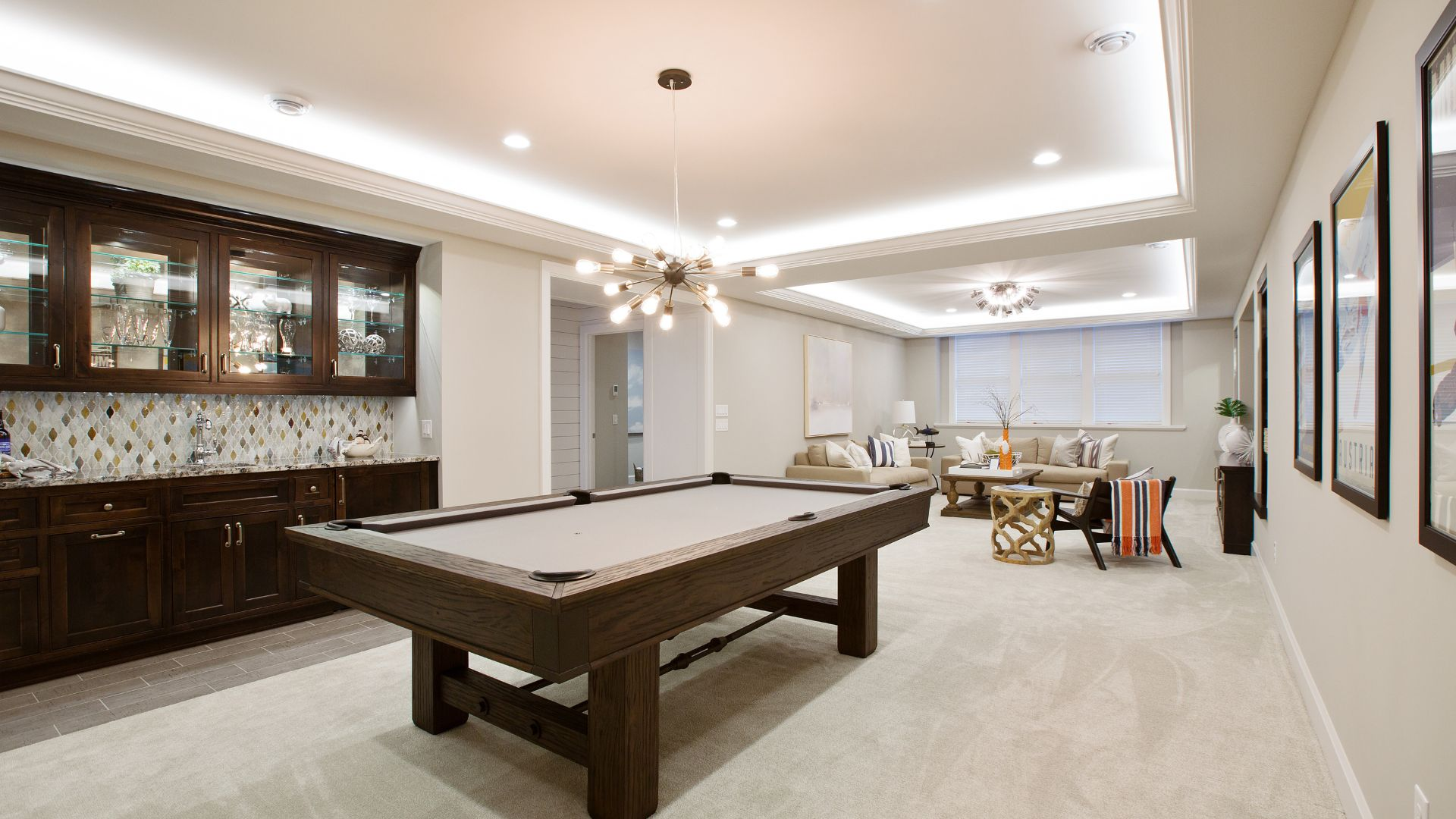 Lighting Solutions for Basements
For a successful basement remodel, consider maximizing natural light and installing recessed lighting as well as accent and task lights. Doing so will give the space brightness and coziness to make it inviting for everyone who visits. Think about which types of illumination best meet your design needs while still illuminating the area nicely — that way you can achieve an appealing result in your transformed basement!
Maximizing Natural Light
When remodeling a basement, incorporating natural light can help make the space more inviting. There are various ways to do this such as by installing windows and skylights or using light tubes for introducing daylight. Utilizing reflective surfaces like mirrors will also aid in distributing the available lighting evenly across your living area. One way to amplify these effects is through making use of lighter colored paint finishes which would create an even brighter atmosphere around you! By maximizing natural sunlight while renovating a basement it can be turned into something great that one could enjoy spending time in.
Recessed Lighting
For basement remodels, recessed lighting is a great choice due to its ability to provide even illumination without using up precious ceiling space. This style of light can be installed on the roof and presents an elegant yet unobtrusive solution for your general lighting requirements.
In areas with low ceilings or basements that have limited room available, recessed lights are particularly helpful as they create bright spaces while being less intrusive than other types of fixtures might be. By implementing this type of illumination system into your redesign concept you will achieve both a modern look and sufficient brightness for your basement remodel project!
Accent and Task Lighting
In a basement remodel, pendant lights, wall sconces, and track lighting are all effective solutions that can contribute to the overall aesthetic of your space. Accent lighting is great for highlighting particular elements such as architectural features or artwork. Task lighting provides directional light for activities like reading or crafting. Strategically placing these kinds of lights in an appropriate position will create an inviting atmosphere while also ensuring you have enough illumination when it comes time to install new bathroom fixtures.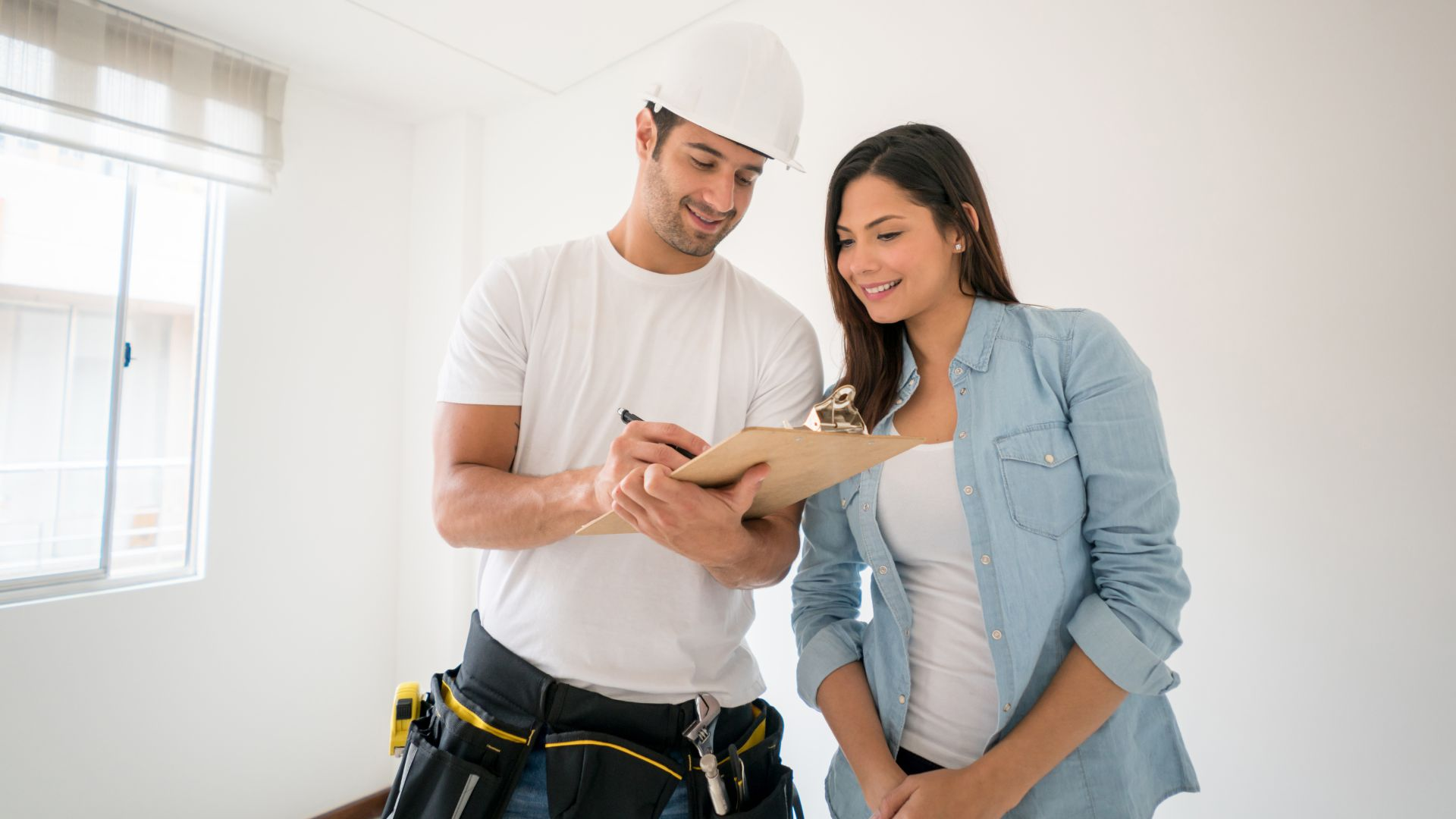 DIY vs. Hiring Professionals
When deciding how to proceed with remodeling your basement, it is important to consider both the DIY approach and hiring professional contractors. Doing a project on your own may save you money in terms of labor costs. This will likely require more time for completion as well as an extensive understanding of construction techniques.
Hiring professionals guarantee that work is done quickly and according to code, but at greater expense than doing it yourself. Weighing all variables such as budget constraints or the complexity of the job can help determine which option best fits your needs when tackling a basement remodel.
The DIY Approach
For homeowners willing to take on the challenge, common basement renovations or even an entire remodel as a DIY project can be a fulfilling journey. Homeowners who are familiar with construction and have the right tools will appreciate being able to save money by taking care of tasks such as painting, installing basic flooring, and managing minor plumbing adjustments.
You must prepare for this process properly. Understand how much time it may require. To understand what type of techniques must be used during renovation. You should also invest in all needed materials along with safety equipment so your home stays secure through the completion of your project's basements-related objectives. Lastly, do not forget about undertaking full responsibility for successful management from start to finish, both physically and mentally!
Overall, if done correctly, following these instructions can result in a finished basement created completely by one's own hands –– which brings satisfaction beyond words!
Hiring Professional Contractors
When considering a basement remodel, it can be beneficial to bring in professional contractors who understand the complexities of plumbing and electrical wiring. While this may incur greater expenses upfront, experienced professionals can complete the project more quickly with fewer headaches than if you were doing it yourself. It's important to research potential contractors thoroughly by getting multiple quotes and checking references before making your decision to ensure success on your journey toward transforming that space below ground level!
Frequently Asked Questions
Is it worth finishing an old basement?
Remodeling a basement is beneficial in terms of adding value to your home and increasing its market price. In general, this type of investment yields around three-quarters return on the dollar. It adds living space, which can be an advantageous selling point for any house owner. This extra area provides you with another room or more floor space that would otherwise not have been there before!
How do you redesign a basement?
Start by focusing on the lighting for your basement. Utilize natural light as much as you can and place mirrors to reflect it around the room to get better illumination. Plan out how you want the finished product to look, then begin clearing space so that renovations may commence. You must tear down certain structures while prepping some other elements before adding insulation and setting up drywall. Painting soon follows after installing fixtures such as lights with floors completing this renovation project completely!
How do you upgrade a finished basement?
When it comes to upgrading a finished basement, the possibilities are virtually endless. Whether you decide to set up a movie theater, wine cellar, or pool, build out an extra room for guests or craft projects, and outfit the area with soundproofing equipment to make it into a jam session space. Install games and other activities perfect for game days -or even fit your house with its home gym – Careful planning is key when creating that comfortable yet inviting atmosphere you're looking for. Taking advantage of all available options and using quality materials along the way can help add value while making use of this usable living space!
How can I renovate my basement cheaply?
You can cheaply upgrade your basement by considering a few simple strategies. To start, painting the cement walls is cost-effective and it allows you to choose whatever color matches up best with the rest of your home decorating plan or one that stands out boldly. Laying down some kind of rug on the floor provides added warmth for this space in both look and feel. For budget-friendly improvements consider using floating floors as well as painting ceilings and adding lighting fixtures along with glass exterior doors for more natural light sources if possible, these will all contribute greatly towards creating an inviting atmosphere within basements! Radiant heat panels could also be used depending on available funds while customizing stairs/flooring are great idea too when staying mindful about keeping costs low.
Conclusion
A basement remodel can be a great way to turn an unused space into something of tremendous value for your home. You must plan carefully and set a budget, as well as determine the goals for the project to maximize its success. You will need to decide on flooring options, lighting solutions, and more. Whether taking care of things yourself or hiring contractors makes sense too! Your efforts could make all the difference when it comes time to add comfort to daily living while increasing property resale potential.