Are you ready for an awe-inspiring bathroom transformation? Whether you're going for a small powder room or the master bathroom, a bathroom remodel is the solution for you. It could make all the difference that you've been wanting for so long. In this blog post, we'll take you through inspiring makeovers, innovative storage solutions, luxurious renovations, budget-friendly ideas, and the latest trends in bathroom remodeling before and after. So let's dive in and get inspired!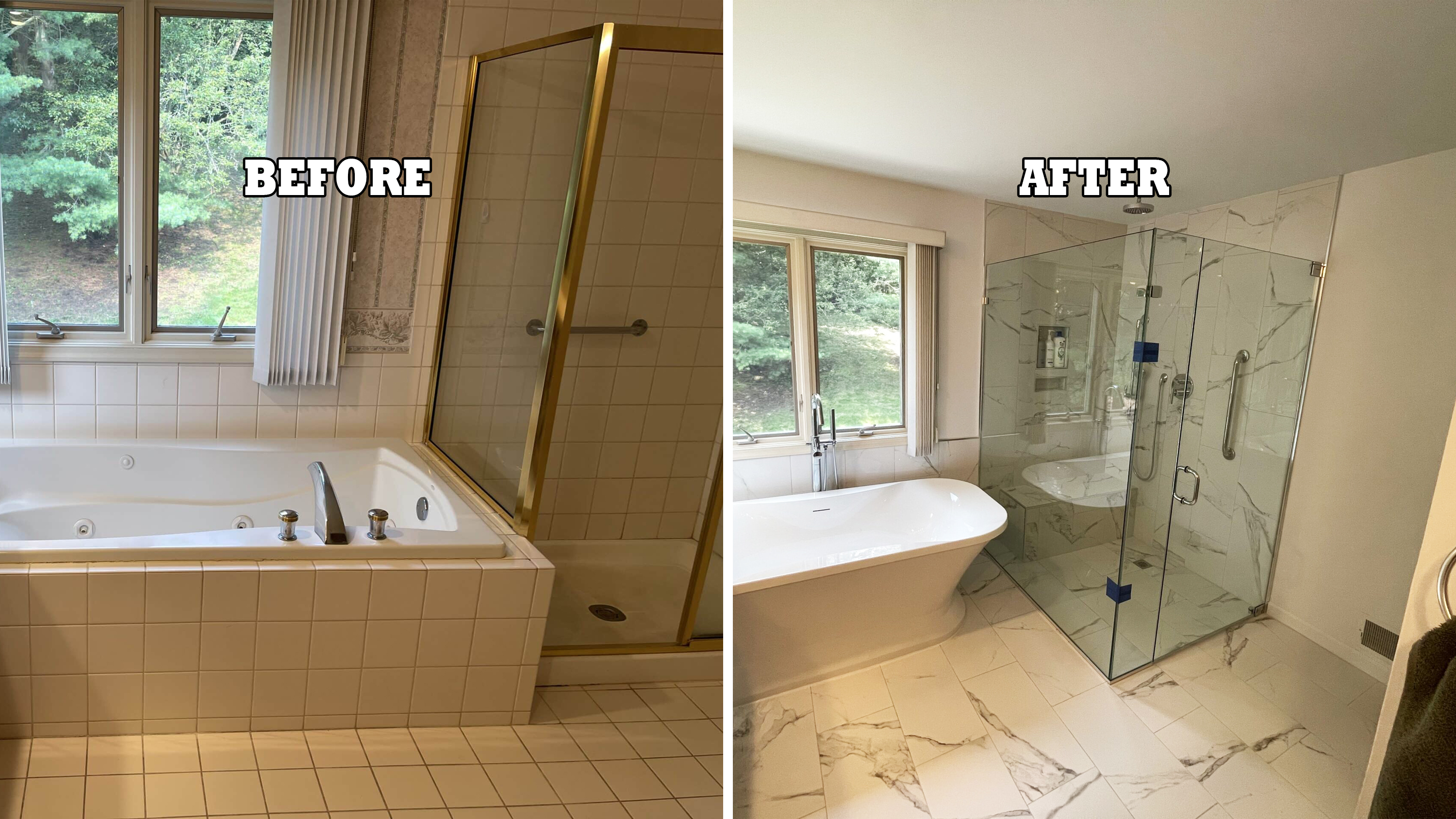 Inspiring Bathroom Makeovers
A bathroom makeover can create a completely new space that is both stylish and practical, turning an outdated room into an exceptional retreat. From classic revamps for timeless sophistication to more daring redesigns, the possibilities are infinite when it comes to master bathroom remodels.
In this piece, we will cover three unique transformation ideas, each exhibiting gracefulness, openness, or courage.
Outdated to Elegant
You can create a beautiful spa-like oasis in your bathroom without spending too much. Just by replacing dark, outdated fixtures with modern components like wood vanity and gold light fixtures, you will get an entirely new space that is just what you had dreamed of! This transformation illustrates the power of remodeling, transforming the area from dull to stunning through hard work and creativity. Plus, large gray stone tiles make it feel luxurious as well!
Cramped to Spacious
Making adjustments to a floor plan can turn even the most cramped of bathrooms into functional and spacious ones. Knocking out an existing wall, modernizing with different fixtures, and replacing old dark vanities will not only improve its aesthetic appeal but also provide more comfort for those who wish to relax in such a room. For small areas, it is wise to consider having these types of renovations done as they make the bathroom look refreshed while creating space at the same time.
Boring to Bold
Say goodbye to dull bathrooms! By utilizing the right color scheme, decorations, and fixtures in your bathroom space, you can easily create a unique area that stands out from its surroundings. Choose contrasting colors for walls and decor pieces such as striking black ones with geometric accents or switch regular wall tiles for something more daringly colored. You are only limited by your creativity when it comes to crafting an unforgettable bathroom style that reflects who you are.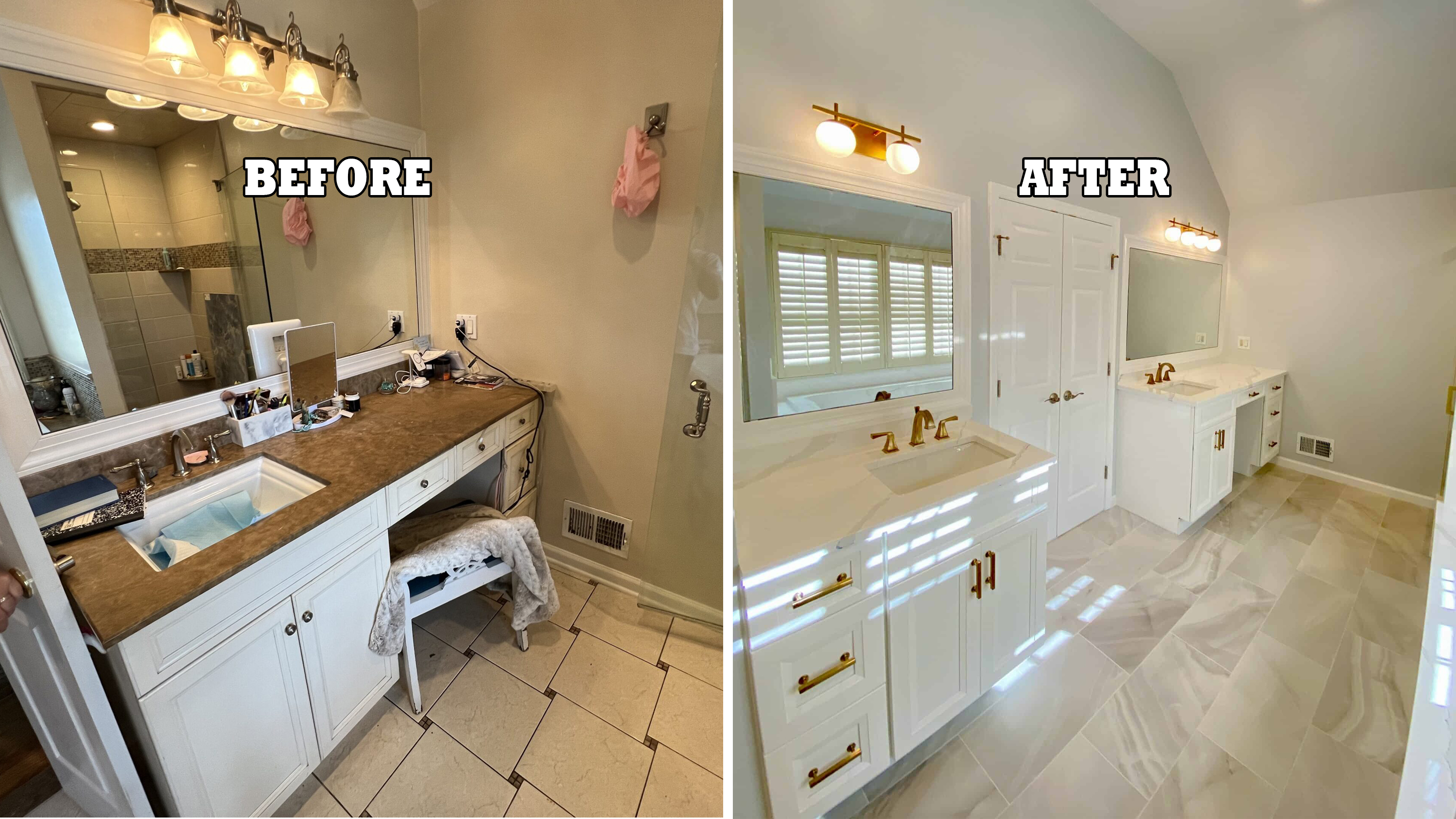 Innovative Storage Solutions for Small Bathrooms
Maximizing the space of a small bathroom without compromising on style can be difficult, but there are plenty of smart storage solutions. In this article, we will explore three ideal options. Floating vanities, recessed shelving, and multifunctional furniture pieces. These not only help to organize items in your bathroom but also double as stylish decor elements for the room.
Floating Vanities
Floating vanities are perfect for small bathrooms, as they offer much-needed storage without using any precious floor space. These wall-mounted cabinets can provide an updated and sleek look to your bathroom to their practicality. For those seeking a way to save on room, pedestal sinks may also be considered a viable solution. When shopping for one of these floating varieties, you must take into account not only size but material and style too so you achieve optimal results both practically and aesthetically.
Recessed Shelving
When designing a bathroom remodel, it is beneficial to consider incorporating recessed shelves into the design. These wall-mounted storage solutions will provide an area for towels and toiletries without taking up any floor space at all, essential for smaller bathrooms! Recessed shelving can be built flush with the wall surface and provides a stylish way of adding practical storage options while keeping things neat.
Multi-Purpose Furniture
For small bathrooms, multi-functional furniture can be a great choice to maximize storage while also providing style and personality. These pieces are capable of storing all kinds of bathroom necessities such as toiletries and towels whilst acting as extra seating or even counter space. An ottoman for instance would offer additional spots to sit down on in the washroom with hidden compartments holding your belongings out of sight but still easily accessible when required. Wall-mounted shelves could similarly provide you much-needed countertop area without taking up physical space on the ground, This combined with some handy organizers will undoubtedly keep everything organized within reach whenever necessary! And if that wasn't enough, these items have added practicality by bringing stylish décor into any given restroom environment at an affordable cost– perfect for those wishing to make their tiny lavatory look chic yet functional simultaneously!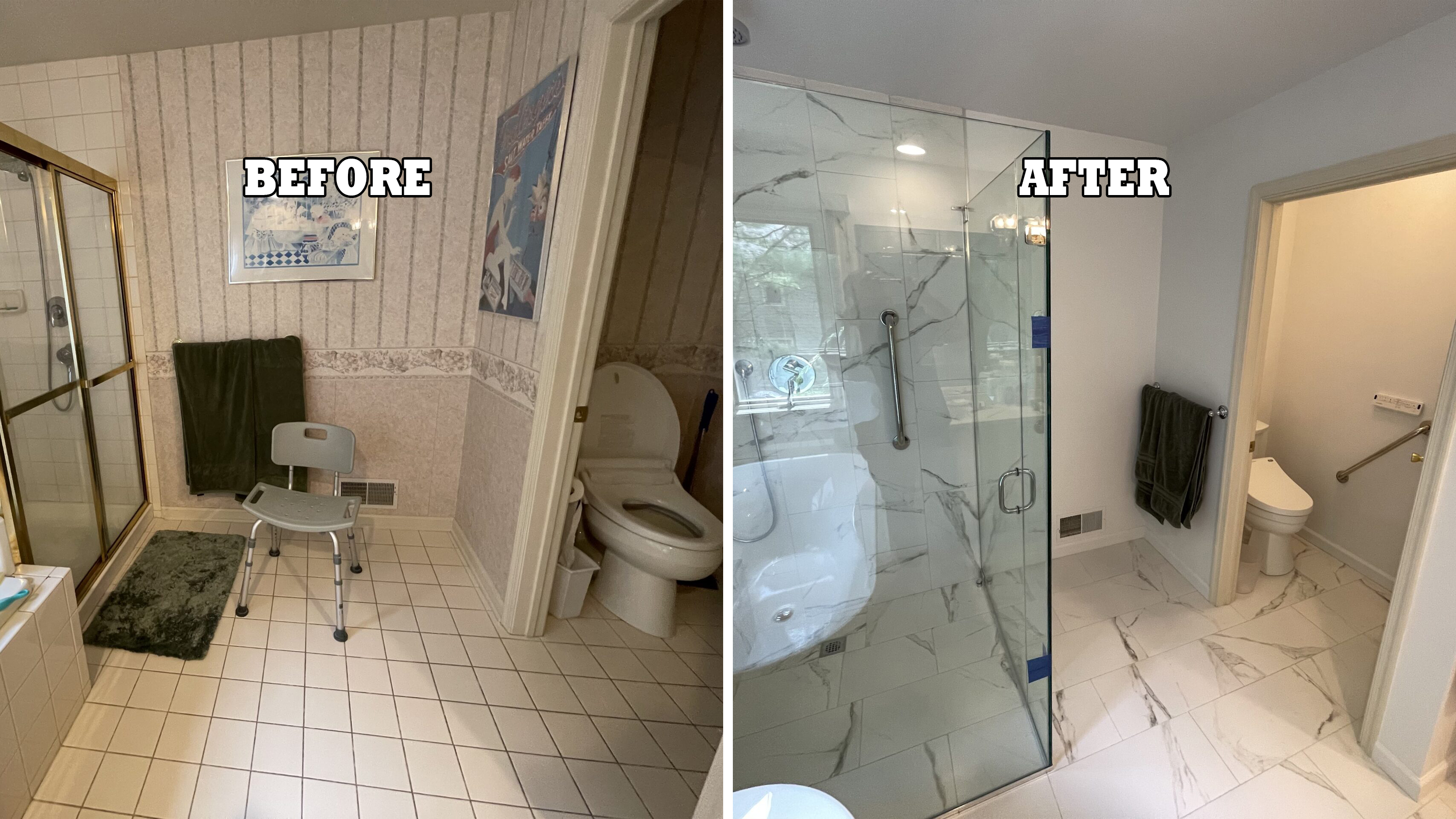 Luxurious Primary Bathroom Renovations
Let's start planning that amazing bathroom you've been dreaming of! With us, creating a luxurious primary retreat is achievable. You can add all the five-star touches such as high-end materials and finishes for an opulent feel, plus tailored lighting to make it even more inviting, just like in a spa setting.
We want to assist you with crafting your dream sanctuary. One where every detail has been thoughtfully considered so that your special space stands out from anything else available on the market today.
Spa-Like Retreats
You can design a soothing and rejuvenating atmosphere in your primary bedroom's bathroom by utilizing elements such as warm colors, serene textures, and soft lighting. A tub is the perfect focal point for creating that spa-like feel to retreat from everyday life. Choose one like a soaking tub to complete the effect. With this method of mindful decorating choices, you can create an oasis right within your own private home!
High-End Materials and Finishes
If you're looking for a luxurious feel in your main bathroom, think about using opulent materials and fixtures like marble, stone, or custom-made cabinets. These sophisticated elements will last the test of time and make sure your space stays stylishly up to date-with current trends. When making selections for upgrading your restroom, look at what matches best with the design of the rest of the house so that it completes instead of clashes against existing decor.
Customized Lighting Design
Creating a perfect blend of light fixtures and bulbs that match your bathroom's style can result in stunning lighting. A well-lit space is vital for both aesthetic and practical reasons, so customizing the design to suit your needs will provide an inviting atmosphere. Incorporating ambient, task, and accent illumination together will create this look effortlessly – while still giving you ample functional benefits throughout your primary bath!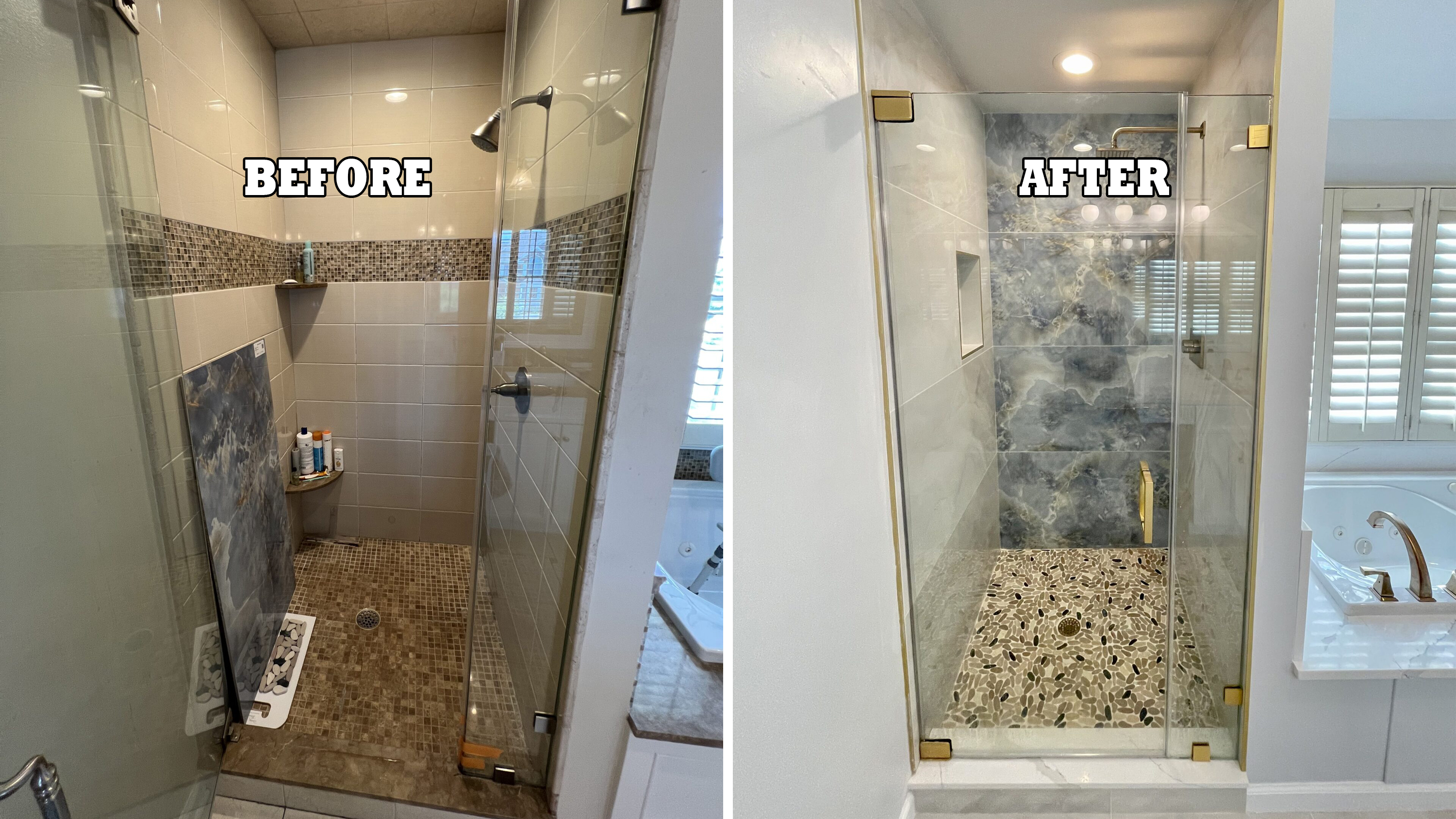 Budget-Friendly Bathroom Remodeling Ideas
Doing a bathroom renovation without breaking the bank is possible! In this section, we'll cover ways to makeover your restroom space affordably. From upcycling and repurposing to DIY projects, you can find plenty of budget-friendly methods for sprucing up your shower room while still achieving what you desire. Without exceeding costs, it's easy to create an attractive yet practical area that meets all of your needs.
DIY Projects
When it comes to remodeling your bathroom, saving money is a top priority. To achieve this goal while also giving the space a unique touch, try taking on some DIY projects such as painting walls and changing hardware fixtures yourself. Doing research beforehand and being aware of safety protocols can ensure that these cost-effective tasks will go smoothly without stressing you out or breaking the bank. Tackling these minor yet impactful jobs by hand allows for adding your flair to any bathroom makeover!
Repurposing and Upcycling
Designing a bathroom can be affordable when you repurpose and upcycle current items. To breathe new life into your space, try replacing old tile with beadboard that has been painted in an updated color for a unique look, or transform any outdated dressers to become stylish vanities. Allowing yourself the freedom of being creative will help create both cost-savings and an expression of your style throughout the design process.
Smart Shopping Tips
For those wanting to remodel their bathroom on a budget, finding the right items at an affordable price requires some careful shopping. Be sure to take advantage of sales and discounts whenever possible while doing your research to get quality materials without breaking the bank. Second-hand stores, flea markets, or online marketplaces can offer interesting fixtures as well as decor elements that are both stylish and cost-effective. Smartly purchasing these finds is key to achieving a successful result within your desired budget!
Top Bathroom Remodeling Trends
Stay updated with the latest trends for a bathroom remodel! From sustainable and eco-friendly features to modern designs, our exploration of today's leading styles in this field will guide you through transforming your own space.
Whether aiming to create an energy-efficient atmosphere or give off a clean contemporary vibe, these popular ideas are the perfect inspiration as you make over your washroom.
Sustainable and Eco-Friendly Features
When homeowners become more conscious of the environment, having sustainable and eco-friendly features in a bathroom renovation is an attractive proposition. For example, fitting toilets with low flow capability together with energy-efficient lighting can decrease both your environmental footprint as well as trim costs on utility bills.
By selecting items that contribute to sustainability, you could craft a lavatory that looks stunning while at the same time being 'green' friendly.
Smart Technology Integration
When remodeling a bathroom, the integration of smart technology can provide comfort and simplicity. There are various features to consider such as intelligent mirrors with voice-activated assistants or new automated lighting systems that make day-to-day activities more efficient. Digital shower controls help create an even better user experience in this particular space. By incorporating these existing elements into your bathroom redesign, you can design something unique yet functional for yourself and/or your family members to enjoy!
Minimalist and Modern Designs
When it comes to bathroom remodeling, modern and minimalist designs are a popular choice. This style strives for clean lines and uncluttered spaces combined with neutral colors for an aesthetically pleasing atmosphere. To accomplish this look you should choose sleek fixtures, and subtle decor items, and arrange the space in such a way that is both efficient and restrained visually.
By taking advantage of minimalism fused with contemporary design principles you can create your very own chic-looking bathroom that requires little maintenance to keep up its charm!
Conclusion
Ultimately, you can achieve a fabulous and functional bathroom whatever your budget or aesthetic preference may be. By using the various concepts discussed in this blog post – such as upgrading existing features, introducing new trends, and utilizing creative storage solutions – you are bound to make the perfect space for yourself with just a bit of remodeling!