The basement is almost always considered to be the loneliest place in the house. It can be gloomy and dark at the same time, just like a dungeon. However, you can always find a way to refinish your basement, or completely remodel it to become livable. But are you worried about the basement remodeling cost? 
Today, we're going to talk about the cost of basement renovation and basement refinishing. By having a better understanding about the whole kitchen and bath remodeling industry, you can better prepare how to finance your home improvement. Also, you'd know which things to prioritize for your basement makeover.
What is a basement finishing project?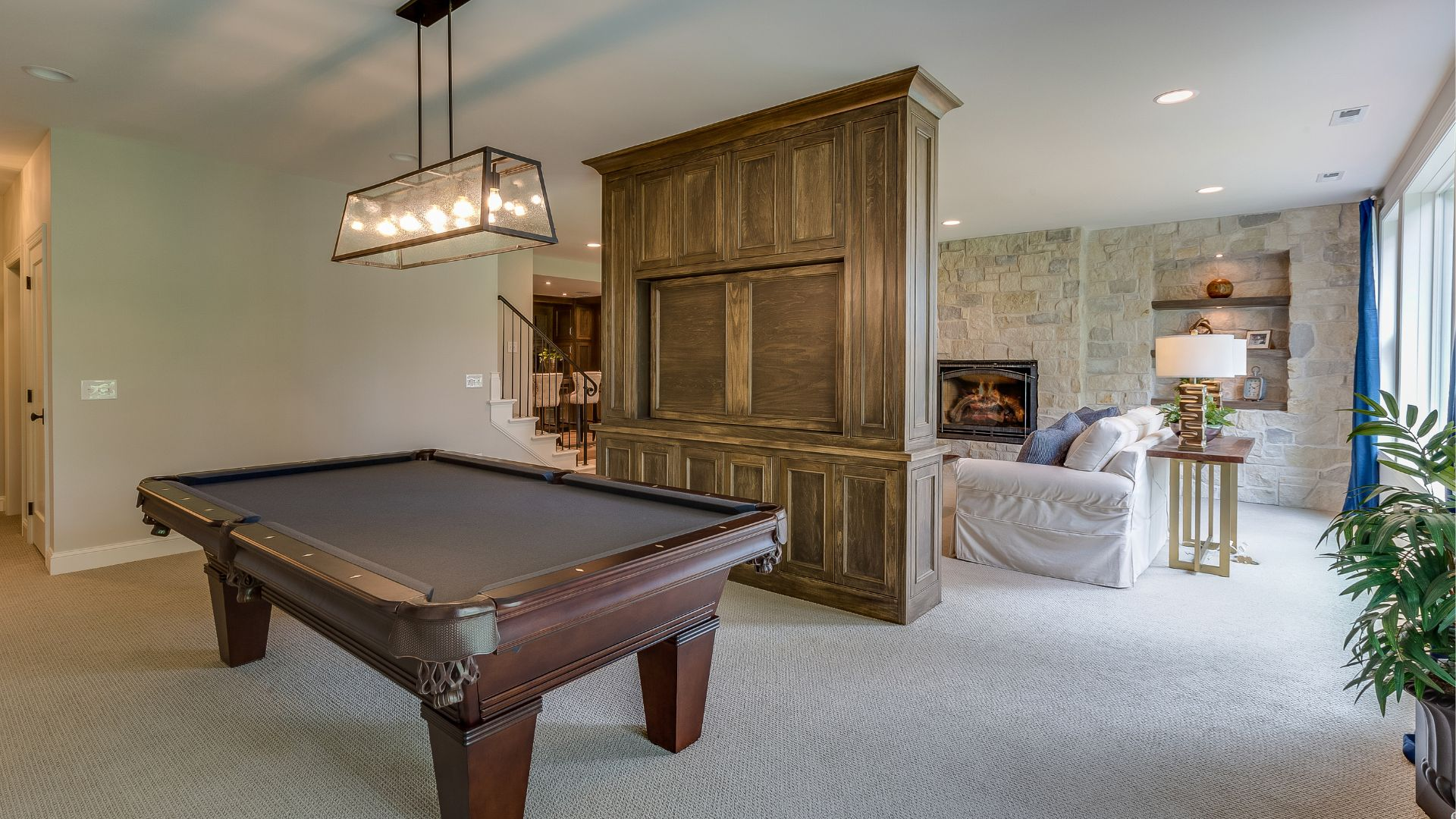 Perhaps, you've heard people interchangeably using the terms basement remodeling and basement finishing. But is there a difference between these two terms?
Yes, there's a difference between these two ideas. To remodel your basement is to modify its structure and layout. It's like setting up your space for basement finishing.
Once we complete the plumbing and electrical work, basement finishing will be next. We are going to improve the amenities and functions of your unfinished basement to make it a more living space. Just like the work being done on most kitchen remodeling ideas, those ideas are also applied when refinishing the basement. 
To finish a basement, how much does it cost today?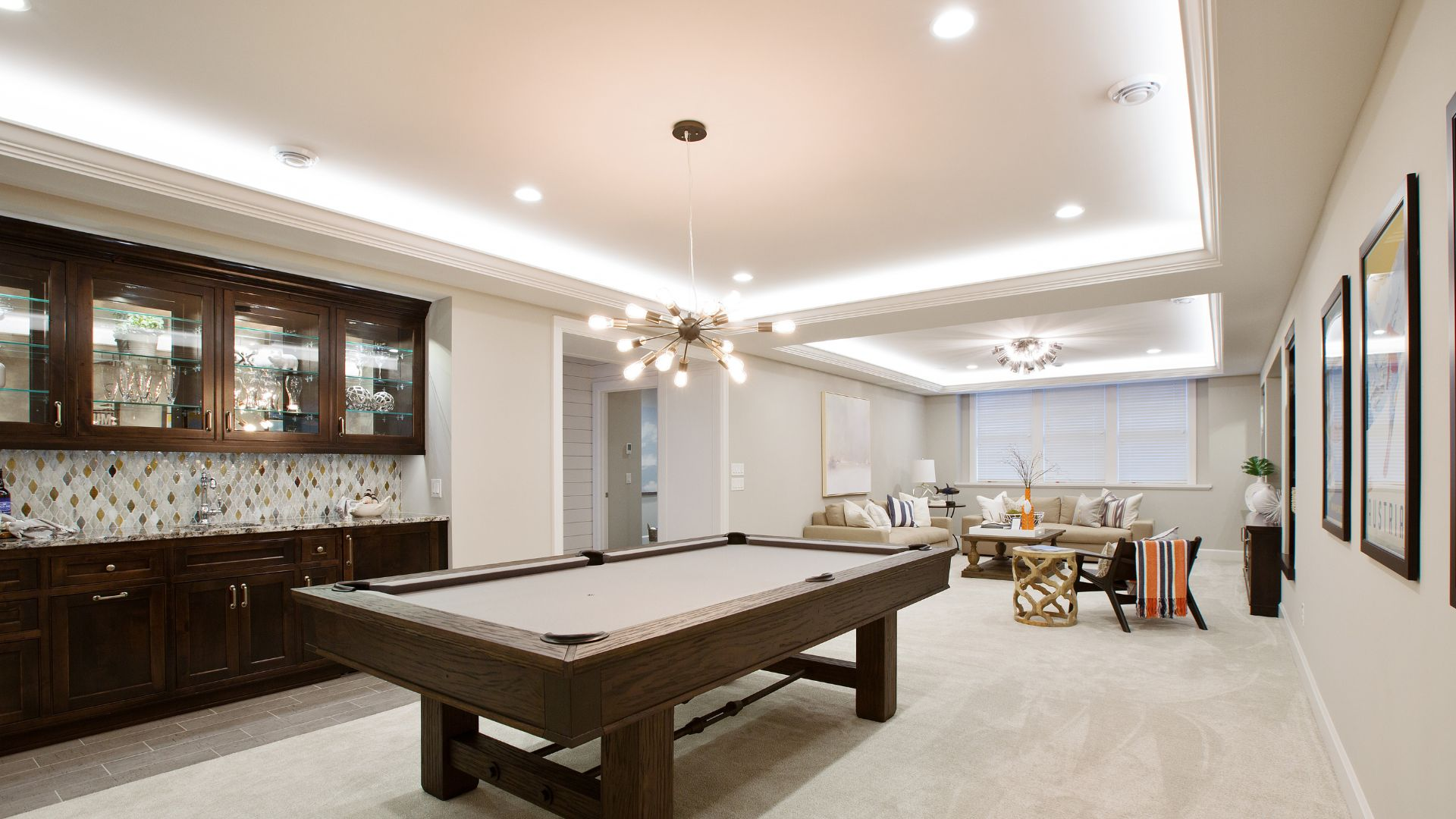 A finished basement adds value and comfort to your home. Your basement is an undervalued undermined space, where you can convert it to almost anything. Sky is the limit for your options to make your unfinished basement a livable space.
The actual cost of a basement remodeling service can vary depending on what is included in the project. But for your reference, renovating a 700 square feet basement would cost around $9,000 to $52,000. If the area doubles, the cost of remodeling the basement would jump from $21,000 to $112,500. Below is an estimate for how much basement renovation would be based on size:
300 to 700 sq.ft.: $9,000 to $52,000

700 to 1,500 sq.ft.: $21,000 to $112,500

1,500 to 2,000 sq.ft.: $45,000 to $150,000
The spike in price is due to the increasing cost of materials and labor for home remodeling. But you can always find cheaper alternatives for some items you need to install inside your finished basement, and we can help you with that.
The project estimates mentioned above can vary, and we always recommend our customers have a buffer of 10 to 15 percent for any unexpected increase in materials. 
How much does it cost to renovate your basement per square foot?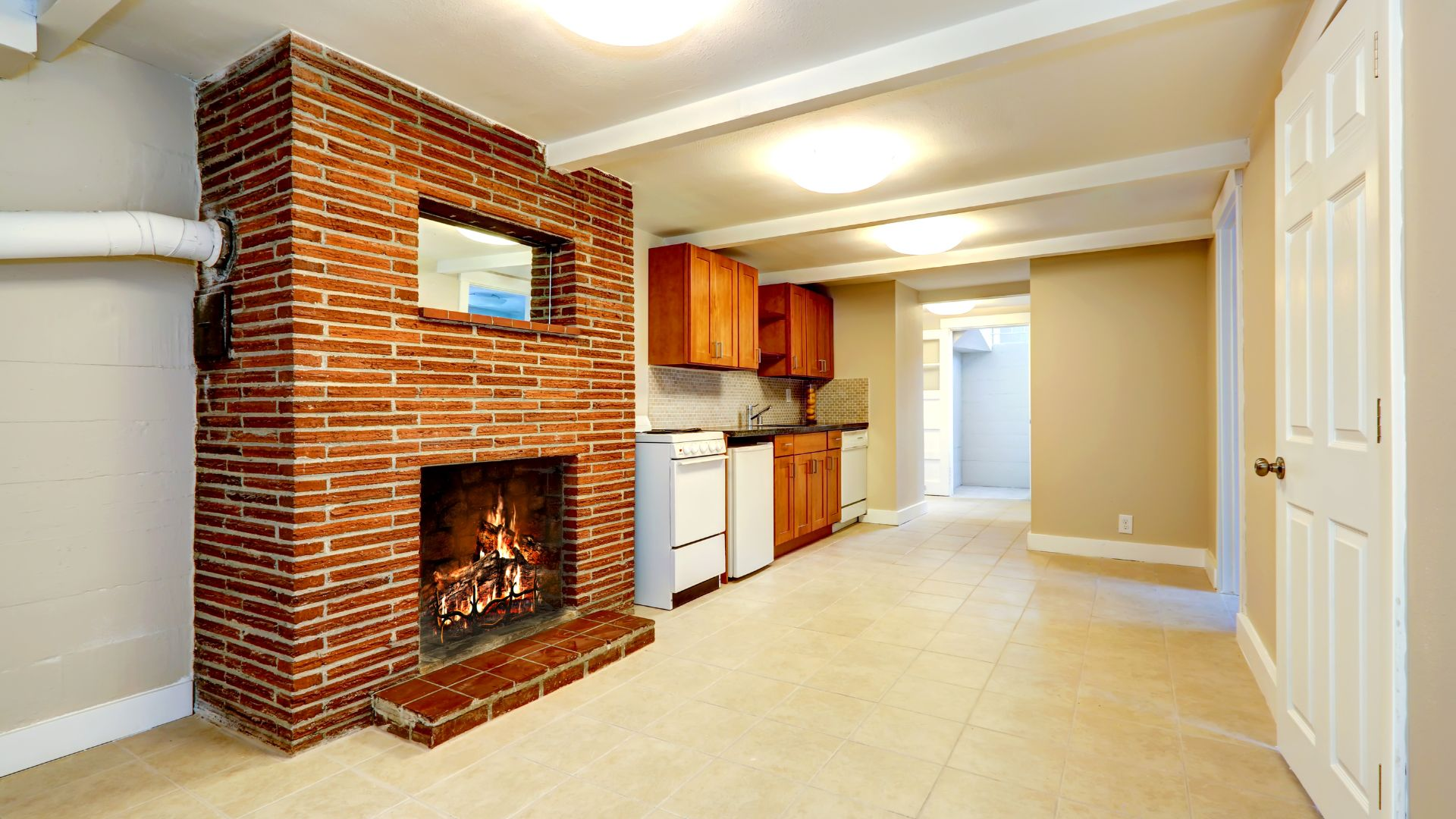 The average cost of basement remodeling per square foot is $30 to $80. This includes materials and labor fees. The typical factors you need to look into to estimate the budget for your basement makeover are the following:
Materials

Square footage

Labor and design fees

Plumbing and electrical works

Structural improvements

Flooring and ceiling works

Painting

Thermal insulation

Ventilation

Upholstery and fixtures
Remodeling your basement is a complex home improvement project, so hiring a professional would be best. A remodeling company would be your best help to complete your basement redo. They can help you starting from planning, design and layout, demolition, and installation. All these technical works will be taken care of.
How much is low-cost basement remodeling?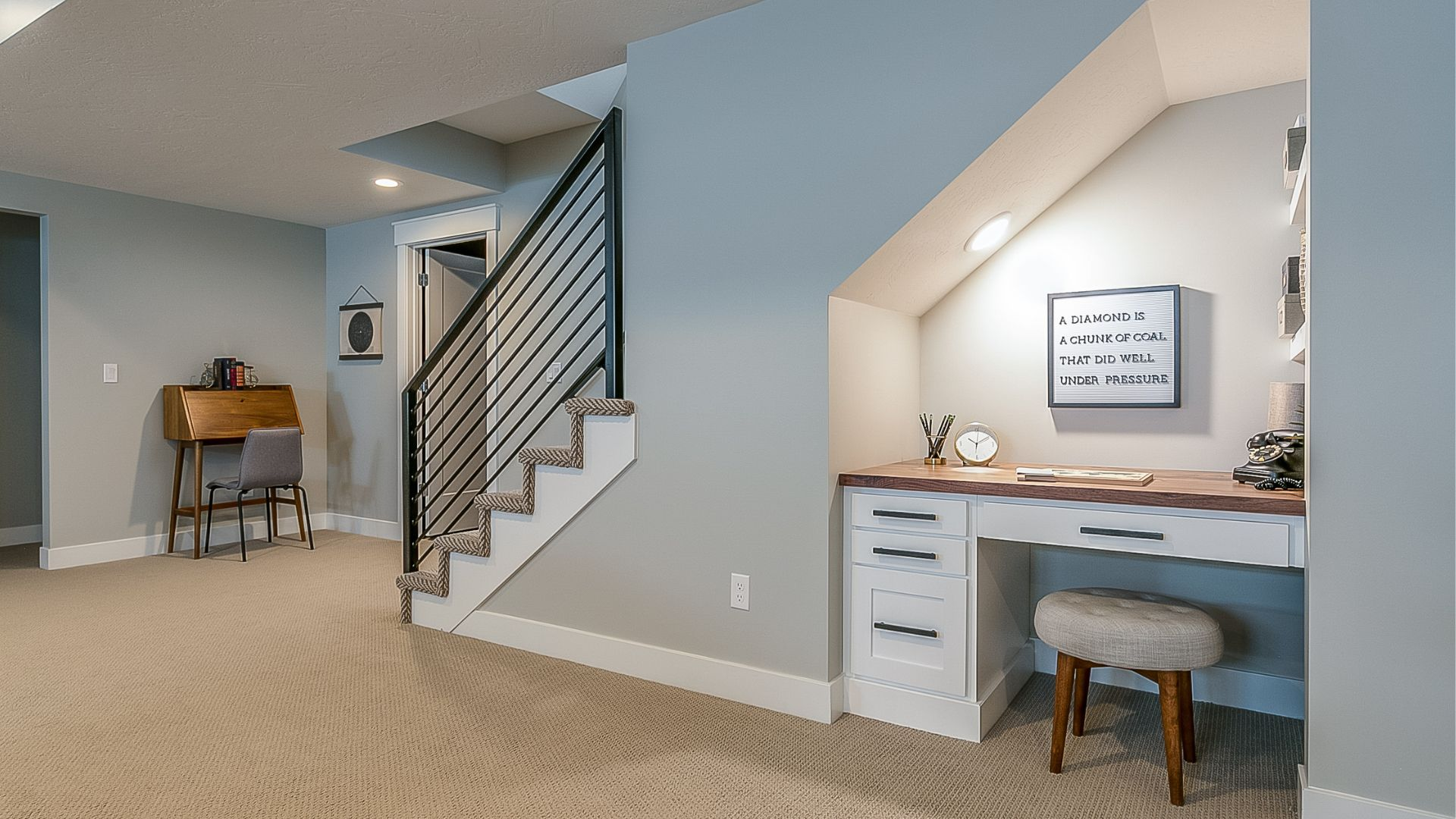 With the increasing prices of materials and labor, the cheapest cost to remodel a basement ranges from $15,000 to $40,000. You can achieve that if you do some of the work and if you purchase cheaper materials for the renovation. Below are some tips for you to save on your basement remodel:
Renovate your basement based on what you can afford for the present

Avoid relocating pipes, plumbing, and electrical works

Go for cheaper flooring tiles

Do the painting job yourself

Buy products on sale or garage sale

Buy second-hand items

Go for stone remnants
What is the Average Basement Remodeling Cost by Type?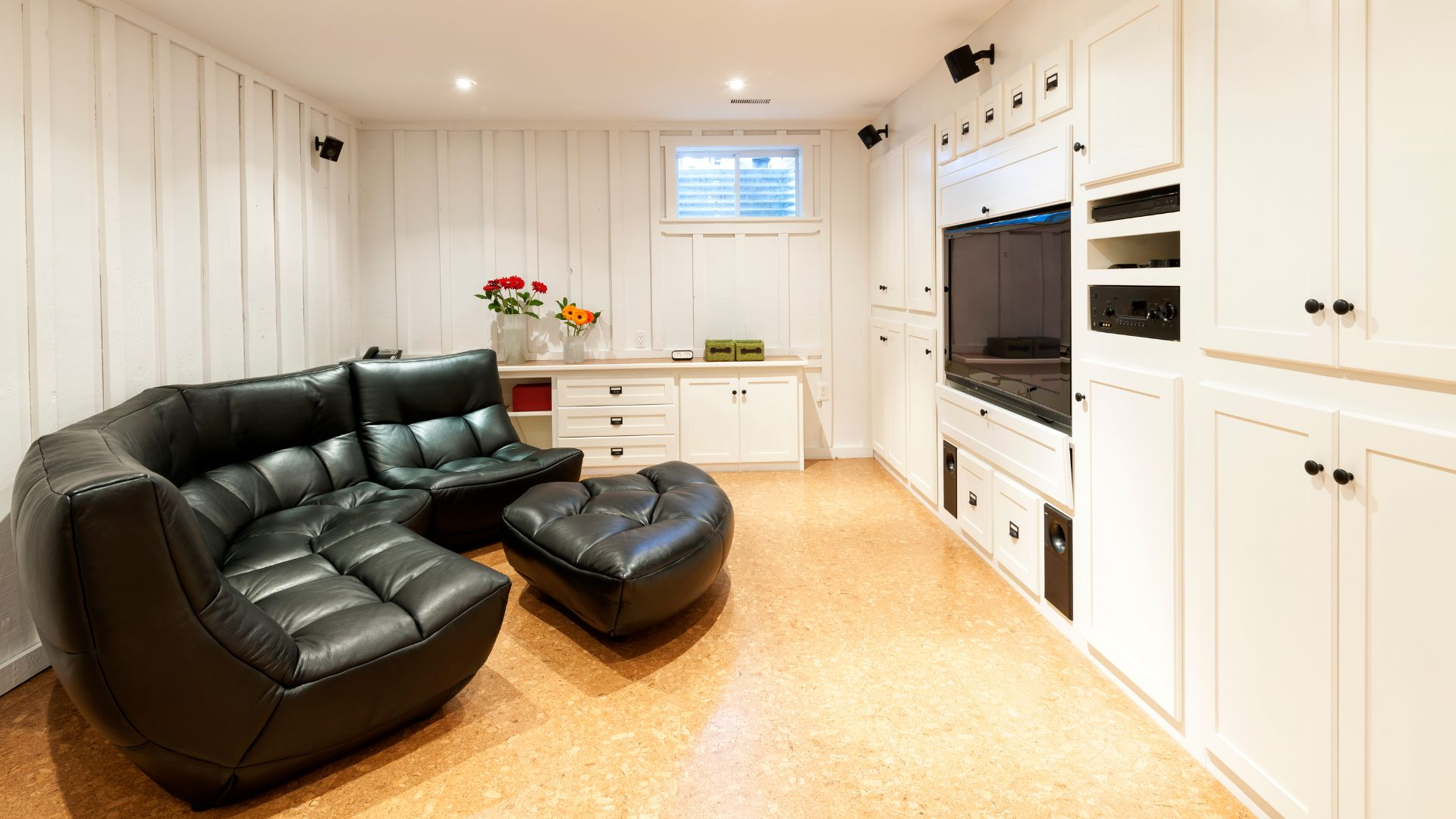 You have plenty of ways to renovate your basement so that it'll add value and function to your home. Once the structure has been checked and reinforced, the next thing will be finishing your basement. You have to decide what kind of room you want your basement to be after the remodeling process.
Remember, the cost of your basement makeover will depend on how you want your basement to be. This should also include the cost of disinfection service you'll be hiring before and after the remodel. 
Mini Home Theater 
You can convert your gloomy space into a movie theater, so everyone can watch their favorite movies in the comfort of their home. The estimated cost of this basement remodel type ranges from $10,000 to $15,000. 
The things you need to buy for this type are the following:
Widescreen

Cushioned seats

Speakers

Projector

Bells and carpets
Having an extra bedroom
You can also construct an in-law suite or a guest bedroom for anyone who will be sleeping over at your house. The average cost for basement remodeling for this type is around $3,000 to $15,000. Below are some of the things to be done for this project:
Buy new bed

Flooring materials

Lighting fixtures

Walls and doors

Cabinets and bedside table

Air ventilation system

Emergency exit
Other details of your basement renovation will be discussed by your project manager. You will have to talk to them about your ideas for what you want to expect after completing the renovation.
Installing a bathroom
This can be a half bathroom or powder room in your basement. You will need to have this so that anyone won't have the hassle of going upstairs to go to the washroom or bathroom to pee or poop. The average cost to complete this idea is around $6,600 to $17,000.
To avoid expensive labor fees, we recommend that you construct your bathroom near the existing plumbing in your basement. That way, you can save around $1,000 to $3,000 on plumbing professional fees. You can look at some of the top bathroom remodeling trends in Washington DC for more ideas. 
Adding a wet bar
It's not necessary to add a wet bar inside your basement, yet that can surely add value and function. The cost of constructing one range from $7,000 to $8,000. Your wet bar will serve as one of the focal points of your basement remodel. This would complement if you plan to create an entertainment area in your basement.
Home Gym Addition 
If you feel lazy going to the gym, you can construct one in your basement. The cost of adding a gym in your basement is around $500 to $15,000. Some of the common things you'd love to have in your home gym are the following:
Treadmills 

Bench Press and Weights

Punching bags
If you buy more gym equipment, expect your cost to go up. But you can always shop for this equipment during sales or in big box stores.
Adding a home office
Work-from-home setup is famous today. If you will be working in this setup, it's time for you to add a home office in your basement. The average cost of this basement remodel is between $500 to $4,000. If you buy high-end office equipment and fixtures, your cost will dramatically increase.
Here are a few things included in this remodel:
Lighting fixtures

Office seat

Table

Flooring

Portable divider

Coffee bar
Laundry Room
You can also consider adding a laundry room when you finish a basement. Many homeowners go for this, because of easy accessibility to utilities. You can easily hook up to your water, gas, and electricity connections for your laundry room.
To prevent any fire or water accident on your laundry area, you need to buy durable appliances and ensure all pipes are sealed and connected properly. You will enjoy lots of benefits when you include this to your plans of finishing a basement.
How much is the cost to construct an unfinished basement vs. building a half finished basement?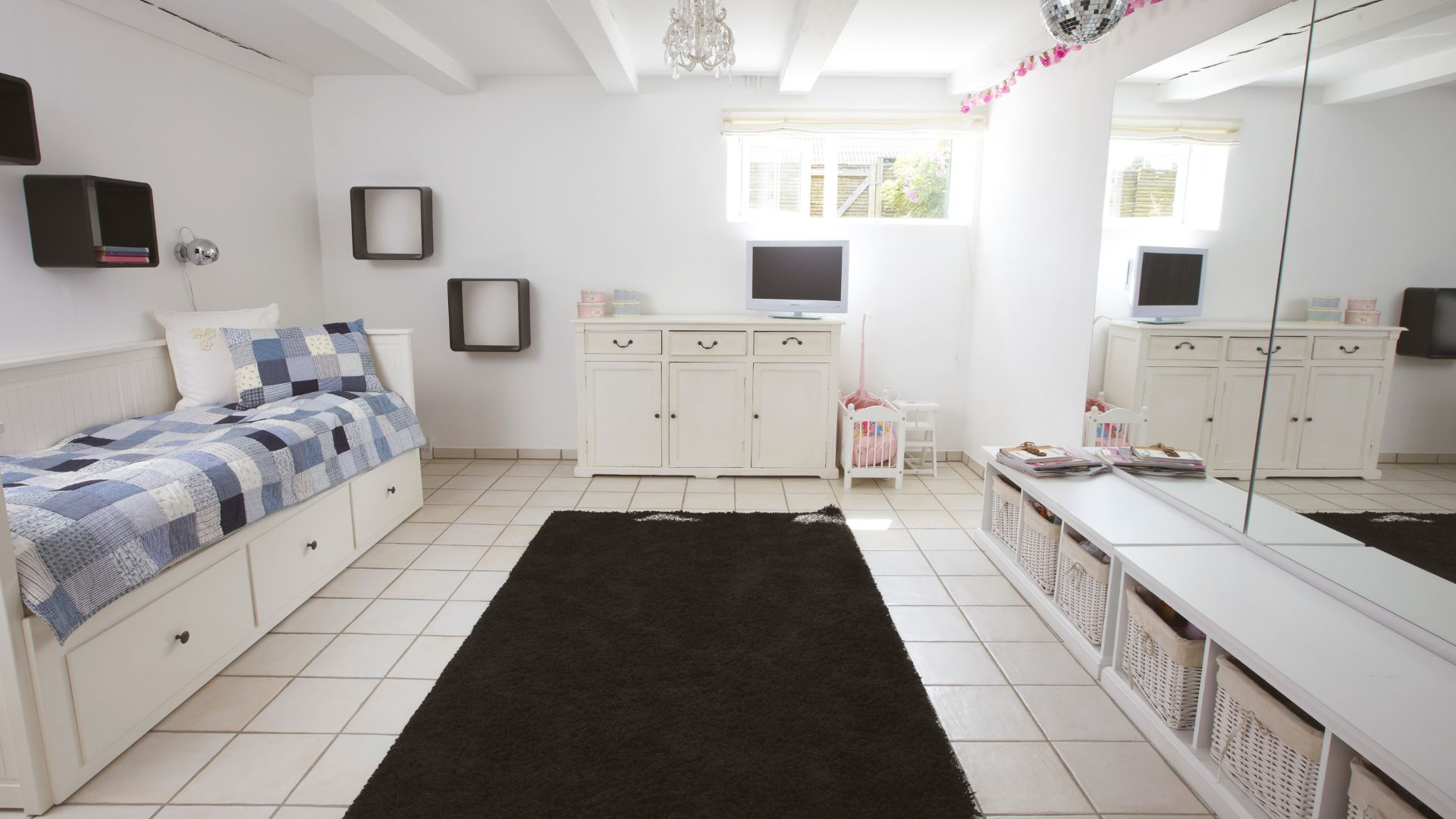 The cost of building unfinished basements are usually higher than working on a finished basement. That's because there will be expensive cost on working the foundations of your basement. The former costs around $4,000 to $37,500, which around $30 to $100 per square foot.
On the other hand, the cost for a basement finishing project is around $7 to $23 per square foot. Basement finishing is cheaper than basement remodeling. Any basement finishing contractors would agree to this, especially if you have a large space for your basement.
What are the variables affecting the overall cost of your basement renovation?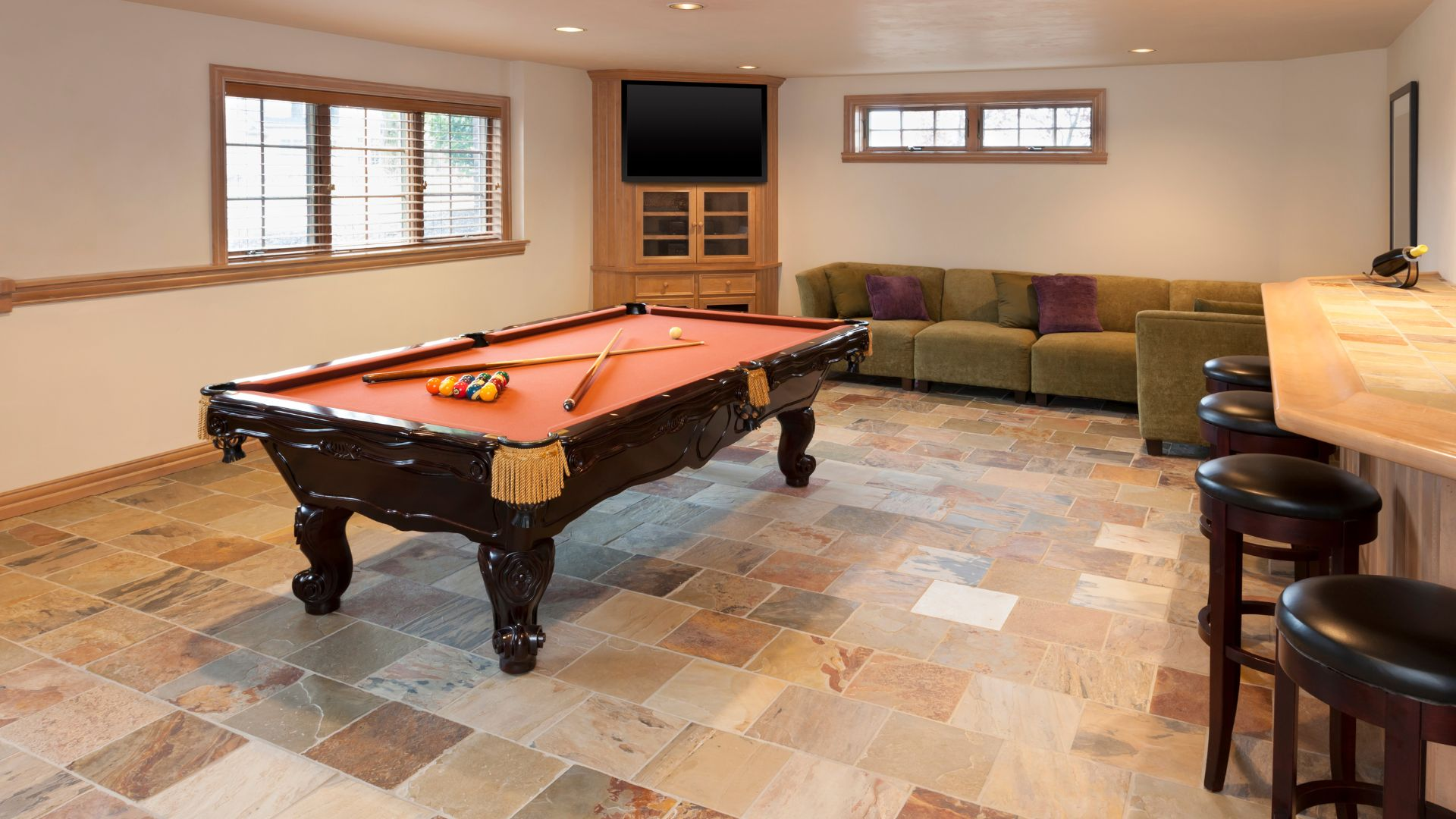 A finished basement has many benefits to give to you and your loved ones. First of all, you have an extra living space to offer for your guest, relatives, and friends. Besides that, a finished basement will add value to your home.
Despite these benefits, we cannot deny that homeowners are sensitive to the cost of having a newly finished basement. We understand where you are coming from since we have an in-depth experience in basement remodeling project.
Of course, we want you to save money and make the most out of your budget for your basement project. That said, you need to start in the drawing board and knowing the labor and material costs of your basement room.
Permits and Inspections 
Because this home improvement oftentimes requires changing the structure of your home, it will need a building permit from the city engineer.
After, they will inspect if the improvements abide by the regulations imposed on your location. Your approximate permit fees will be around $500 to $2,000.
Securing your building permits is necessary to ensure the legality and credibility of the foundation works done to your basement. The process of securing your permits is tedious, yet if you are working with basement finishing contractors, they will be the one to get this for you.
Labor and Material Costs 
The average labor cost of basement renovation is around 30 to 40 percent of your total material expense. If your material cost is $30,000, then your possible labor costs is around $9,000 to $12,000. The expected cost to refinish your basement ranges from $39,000 to $42,000.
Square Footage
The size of your basement space plays a huge factor to your possible basement costs. But if we look into the national average for finishing a basement, that will be around $30 to $80 per square foot.
To finish a basement that's 100 square foot, you will have to spend around $3,000 to $8,000. Basement remodel costs is dynamic. You cannot totally say that you will just spend that amount for your basement finishing. To keep you on the safe side, what we usually tell our clients is to set aside an allowance of 10 to 15 percent as a buffer added to your total finished basement cost.
Cleaning and Mold Remediation
Moisture is a common problem in the basement. If you haven't cleaned your space for quite some time, expect to have mold problems. In that case, you need to allocate an extra budget for cleaning and mold removal in your basement. This will cost around $1,000 to $2,000. 
Rough In Works
The rough in works are important to the functionality of your unfinished basement. This includes electrical and plumbing work, and the exposed ductwork you might want on your basement ceiling. The labor fees for doing the rough in works must be added to your cost to finish a basement.
Doing this task don't immediately mean you need to connect your new plumbing or electrical wires to fixtures. You just have to ensure the proper placement of these items before you can install your new basement floors and ceilings.
Electrical Work
The electrical work needed to be done to finish a basement include electrical outlets, light fixtures, and the electrical lines installed. The cost to finish your electrical works ranges from $3,000 to $5,000.
The cost breakdown of your electrical works are the following:
Electrical outlets: $1,100

New light fixtures: $2,800

Installing new electrical wiring: $4,000
Plumbing
Whether you want to have a basement bathroom or basement bedroom, you need to check if your existing plumbing still works. If otherwise, then you need to have new plumbing installed to your finished basements.
The cost to hire a professional plumber is around $45 to $200 per hour. The national average cost to install new plumbing is between $400 to $2,000 for an average basement finishing project.
To make your electrical or plumbing work cost efficient, you would need the help of a professional. They know what to do, so you can expect less errors for this task.
Basement Flooring
When it comes to basement finishing, getting new basement floors is ideal. It adds beauty to unfinished basements, making them a more habitable space.
The national average cost of installing new basement flooring is between $1,500 to $4,500. But your final cost varies on the total square foot of your space.
If we express cost of installing new flooring per square foot, that will be around $3 to $22. If you have a 500 square feet space, expect to spend around $3,000, and add that to your overall project cost to finish a basement.
But if you want to save money on this, you can paint or stain your existing flooring. Otherwise, you can go for cheaper materials like ceramic tile.
Basement Ceilings
Getting a new ceiling for your basement is a good thing as well. It improves the thermal insulation of your space while adding to its aesthetics.
In terms of price, expect to spend around $1.60 to $2.50 per square foot for your new ceiling. If you want to save money, you can go for cheaper materials with considerable strength.
Affordable Ceiling Materials for Basement
Let's enumerate some of your options for your ceilings:
Tin tile
Using tin tile ceilings, this can give your basement a classy historical look. It's easy to install since it'S lightweight and thin. In terms of price, you have three main options based on how they are installed to your ceilings:
Nail up: This costs around $6 to $8 per square foot for the uncoated tin tile. To install it, you will need a plywood grid that will act as a base to where you will nail it up.

Snap together: This is easier to install and versatile for any ceiling type. It costs around $8 to $12 per square foot for the uncoated tin tile. It has an interlocking system that easily snaps on to lock and install your ceiling in place.

Drop in ceilings: You will need a metal grid to where you will drop in your tin tile ceiling. For this type, the price is between $5 to $8 per square foot.
Corrugated Metal
If you want to finish a basement with an industrial chic look, then you can install a corrugated metal ceiling to your basement. You will have a classy vintage appearance to your space, and it's an affordable option since it's abundant in supply in the market.
The average cost of corrugated metal ceilings is between $4 to $8 per square foot installed.
Drywall Ceilings
Drywall is one of the famous affordable materials for your ceilings. Your average basement drywall cost is around $2.95 to $3.65 per square foot installed. Besides being affordable, you can easily install and repair drywalls. It also offers decent thermal insulation to your basement.
Beadboard
Beadboard is not just for your basement walls, you can also have that for your ceilings. You can use vinyl or ceramic tile for your beadboard ceilings. This adds a minimal amount to your overall cost to finish your basement. The running price for beadboard ceilings is between $3 to $6 per square foot installed. If you want to save money, you can be the one to install them to your ceilings and basement walls.
Basement Waterproofing Cost
Waterproofing your basement is part of the important things you need to cover when you do this home remodel. You also need to account that to your expected project cost to finish a basement.
Your estimated cost of waterproofing your basement is around $4,400. This depends on the linear foot or square footage of your space needed to be waterproofed. You can estimate to spend around $5 to $10 per square foot for this matter.
Take note, basement varies significantly depending on size and layout. It's best to plan ahead to know how much you are expecting to spend for this one.
Basement Insulation
Thermally insulating your basement is important to make it livable. For any basement finish works, we always include this, and let our customers understand the ways on how to do it.
How much does it cost to insulate your basement? If you have a 1,000 square foot space, you can spend around $2,140 for spray foam insulation. If you use a rigid foam, that will do for your DIY basement finishing and it will cost you around $700 to $840 for a 2-inch thick foam.
If you will use rigid foam for your thermal insulation, you will need to do that before framing your walls. You can let a contractor watch over your finishing a basement endeavor.
Framing Basement Walls
How much does it cost to frame your basement walls? That actually depends on how many square foot you need to cover for that. But so far, the national average for framing basement walls is between $1,500 to $2,000. Or, that could be around $7 to $16 per linear foot.
Install a Sump Pump
If you want to have a back up in case flooding occurs on your basement, installing a sump pump would be best. We always let our client add this to their cost breakdown of finishing a basement.
To install a sump pump, it will cost you around $500 to $700. A sump pump will be your savior when flooding unexpectedly happens on your basement. You will need a sump pump to extract large volumes of water out of your house. Therefore, it's highly important to have a sump pump installed to your basement.
HVAC System
Besides insulating the walls and ceilings, it must be top of your mind when finishing a basement, that you must install an HVAC system to make your space more livable and comfortable. You must allocate a budget for that to your cost to finish a basement.
The industry cost of installing an HVAC system to your space is $5,000 to $11,000. Depending on how many square foot your space is, your HVAC system must be enough to cool or warm off the area.
If you don't want to cool the entire space, you can just air condition the family room inside your basement. If you have a smaller square foot area for that, then your cost can lower to $600 to $4,500.
Egress Window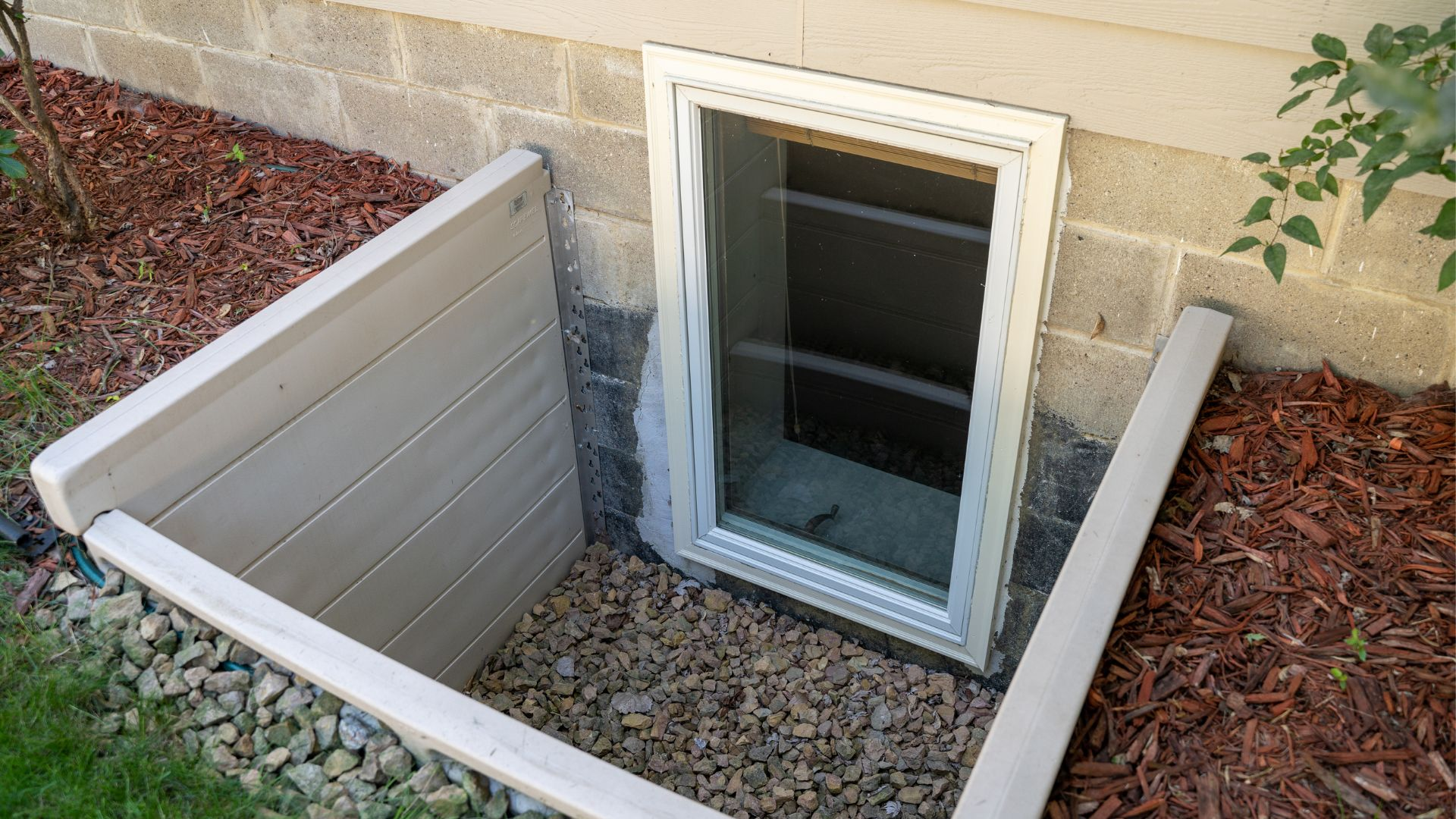 Because light would be scarce on your basement, you need to consider installing an egress window. This helps allow natural light to come in to brighten up your space. If you plan to have this, that will be around $200 to $900 per window added to your cost to finish a basement.
Even if it's a steep add on cost to finishing a basement, it's still beneficial on your end. You get to save on your utilities while adding functional aesthetics to your space.
Optional Basement Remodeling Costs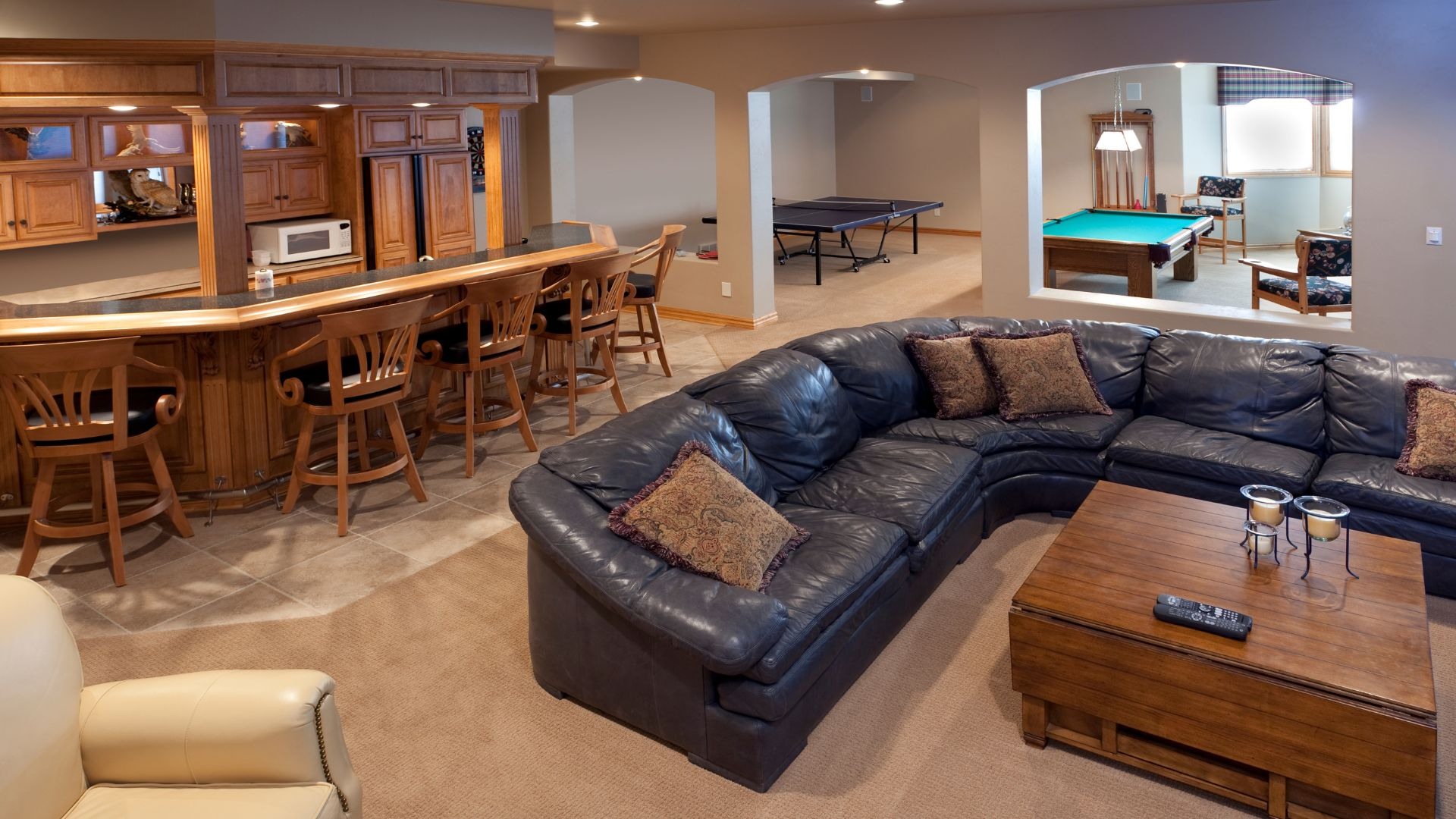 The cost to finish a basement is not cheap, and so, careful planning must be done. We have covered the essential things you need to include and spend for your basement. Now, let's go over some optional basement remodeling costs you need to consider:
Kits for Basement Finishing
For this item, you can expect to spend around $50 to $70 per square foot. These are the necessary items or fixtures you need to have on your basement to make it more livable and cozy. Depending on the quality and brand of these products, your cost per square foot can either go up or down.
Custom Furniture and Storages
If you want to customize the cabinets, countertops, and other amenities inside your basement, that can happen, yet you need to expect it will be an additional cost to finish your space.
Nevertheless, you don't remodel or refinish your basement every year, so if you can afford to include these customizations for your welfare, then why not, right? If it brings more value and comfort to your home,
Need a free quote for your basement remodel?
Hope we have helped you understand the cost of renovating your basement. It's not a cheap home improvement, yet it can add value and function to your house. If you need help with your basement refinishing, you can count on us. We are expert remodelers and we have a network of suppliers for home remodeling.
To start planning for your basement makeover, book a free design consultation today. Feel free to visit us on Instagram and see more of our work. We're excited to bring value and comfort to your home.